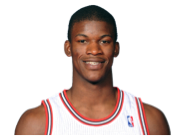 The shorthanded Bulls became the last team in the NBA to fall on the road Thursday day as they lost to DeMarcus Cousins and the Sacramento Kings 103-88.
After a strong first quarter that saw the Bulls ahead by seven, the Kings' bench turned it on in the second, the third, and most of the fourth to pull away with a fairly easy victory. The aforementioned Cousins (9-19, 22 points, 14 rebounds) was all but unguardable, especially down the stretch, as he led the Kings, now 7-5 to victory. Rudy Gay (7-11, 20 points, 7 rebounds), Darren Collison (5-10, 17 points, 12 assists), Omri Casspi (5-5, 14 points), Ben McLemore (4-6, 11 points) and Derrick Williams (4-9, 10 points) all finished in double figures for the Kings.
The Bulls were led yet again by Jimmy Butler (11-18, 23 points, 8 rebounds), who finished with his seventh 20 point game in 10 contests this season after just six such games all of last season. Taj Gibson (4-9, 12 points), who started in place of Pau Gasol, chipped in, as did Mike Dunleavy (4-13, 12 points), Aaron Brooks (5-10, 12 points), and Joakim Noah (5-13, 10 points, 11 rebounds, 6 assists) for the Bulls, who fall to 8-4 on the season and play again tomorrow night in Portland. A note of concern for the Bulls was how quickly Nikola Mirotic (3-6, 7 points, 5 rebounds) got into foul trouble, picking up four personal fouls in the first quarter alone. While Doug McDermott's struggles have been well documented, it's perhaps Mirotic's struggles being in the right place or keeping his hands up defensively that hurts the Bulls' bench most right now, because he definitely isn't a burden on the offensive end.
Kirk Hinrich (3-11, 9 points, 7 assists) left the game in the fourth quarter to get x-rays on his chest, which came back negative, a good sign for a team with surprisingly little depth right now without Derrick Rose. Given that it's unlikely Rose will play tomorrow if he couldn't tonight, Brooks might see heavy minutes, and against a team with a point guard as good as Damian Lillard, that might not be a great thing for Chicago.
Player(s) of the Game: Jimmy Butler.