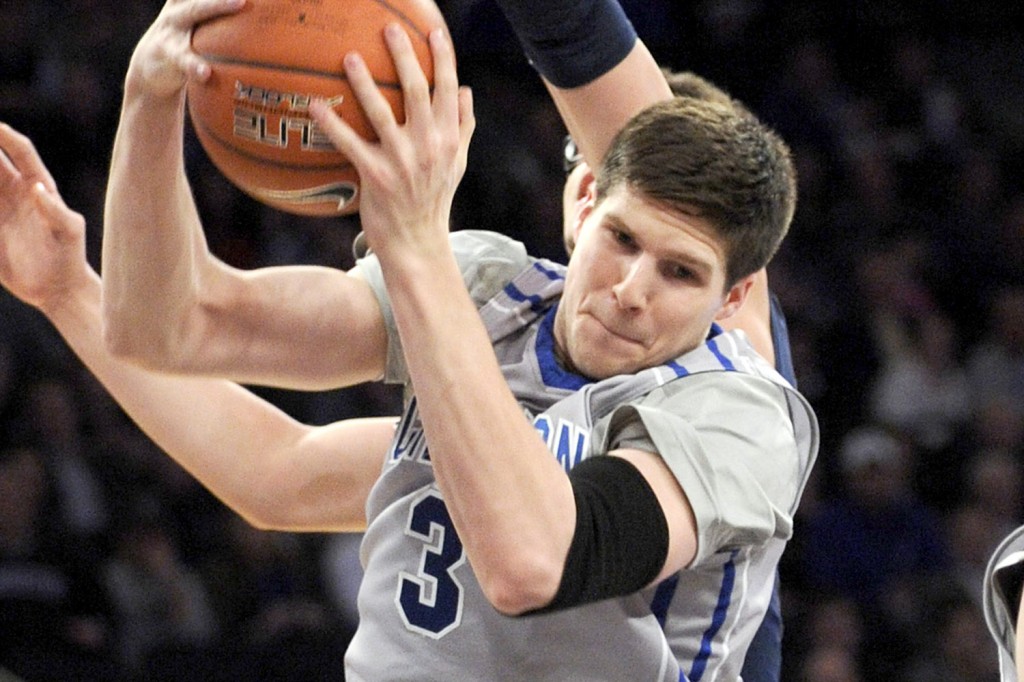 The Chicago Bulls improved to 2-0 in the 2014 Samsung NBA Summer League Sunday night with a 27 point drubbing of the Denver Nuggets, with whom the Bulls now infamously traded two first round picks two for the rights to Doug McDermott. After last night's relatively subpar performance (despite the Bulls 16 point victory), McDermott was every bit the scorer we had been guaranteed, dropping 31 points on 7-12 shooting (5-9 from deep, 12-12 from the line). While he didn't do much else, his presence was notable, both as a threat and as a decisive passer, whipping passes out of screens whenever a shot didn't present itself. Even defensively, he seemed much improved, shutting down penetration by Gary Harris on more than one occasion. On the difference between his performances, McDermott, the 5th leading scorer in NCAA history, noted that he was "a little uptight (last night), I was excited for my first game. Today it slowed down. It felt more like basketball."
"No doubt, I think I do. It's gonna take a little time to adjust, but I think I'm off to a really good start," McDermott said when asked if he was starting to understand what the Bulls' offensive system is and what his role in it will require. When pressed on whether or not the Bulls recent signings of Nikola Mirotic and Kirk Hinrich, both noted shooters (for reasons both good and bad) would potentially restrict his minutes, McDermott  responded: "Yeah, it's the NBA, so I'm always gonna have to compete for minutes. I feel like I can fit in real well. I'm an unselfish guy, I don't care if I get 2 shots a game or 8 shots a game. I'm all about winning.
Not to be forgotten, Tony Snell added 23 points on 9-22 shooting from the field (5-12 from deep) to go along with 4 assists in 31 minutes of play, his second consecutive aggressive game. As the two most important pieces here in Vegas as it pertains to this coming season, both Snell and McDermott have shown the shooting touch, off-ball movement, activity level and, perhaps most importantly, leadership qualities necessary to contribute on what should be a playoff team.
Cameron Bairstow, the Bulls other draft pick this season, finished with 6 points, 6 rebounds, and 6 fouls, which doesn't bode fantastically for his NBA career but figures to give him a leg in with Aleister Crowley should he ever return to life and re-pledge himself to Satan. Other contributors for the Bulls included Lazeric Jones (12 pts, 5 ast, 4 reb on 5-8 shooting) and Austin Freeman (14 pts, 2 reb on 5-7 shooting).
The Nuggets were led by Quincy Miller (26 pts, 8 reb, 3 ast on 11-20 shooting) and Erick Green (16 pts, 2 reb on 7-14 shooting). Gary Harris, who, after scoring 30 points in his LVSL debut last night, managed only 9 on dismal 1-12 shooting.
Finally, in an amusing aside, when McDermott was asked about the dunk he threw down on the break, said that he's "gotta be more creative with my dunks" in the future. The dunk contest awaits.
The Bulls play again on Tuesday, when they face the Minnesota Timberwolves at 4:30 Eastern.