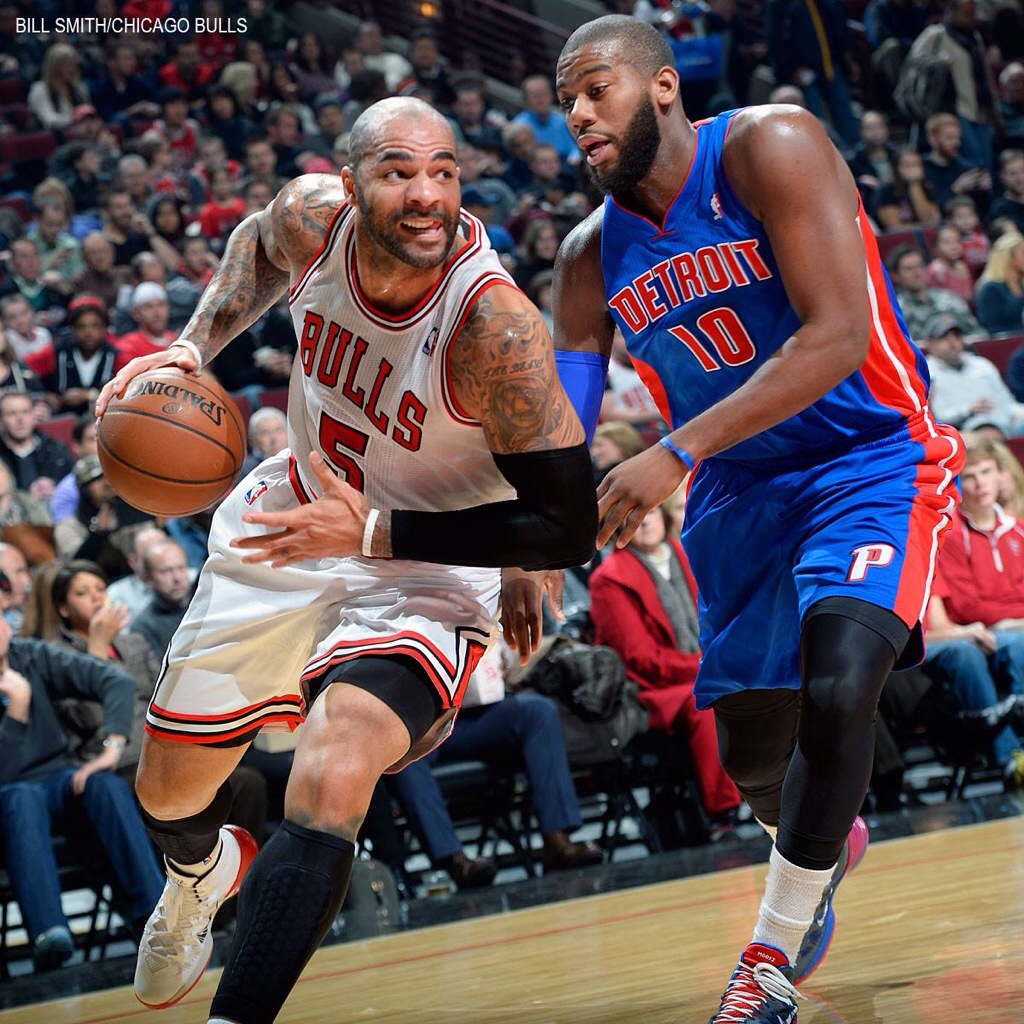 1. What are your thoughts on the story this week about Noah recruiting Carmelo Anthony?
Peter Owen: Noah's non-denial of the conversation – via a great teenage girl impression – at least confirms the talks happened. Whether they were talking about it at length with Noah strongly selling the city and the team or if it was a simple passing comment forgotten about minutes later, we'll never know.
Braedan Ritter: I am all for the Bulls doing everything they can to bring in another scorer for their offense. If that means turning All-Star weekend into a recruiting convention, that's awesome. With that being said, I don't really buy it. I'm sure they talked. They probably talked about playing for Thibodeau (with Thibs being connected to the Knicks) but I don't think it went far beyond that. And despite what some people are saying 'Melo would fit in with the Bulls.
Caleb Nordgren: I refer you exclusively to the comments Joakim himself made on the subject. Particularly his excellent teenage girl impression.
Trenton Jocz: I think it's just another indicator of how much Noah is the leader on the team. It's not often in the NBA that the best player isn't the main leader, at least on really good teams, but we know that's not really Derrick Rose's personality and that there's a big brother/little brother relationship there. Regardless of what they were actually talking about, it also shows that Noah feels OK talking to Melo. Rivalries are overblown in sports, but I find it much harder to imagine Noah having similar conversations with impending free agents like LeBron or Lance Stephenson.
Avi Saini: If this is true I'm glad to see Noah being proactive and trying to get guys to finally come to Chicago. It doesn't matter if you're an NBA player or some average person walking the streets, everyone wants to feel wanted and Noah's actions could give Melo that feeling. That being said I doubt it helps Chicago's chances of landing him. As Ken Berger pointed out, Chicago would have to make some big moves and Melo would have to be willing to take a $45 million discount on what should be his last major contract if the two want the marriage even get off the ground. Given both of these requirements it just doesn't seem likely Noah's conversation will make a difference.
2. Tony Snell has fallen out of the rotation somewhat lately. Why?
PO: Snell has played well in fits and bursts in a system notoriously unkind to rookies. Jimmy Butler didn't play often in his rookie year and I suspect Thibodeau's treatment of Snell continues the decision of trusting his veterans.
BR: Because Tom Thibodeau has set his sights on the next player he wants to run into the ground, so everyone else catches a break? Snell's totals were all down in February, but his shooting numbers actually improved. My guess is it has to do with Thibs just trusting Dunleavy and Butler more.
CN: I wrote about this a little while ago, but it's pretty clear at this point that Thibs just doesn't trust him that much. Thibs is all about being at the right place at the right time all the time on defense and I don't think Snell is there yet. That said, Snell's already played almost three times as many minutes as Jimmy Butler did his first season, so that we're even talking about his falling out of the rotation is something of an achievement.
TJ: Because as we saw with Jimmy Butler before him, Thibs only plays inexperienced players when forced to by injury. It's his biggest flaw as a coach in my opinion. Snell's ideal playing time would be about 10-16 minutes, which wouldn't require more than a role with the second unit. It's obviously an arbitrary endpoint, but Snell has fallen in that range just four times. For perspective, he has 11 games with at least 34 minutes and 16 games with seven minutes or less. Snell and Jimmer Fredette are useful players in bit roles and I think Thibs would be better served playing the long game and finding them consistent roles to get more comfortable. Of course Thibs doesn't trust them because he hasn't put them in position to earn it in the first place. It's a self-fulfilling prophecy.
AS: Snell thus far has been pretty decent for Chicago, but he's impacting Chicago's game negatively by almost every measure. With Snell on the floor the team has a lower field goal percentage, scores 7 fewer points per game, turn the ball over more, get fewer rebounds, and get fewer assists. And that's just the basic stats. This isn't to vilify Snell. For a rookie he's looked good and there are things about his game to like. But that's just the thing… he's a rookie. Thibodeau's system is arguably one of the hardest to learn in the entire league (his former players are on record saying as such) so it's no shock that Snell isn't playing out of his mind. He's just going through his growing pains and he'll be in the rotation soon enough.
3. What team would the Bulls face in your ideal playoff scenario?
PO: If it were possible, the Knicks. They may well sneak in ahead of the flailing Pistons or slumping Hawks. I expect it to be a rematch of last year's first round with Brooklyn with a similar result. The worst first round opponent would likely be Washington. The Wizards have played the Bulls very well thanks to two athletic guards whom the Bulls have had no answer for. Also, Nene has played very well against the Bulls frontcourt this season.
BR: Ideally, the Knicks or Sixers. But of the teams that could actually make it…I don't think any team other than the Heat and Pacers should knock the Bulls out, so I don't really have an ideal matchup. Brooklyn is probably the biggest threat of the other playoff teams because they have a lot of talent that may be able to figure it out for a seven-game series, but a spare-parts Bulls team knocked Brooklyn out last year and is 2-1 against a more talented (and older) Nets team this season.
CN: In the first round? Probably Atlanta, though that's looking somewhat unlikely at the moment. I definitely do not want Washington in the first round if at all possible, however. After that, you basically have to face Miami and indiana in some order, so it's pretty whatever. I think, based on their recent play, you probably want Indiana first, but I'm not sure it matters that much.
TJ: Honestly, I think I'd like them to slide down, face Toronto, and lose in the first round. As fun as last year's run was, I'd rather not see them lose to Miami again or Indiana, and it would save Jo and Jimmy a lot of wear and tear. As far as I'm concerned, winning a title is the goal, and grinding Jimmy to a pulp with 48 minute nights against Joe Johnson, DeMar DeRozan or Bradley Beal, and then LeBron or Paul George has more costs than benefits. Another miracle run would be fun, but last year will tide me over for the time being.
AS: Any team that sets Chicago up to avoid Miami in the second round. I know Chicago won't win a title this year but if they're going to make the playoffs I want them to have as deep a run as possible. And the only way that happens is by avoiding Miami for as long as possible. This isn't a knock on the Pacers who field a good team, but they don't have Lebron James.
4. Name the two teams you think will reach the Finals
PO: Can't pick against Miami when LeBron James is capable of scoring 61 points against good defense. The West truly is wild. Right now I'd go with Oklahoma City though I like how Houston have been playing lately. The Spurs are always a contender and you can pick from Dallas, Portland and of course Los Angeles to put together a run too. A lot could depend on the match-ups.
BR: I'm not betting against the Heat until they give me a reason to, but the Pacers will give them a fight for the East's spot. On the other side, I think a healthy Thunder squad would have the best shot. Although I'd love to see Tim Duncan and the Spurs make it again for a rematch of last season's Finals.
CN: Miami and OKC. You could replace OKC with three or four other West teams and I wouldn't be surprised, but KD and Russ should be the favorites. And Indy's fallen off recently, but they do always play Miami tough, so they wouldn't shock me either. But if I have to put money on it, I gotta go with a Heat-Thunder rematch.
TJ: Before the season I picked Bulls/Rockets, which changed to Heat/Rockets once Derrick Rose got hurt, and I'm sticking with that. I like the Rockets because I figured they would need time to gel just like Miami did in Year 1, but that by playoff time they'd be rolling and that's how it's shaping up. I'd like to see San Antonio get one more shot, but they're 0-3 against both Houston and OKC, and they've already lost all four home games against them. As for Miami, I thought three grueling series would be too tall a task for a team already worn out by three straight Finals trips. However, now that Indiana is their only obstacle in the East, I think they'll muster enough to win the title again.
AS: If I'm picking off of performance right now, Miami and Oklahoma City. Durant is playing out of his mind and barring any injuries the team will only get better as Westbrook gets back into groove. With how Indiana's offense, primarily Paul George, has fallen back to Earth I think Miami just has the edge over the Pacers. If Indiana can get back to playing the offense they did at the beginning of the season, then I think they have everything it takes to knock Miami out in 6 games to get into the finals.
5. Who should win the MVP trophy this season?
PO: I think Kevin Durant will win it thanks to a combination of his stellar play and voter fatigue. That said, I feel like LeBron's physical dominance will ensure the race comes down to just a few votes. Of course, either player could run off four or five consecutive 40-point nights before the end of the season and streak off into the distance.
BR: LeBron James is the best player in the league, but Kevin Durant has had the best season. That could very well change over the remainder of the year, but Durant has the Thunder on top of the West in a season that Russell Westbrook has missed 30 of their 62 games.
CN: I have no idea. Obviously it's either KD or LeBron, but I can't decide. Flip a coin, I guess. It's hard to go wrong.
TJ: It's obviously razor-thin between LeBron and Durant, and right now it's too close to call for me. I'd lean towards LeBron for a couple reasons. The first is that while Durant stepped his game up with Russell Westbrook sidelined, LeBron's had to do that all season with how Miami is managing Dwyane Wade's knees. The other reason is when looking at Miami's roster, it's clear that OKC is more talented. Considering Ray Allen and Shane Battier aren't playing near as well, how many really good players do they have? Mario Chalmers or Chris Andersen might be their third best player on nights where Wade sits. If Miami passes Indy for home-court I imagine LeBron becomes a near lock to win yet again.
AS: I think Kevin Durant should win MVP. Lebron has been great but Durant has been every bit as good with a bit more consistency (Lebron has coasted a bit). It can honestly go either way but I also am choosing Durant because I like to be right and I think he'll get the award mostly because he deserves it and partially because of voter fatigue.