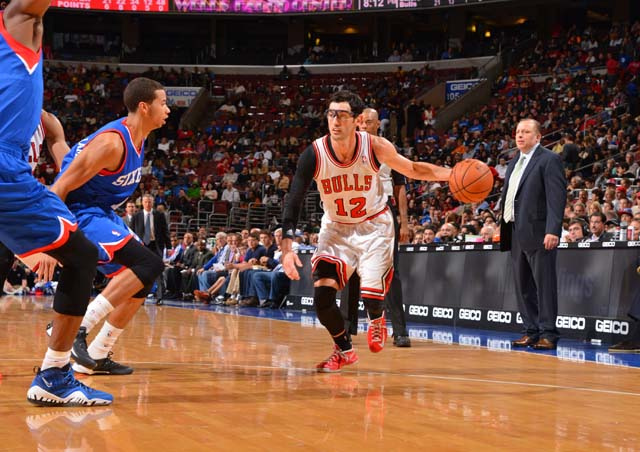 Player:
Kirk Hinrich
Per game stats:
73 games played, 61 games started
29.0 minutes
9.1 points per game; 39.3% FG%; 35.1% 3P
3.9 assists per game, 2.6 rebounds per game, 1.6 turnovers per game, 1.1 steals per game
The Good:
It's no secret that I'm not a fan of Kirk Hinrich. All season long I've complained about his performances and how he's seemingly overvalued by the team. Though I must admit two things fuel my dislike of Kirk Hinrich: 1) He's overpaid for his production and 2) his stans (yes… they're real) are some of the worst basketball people to try to reason with (even worse than Kobe Bryant stans). When I look at him in a more objective light (and while ignoring his salary), I think there are a few good things Hinrich brought to the Bulls this season.
First and foremost I have to single out his leadership abilities. While Derrick Rose and Joakim Noah are the two captains of the team, Hinrich commands a great deal of respect from everyone in the locker room, something that most of the team has confirmed in one interview or another throughout the season. I have no doubt in my mind that the respect he commands and his quiet leadership behind the scenes was an integral part of keeping this Bulls team chugging along despite losing Rose to another injury and seeing Luol Deng traded. I don't believe in "veteran leadership" necessarily being a must for a team to win a championship (looking at you Derek Fisher), but I do believe in its importance when it comes to handling hardship.
Additionally, I have to give credit to his three point shooting. Hinrich started off the season struggling mightily from behind the arc as he converted only 28.8% of his attempts through the All-Star break. It was, simply put, miserable to watch. However, following the All-Star break there was significant improvement in his shot as he began converting 43.7% of his three point attempts.
The Bad:
That all being said, I do believe the bad outweighs the good when it comes to Hinrich. First off I have to focus in on his salary relative to his level of production. Admittedly there are some lingering bitter feelings that the Chicago Bulls bid against themselves for Hinrich and let go of  Kyle Korver for him. But putting those bitter feelings aside Hinrich's production is just not worthy of a full mid-level exception. Though it wouldn't have really made a difference due to the injuries sustained over the past few years, Hinrich's salary ate up valuable cap space that could have gone towards a player like Jamal Crawford (who signed that same offseason for $5 million per year).
Bad defense was one of the major reasons the Bulls and Bulls fans are enamored with Hinrich. Since Thibodeau arrived for the 2010 season, the Bulls have been the team that is full of grit, grind, and heart and apparently no one embodies that persona more than Kirk Hinrich. However for all of his grit and what not, Hinrich hasn't been very successful guarding younger players. In his younger days Hinrich was a good and reliable defensive player, however age has caught up with him. Throughout the season it was almost pitiful watching Hinrich try to keep up with younger and faster guards. His lateral mobility has declined a fair amount and his inability to stay in front of his man has become more and more apparent. In fact, Hinrich's shortcomings on defense are a big part of why the Bulls were so thoroughly outclassed by the Washington Wizards. While Hinrich did have some good moments, often times both John Wall and Bradley Beal were able to get by him for a drive to the basket. Wall and Beal didn't score on every drive due to defensive rotations, however, because Hinrich wasn't able to defend his man properly the Wizards were able to find the best scoring option (whether it be a kick-out to Trevor Ariza, a pass to Nene or Marcin Gortat, or something else). Given his defense is a major reason why he was signed to begin with, it's hard to ignore such a glaring issue with Hinrich.
Grade: C-
It's impossible to overlook Hinrich's production relative to his salary and how big of an issue his became against the younger guards in the league. Had it not been for a significant improvement in three point and overall shooting since the All-Star break (and my generally being in a good mood), Hinrich likely would have scored a "D" or even an "F+."
Future:
Hinrich's 2 year deal has expired and at this point he is now an unrestricted free agent. Gar Foreman, the Bulls, and Hinrich have expressed mutual interest staying together this offseason but nothing more has been said regarding his possible return. Many Bulls fans would gladly welcome back Hinrich as he is one of Chicago's most beloved players, though it is debatable at what capacity he should be brought back at. At this point given his level of production and the ever present age-related liabilities, Hinrich should likely be brought back as no more than a third string point guard at a veteran minimum salary. It's time for "Captain Kirk" to step down and allow a new player to man Chicago's "Enterprise."