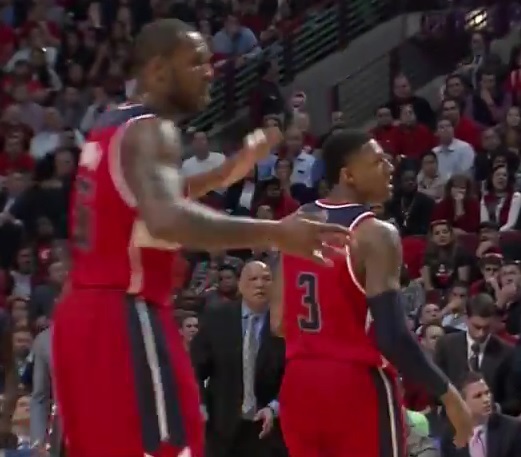 The quick version of this game: The Bulls got down big, hung on by the hair on their chinny-chin-chin, took the lead and controlled the second half before blowing another lead. Washington called a very poor final play, ending with Joakim Noah and Jimmy Butler defending a Bradley Beal fadeaway. Chicago's inability to score had them down in overtime, but they came back. With a chance to tie the game, they failed in excruciating fashion (see point #4).
There's a kajillion different talking points about this game. Of them, there are five that are the most important:
1. The refs were awful. They sabotaged Washington for a while, until they kept screwing over the Bulls, and then they played "fair" blowing calls equally. Both suffered crucial poor calls down the stretch and in overtime. Joey Crawford and his crew were Warriors-Clippers Game 1 level atrocious, but neither side could have blamed them. If Washington lost, it would have because they went 16-28 from the free throw line. If the Bulls lost, which they did, well…more on that shortly.
2. Bradley Beal was amazing. As so many expected, he rebounded from a shaky Game 1, pouring in a game-high 26 points on 9-20 shooting, 4-7 from three, adding seven rebounds and two assists. The Bulls were shockingly poor getting out to shooters, especially in the first half. Some was due to being more aggressive with help, but the scattered transition defense was alarming, uncharacteristic and inexcusable.
3. For the Bulls this was "A Tale of Two Point Guards." D.J. Augustin, with a team-best and playoff career-high 25 points, won them this game. On the verge of getting blown out in the first half, Augustin's shooting rescued Chicago time and time again. Going over 40 minutes for just the fourth time this year, D.J. ran out of steam a bit, especially with Washington shifting Trevor Ariza onto him, but the Bulls should have finished this game off and D.J. got them there. He also had seven assists, three more than any other Bull.
4. If D.J. was the best of times, then Kirk Hinrich was the worst of times. Fittingly, the 2013-2014 Bulls season probably came down to Hinrich at the line for two free throws (only probably, because hey, they're the Bulls and scrap and fight and all that stuff that I believe they're really about because I'd hate to live life as a cynic, and once you've seen Nate Robinson resuscitate your season in a triple OT win, after which Jo basically wins Game 7 on one foot, the door has to be left open just a smidge). A polarizing figure for his occasionally stabilizing defense, increasingly solid shooting and derptastic offensive decisions, no Bull has caused more vacillating opinions this year. He missed both free throws, with the first being the most crucial. He was awful after replacing Mike Dunleavy in the fourth quarter to round out Thibs' usual finishing lineup. Plus/minus can be deceiving (Beal was -1), but Hinrich was a game-worst -13. Every other Bull was between -5 and +3. But overall, Hinrich's flaws (well, most of them) aren't his fault and it isn't his fault he's on the court, which leads to…
5. Thibs. (WARNING: This is the part where I say really nice stuff before criticizing him.) He's great. One of the best. You look at this roster, with Augustin leading the team in scoring after getting cut and joining the team midseason, and realize it won 48 games. Sure, that's in the East, but by comparison, this Wizards squad has WAY more talent than the Bulls sans Derrick Rose (not even counting Luol Deng because it was Chicago's choice to trade him). That these Wizards only won 44 games in the East is the biggest indictment imaginable of Randy Wittman. After Gregg Popovich, Thibs is in the discussion for best coach and is certainly in the top five. He revolutionized NBA defense, etc, etc.
But I can't resist feeling like his decisions cost them this game and are hurting them in the series. Consider:
-Hinrich replaced Dunleavy at the 5:39 mark of the fourth quarter. They scored four points in the rest of regulation. Their offense was an absolute mess. Dunleavy was bad again in the first half, but he doesn't even have to be hitting shots for teams to respect him. He has a reputation as a great shooter, whereas teams often float off of Hinrich to cause trouble elsewhere. Thibs didn't even put Dunleavy in on that final possession, down two with a handful of seconds to go. The Bulls have one good shooter and Jimmy and Kirk were giving them nothing offensively. If Thibs can't control himself and quit his addiction to the "scrappy" guard (he's far from the first coach to lean on a veteran backup-type), the front office needs to not bring him back even at the minimum and take the issue out of his hands.
-As for Jimmy, he was absolutely gassed. His shot has sucked all year, but he makes up for it in Tony Allen/Gerald Wallaceish ways, cutting off the ball, offensive rebounding, lobs, that sort of thing. But to free Beal from Jimmy, Washington runs all sorts of action, whether it's around a parade of screens, or Beal faking cuts and reversing to get a handoff from a screening big, as detailed in yesterday's breakdown. Jimmy is always game to go all 48, as he did tonight plus overtime, but just because he can doesn't mean he should. Tony Snell has given them legitimately good minutes in this series. This isn't Thibs having to cover for not having another option. Jimmy needs a breather at some point. Having Jimmy out there doesn't help if he's too tired to contribute.
-MORNING EDIT: Forgot to add that Nene (8:39) and Beal (6:59) each picked up their fifth fouls in the fourth. Both exited after their respective fouls, with Beal coming back at the 5:15 mark and Nene 15 seconds later. Beal played the rest of the game including overtime and Nene didn't foul until the final Hinrich play that wasn't even a foul. The Bulls did a poor job of attacking when they could have fouled them out or gotten better looks because they didn't want to foul out.
-Thibs is all about trying harder. Every interview question, no matter how well the Bulls are playing, ends up with Thibs saying the defense has to be better, and aside from the fact that the Bulls won't win this series solely with defense, that's fine, because it's what's gotten the Bulls as far as they've gotten. But trying harder isn't always enough. He's so intent on breaking through the mountain that he can miss how to simply walk around it. Trying smarter doesn't have to mean giving less effort.
-On that note, a couple things the Bulls should contemplate: Starting Taj (Boozer against Washington's bigs puts the Bulls in a hole the same way Kendrick Perkins puts OKC in a hole against Miami, plus it staggers Taj's minutes rather than having him play 15 minutes all at once) and giving Snell more run. Hinrich and Boozer just can't keep up with Washington's size, speed and shooting.
-Game 3 is on Friday, but I suspect we'll be talking more about this game in the days before then.