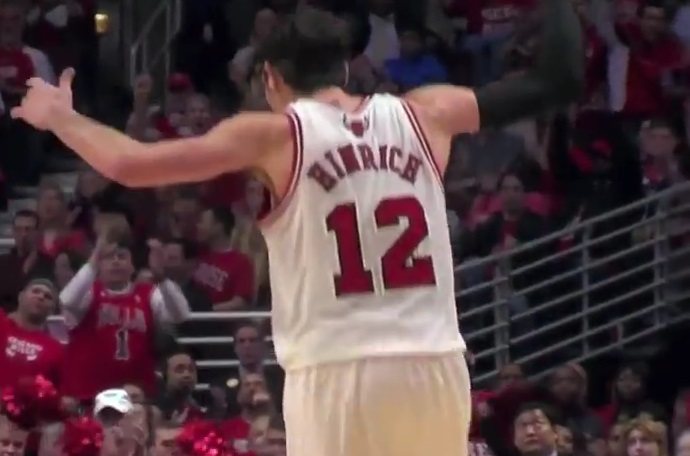 As noted in yesterday's post, Nene was a destructive force in Game 1, but seeing as the Bulls contained John Wall and his trio of perimeter shooters rather well, defense is not where the game was lost. They faltered down the stretch on the offensive end of the floor. For Chicago to even the series, here's a couple points of emphasis for their attack in Game 2:
1. Attack John Wall off the ball
Wall is too fast for Kirk Hinrich to beat off the dribble at a productive clip, but much as how Washington gave Bradley Beal room to breathe by faking cuts and reversing away from Jimmy Butler, the Bulls can get Hinrich space by moving him around because Wall gets caught ball-watching and letting Kirk drift away.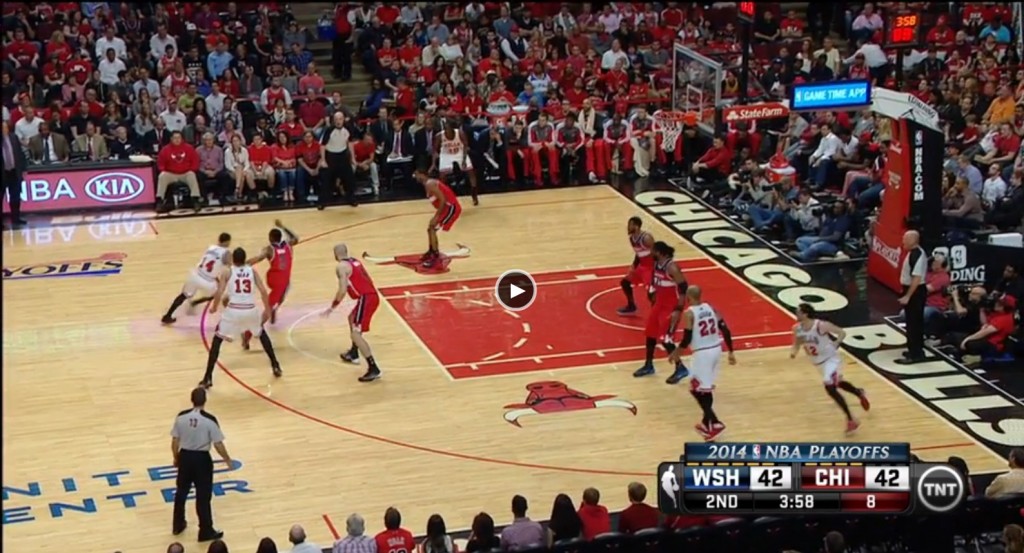 In this first shot, Hinrich has looped around by the baseline from the other side, but Wall notices D.J. Augustin begin to drive and abandons Hinrich, leading to…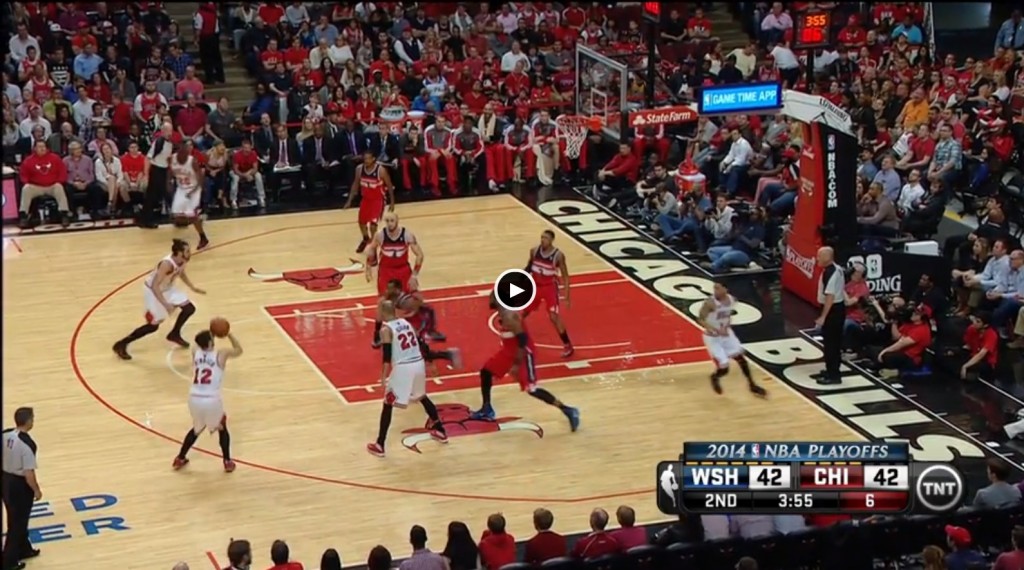 this made three pointer by Kirk after he makes himself available on the wing. It's one of the cleanest looks Chicago got all night and Kirk knocked it down.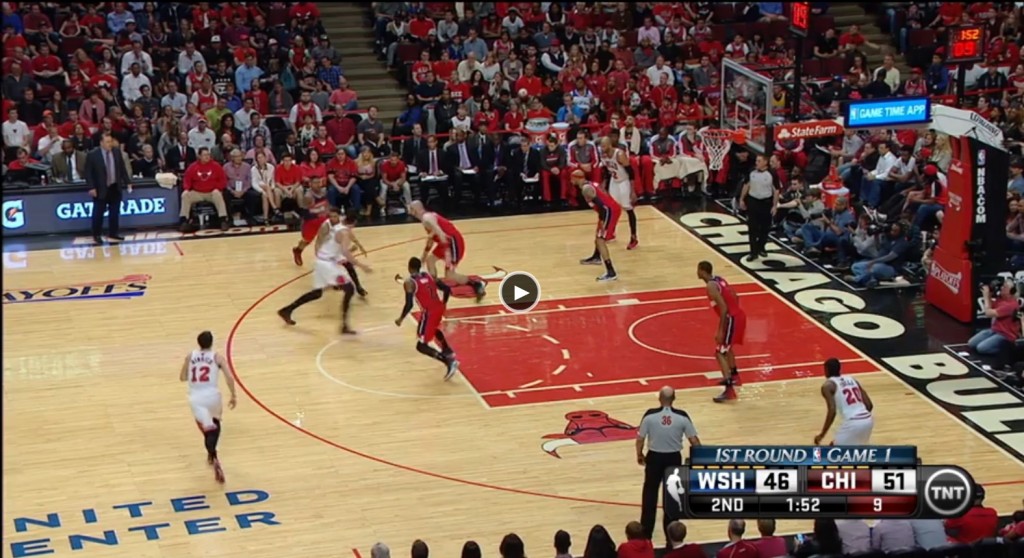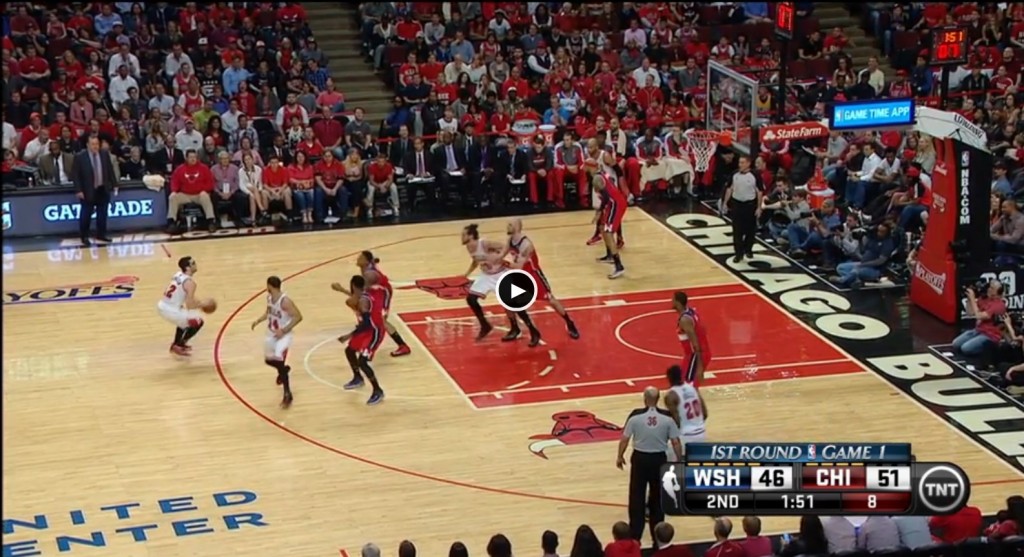 Again, Wall is so preoccupied by Augustin he allows Hinrich to move and create another open shot. This time he misses, but unlike earlier in the season, he's capable of making teams pay for giving him such a good look.
It's not just with Hinrich either, as Wall is eager to jump this passing lane to D.J.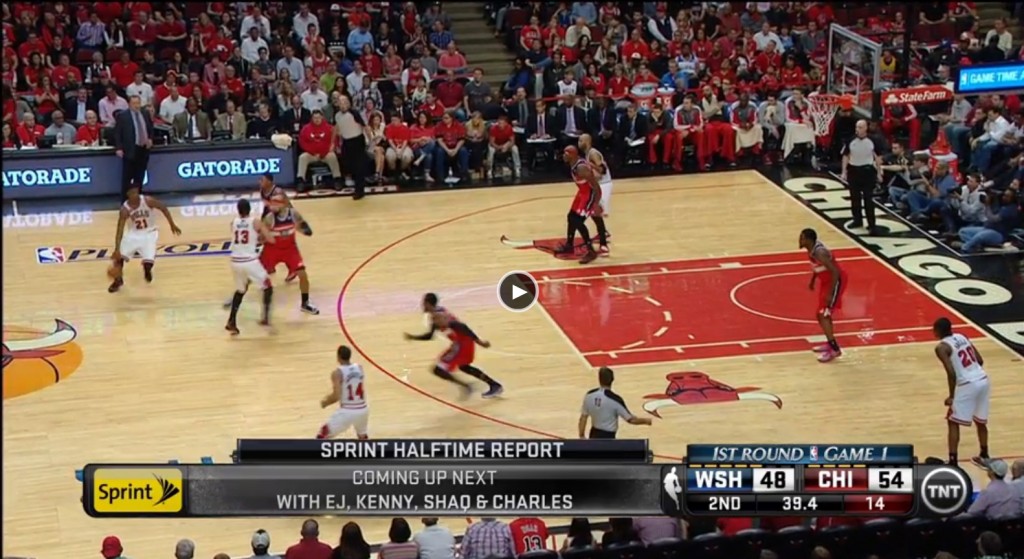 It leads to Augustin cutting towards the basket for a makable layup (which he missed):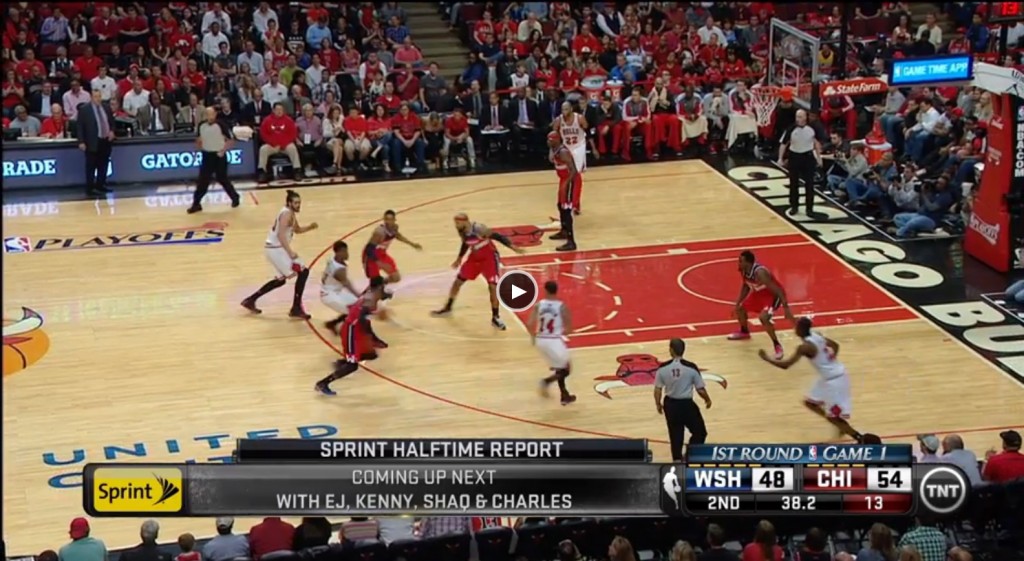 Finally, one more example of Wall losing Hinrich around screens: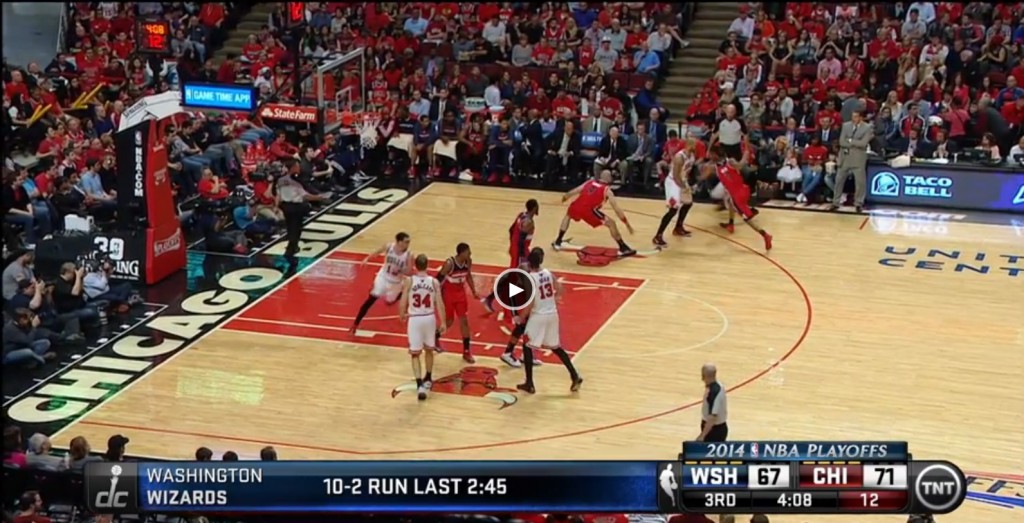 Hinrich should get a clean look of this, but doesn't, which leads to the next big adjustment for the Bulls…
2. Be more decisive with the basketball
Hinrich is open but an extra dribble by Jimmy as he searches for an outlet gives Beal the chance to leave Mike Dunleavy in the corner, so Hinrich rotates it to Dunleavy, but by that point, Wall has recovered and Dunleavy isn't open. The sequence ends with a putrid foot-on-the-line long two that clangs away by Butler.
Here's what happens when Hinrich goes into Steve Nash mode, trying to dribble around the whole court, even under the basket. He gets trapped and instead of finding an open Noah, he gives it Boozer. This possession ends with one of Dunleavy's made triples, but it shows how their ball handlers will get in trouble if they aren't committed to making quick decisions to either drive all the way to the basket or move the ball to the open man before it's too late.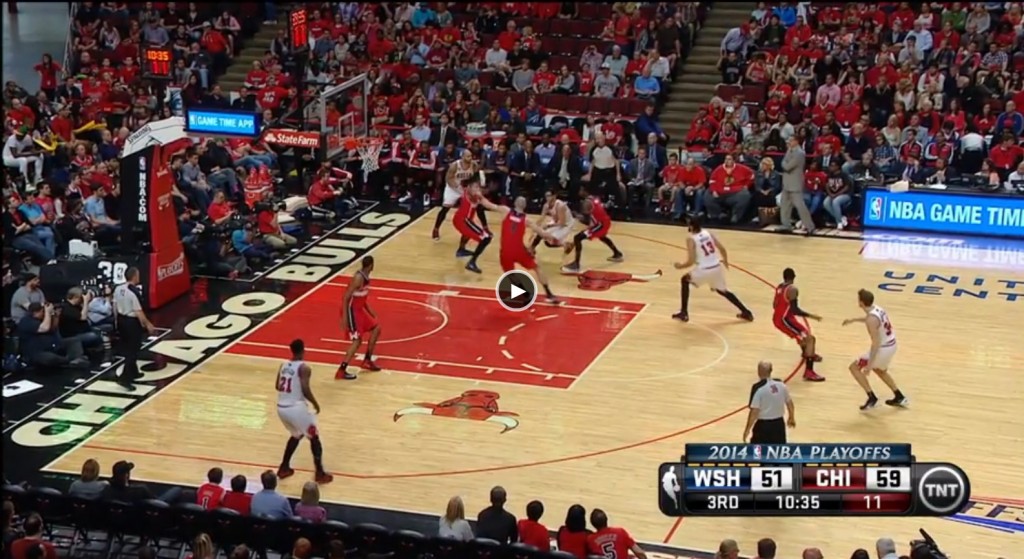 A perfect example of how the Bulls can succeed came on another of Dunleavy's made threes. After Kirk drives and kicks it to the corner, Jimmy fakes the three and drives to the hoop.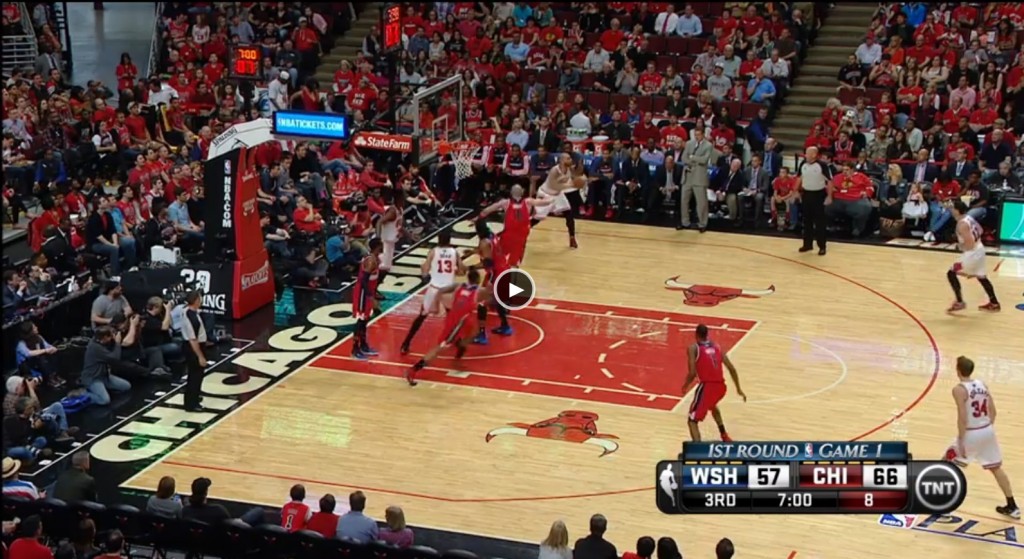 Butler meets trouble at the rim, but finds Boozer in the other corner, who instantly gets it up top back to Hinrich. Notice that Washington's spacing is in chaos after multiple drives into the teeth of the defense.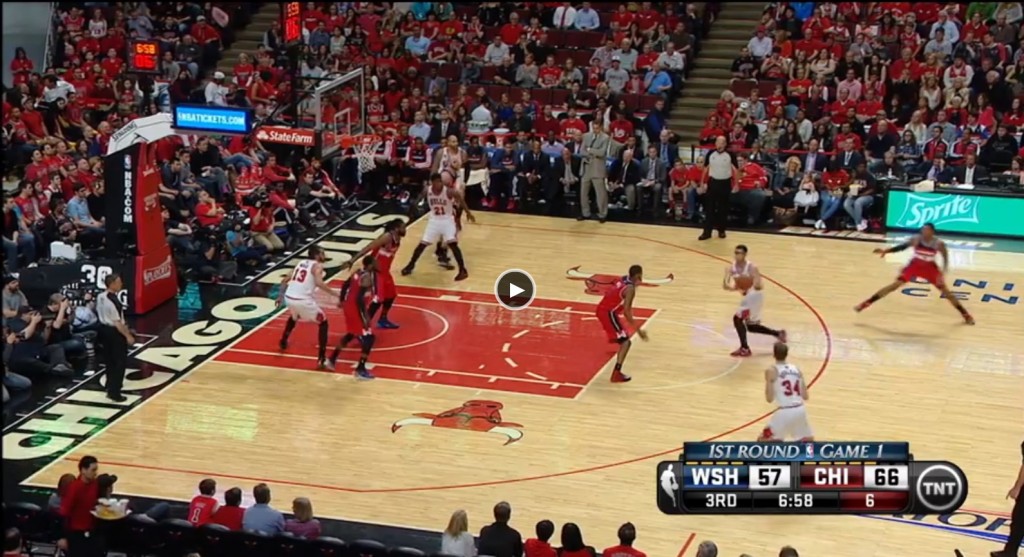 Beal attempts to recover, and Hinrich drives to suck in Ariza off of Dunleavy.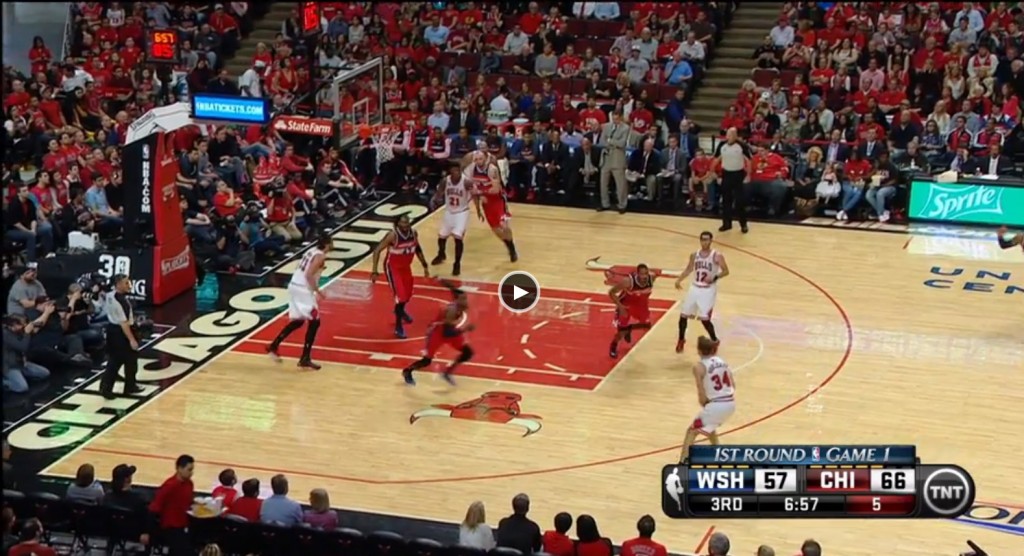 It takes four crisp passes, but Chicago got their best shooter a wide open look by not hesitating and not over-dribbling. Hopefully we see more of this tonight.
Another facet of being decisive is not passing up decent looks. For example, Kirk elected not to shoot this…
and Chicago ended up with this instead: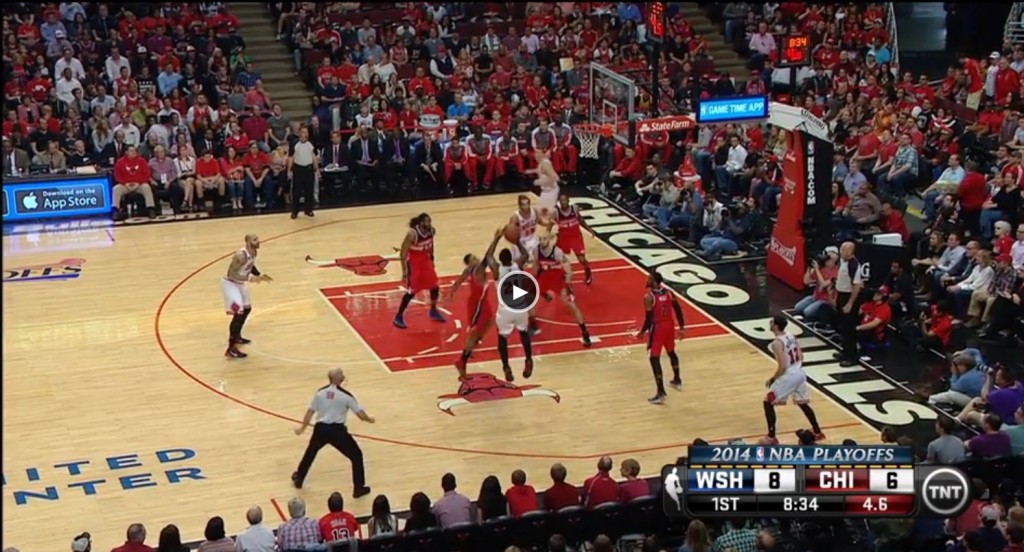 The Bulls aren't the Spurs. They can't pass up good looks for great looks because they won't get them. They need to simply take the good looks. I don't think playing Boozer in the fourth will help at all, but there is something to be said for the way he plays. He's trying to get his, but he isn't shy about shooting and sometimes his teammates need that same attitude.
One other way the Bulls could get crisper possessions is getting the ball to Noah more to let him operate and direct traffic. His frontcourt touches and elbow touches were lower in Game 1 than his season averages, despite being on the court for longer.
3. Make shots
It sounds so simple to say they need to make shots, but if D.J. even goes 5-15 instead of 3-15, the Bulls might have won Game 1.