Just two days after a marathon triple-overtime, it would've been fair to expect the Chicago Bulls to come out flat in what would be a 96-93 loss to the Washington Wizards. Instead, led by Jimmy Butler — he of the franchise record 60:20 played in Orlando — the Bulls posted one of their better offensive quarters to start the game off.
They couldn't keep that up, of course, but it was still nice to see. This was an entertaining game overall, and one the Bulls nearly won. Alas. Now then, on to what we learned.
1. Kirk Hinrich doesn't (always) suck!
I am right up front on the "Kirk Hinrich is terrible and needs to go away ASAP" bandwagon — I may even be driving it — but he played really well last night. He slapped up an 18-5-5 line plus 3 blocks, and while he didn't shoot quite as well as he could have, he actually made it to the rim several times, which I previously would have guessed was against the rules. Now if only he would stop shooting step-back jumpers from 20 feet out…
2. Tony Snell: Point Guard?
Before anyone gets annoyed with me, I'm being facetious. Snell's obviously a two. But, continuing his run of recent excellent play, Snell set a new career high with 5 assists in about 26 minutes and really is starting to look comfortable out there. He's going to be pretty solid, I think, and I very much enjoy the Snell/Butler pairing on the wing. Snell is a shooter, Butler is a slasher, and both are better passers than they get credit for.
Speaking of Jimmy…
3. Jimmy's jumper seems to have abandoned him.
Butler started hot, scoring 7 of the Bulls first 10 points and assisting on the other three, but finished just 2/9 from the field and 1/5 from three. He's shooting just 37.8 percent from the field — 31 percent from three — this year, down from 46.7 and 38.1 last season, and it's not hard to figure out why. Here's Jimmy's shot distribution from the last two years.
Jimmy's taking a lot more jumpers this year, and while he was an excellent shooter from about January on last season, he just hasn't been able to translate that to this year. Here are his shot charts:
Of more concern, perhaps, is Jimmy's mysterious drop in FG% at the rim. After posting a 59.7 percent mark at that range in 2012-13, it's down to just 52.9 this season. And you can't blame that on uncalled fouls, as he's drawing fouls at a rate of more than 1 free throw attempt for every two field goal attempts.
As to the fix, I really don't have one. For now, I'd say he needs to stick to the corners — where he's 14/32 this year — and get to the rim whenever possible. But I have faith in him.
4. John Wall might be a god.
Exhibit A: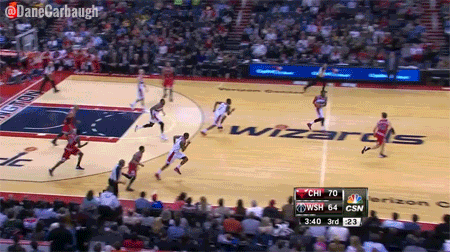 I mean… what are you supposed to do about that?
Anyway, that's all I got. The Bulls are back home tonight to take on the Philadelphia 76ers.
Statistical support for this post provided by NBA.com/stats.