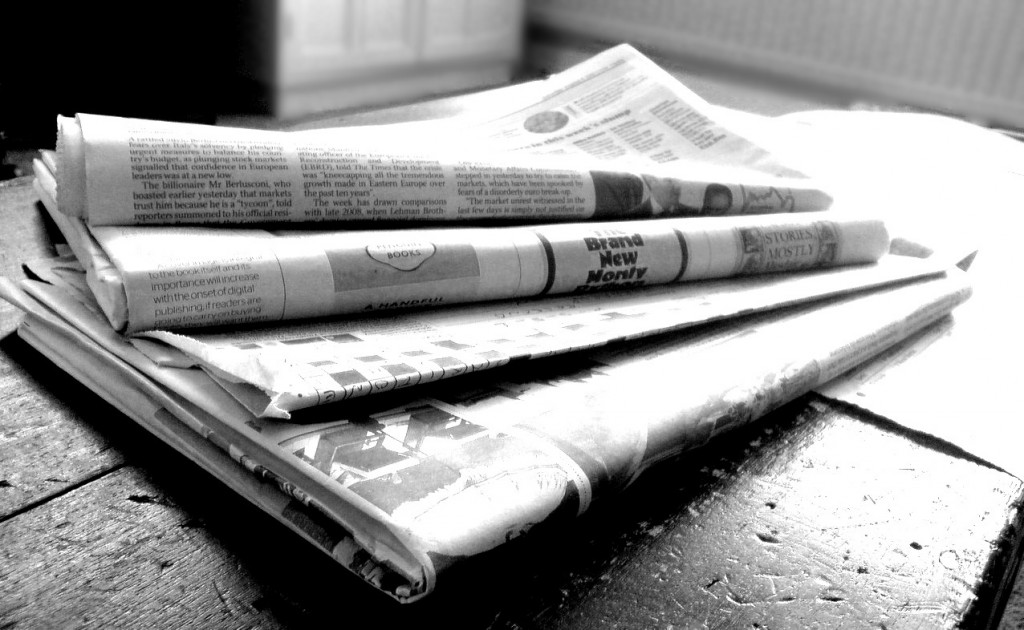 We at Bulls by the Horns realize that you're busy and don't have the time to go searching through website after website for some interesting, NBA related reads. So, from time to time, we'll gather the articles we've found interesting and put them together for you in one place.
With the first month of the NBA season in the books, ESPN NBA's coverage decided to take a page out of our book here at Bulls by the Horns and do their own 5-on-5.  Ramona Shelbourne mentioned the Bulls when asked about the league's most disappointing team, but that was only because of the injury to Derrick Rose.  Along with their most disappointing teams, their 5-on-5 crew also talked about their best teams in each conference as well as the most outstanding player of the month.
One of the players mentioned as the most outstanding player of the month was the Indiana Pacers' Paul George.  Avi Friedman of 8 Points, 9 Seconds examined the improvement in George's midrange jumper thus far this season.  George's improvement this season has already been a part of What We're Reading, but this piece from Friedman takes a more specific look at George's midrange jumpshot using the shot charts at NBA Stats.  Though the sample size is obviously small this early in the season, it's been impressive to see George so vastly improve on one of his major weaknesses from last season.
After struggling to start the season, the Nuggets, like George's midrange jumper, have really started to improve.  James Herbert at SB Nation took a look at how the Nuggets have been able to regain their form from last season in the last few weeks.  Much has been made about the Nuggets new emphases of inside-out play and tough-nosed defense under new coach Bryan Shaw, but the Nuggets have still pushed the tempo just like they did under George Karl.  In an interview with Herbert, Shaw emphasized that he has no problem with a fast tempo, but thinks his team needs to continue to work on their defense.
Another team going through their first season with a new coach is the Boston Celtics and Bob Ryan at the Boston Globe looked at how the Celtics are doing thus far.  The Celtics were supposed to be BAD this season, but that just hasn't been the case thus far.  As Ryan likes to say, they have been playing with Celtic Pride and Celtic pride just doesn't allow a team to actively pursue loses.
The 76ers were also supposed to be terrible this season, but the strong play of rookie Michael Carter-Williams has helped them avoid the bottom of the Eastern Conference.  Over the weekend, Keith Pompey of the Philadelphia Inquirer took a closer look at the maturation process of Carter-WIlliams.  Pompey found out that raising Carter-Williams was more than a one or even two person job, but instead it was the collective effort of Carter-Williams's father, step-father, and mother.  To avoid any sort of foolish spending, Pompey also found out that Carter-Williams has put the money from his rookie contract into a trust fund that he can't touch for three years.
Contracts were also a major topic in Miami over the weekend as Brian Windhorst talked with Dwyane Wade about Kobe Bryant's new contract extension will affect the decision-making process of Wade this summer.  The Summer of 2014 has long been discussed as a huge summer in free agency and Windhorst asked Wade to think about some pretty big questions.  Wade has a ton of options this offseason with and what he decides to do could very well shape the balance of power in the NBA for the next four or five years.
In other possible NBA transactions, Omer Asik has still not been traded from the Houston Rockets.  Everyone in the league knows that the Rockets are trying to move and over the weekend, it became pretty clear why Asik had yet to be moved.  Brett Pollakoff at Pro Basketball Talk detailed a few reports that mentioned the Rockets have been asking interested teams for two first round picks for the their backup center.  This has made one GM go as far as to call Houston delusional in their asking price.
The whole organization in Houston might be delusional as Head Coach Kevin McHale decided to try a few new tactics on the sideline Saturday night.  As Tim Duncan attempted to inbound the ball at the end of the first half near the Rockets bench, McHale walked back and forth in front of Duncan's face in an attempt to bother Duncan's rhythm as he inbounded the ball.  The tactic might not have been ridiculous as Jason Kidd purposely spilling a cup in order to gain a timeout, but it was still quite embarrassing for the long-time NBA veteran.
In Toronto, Michael Grange of Rogers Sportsnet detailed why he believes the right tactical decision is bringing Rudy Gay off the bench.  In an impassioned plea to coach Dwayne Casey, Grange argued that Gay's shot-happy style might actually flourish in a role coming off the bench where taking a lot of shots is more commonplace.  Grange's biggest problem with Gay in the starting lineup was not just Gay's performance, but his belief that Gay's attitude affects the other starters and influences them to take the same bad shots that Gay frequently takes.
Finally, we'll end this edition of What We're Reading with a heavier piece from professional basketball player Coleman Collins.  Collins, a pro player from overseas, detailed his encounters with the n-word in his time as a basketball player.  Collins took a comprehensive look at the different ways in which he has seen the word used in his travels and how the n-word is used in different countries and locker rooms as well.  The piece gives an interesting bit of perspective to a difficult topic and discusses race relations pretty eloquently as a whole.
As always, remember….reading is FUNdamental.