The following is a question submitted for the "Weekly Mailbag." Unfortunately my response was far too long and detailed to go in with the other mailbag questions so it was turned into it's own post.
I saw on Avi's Twitter he proposed the trade "Deng and Teague for Arron Afflalo and Jameer Nelson" but I'm not sure what to make of his proposal. Why trade Deng? Why would either side want to do the trade?
Mark B
The trade in question is the following: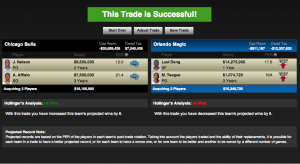 A couple of notes about this trade. First, I used Marquis Teague as a place holder. He can be swapped out for a first round draft pick (and I expect he would be). Secondly, this trade will likely never happen. It's just a pipe-dream I conjured up while idly sitting at my computer though it is a pipe-dream I really like. The reason I came up with this trade is mostly to get some sort of value on Luol Deng since I believe he's as good as gone after this season is over and a financially strapped for cash team like Chicago needs to get a return on him. I've stated this and several other reasons while making my case as to why I believe the Bulls should trade Deng in a previous post.
On to why I think this trade would work for both teams (assuming the Bulls gave up a first round draft pick in place of Teague):
—
Orlando–
Over the course of the past several months, there have been several rumors regarding the Orlando Magic wanting to trade Arron Afflalo and Jameer Nelson because neither player fits into the team's long term rebuilding plan. By trading the two players to Chicago for Deng and a first round draft pick, the Magic accomplish two things: 1) they unload two players they seemingly don't want to begin with; 2) They can potentially accelerate the rate at which the team rebuilds. The latter is the most important reason of the two. By trading for a draft pick, general manager Rob Hennigan can continue to utilize the Oklahoma City Thunder model of building a team through the draft. By trading for Deng's expiring contract, the Magic free up roughly another $5-6 million in cap space (assuming Jameer Nelson's option would not be picked up). This extra cash could help Orlando nab some players via free agency next offseason or give them some extra space to negotiate contract extensions.
—
Chicago-
Note- The trade for Chicago is primarily to land Afflalo. Nelson was added in there to add incentive for the Magic to pull the trigger. For the most part, most of the analysis below focuses on Afflalo's impact for Chicago.
Trading Deng for Afflalo would impact Chicago in three ways: it hurt the defense, would improve the offense, and help the team's financial future.
Defensive Impact of the Trade
Chicago is a team renowned for their defense under coach Tom Thibodeau. For the past three seasons the team has sat near the top of the league in points allowed per game and are the defense has kept the team in games despite the team's lack of offense. While I am personally a fan of the trade, there is one drawback to it (if it ever happened by some miracle)- Chicago would endure a slight defensive drop. Luol Deng has been a a great perimeter defender throughout his career and continues to be an impact player defensively for Chicago. With both Deng and Butler on the floor together, opposing offenses have struggled to get to the basket and average roughly just under 1 point per possession. With only Butler on the floor, that number jumps up slightly.
How big of an impact trading Deng would ultimately have on the defense is hard to say though. As explained in my argument to trade Deng over the summer (linked above), Butler's numbers show that he can step into Deng's role with ease and be almost as effective, if not more effective in some areas. However, most of drop-off relies on how well Affflalo would fit into the system. If Afflalo ended up integrating well into Thibodeau's system, the loss of Deng would be mitigated significantly.
Offensive Impact of the Trade
This season Luol Deng has endured some mighty struggles on offense. While he is averaging 16.9 points per game on 45% shooting (numbers in line with his career averages) he has been a big liability when shooting from beyond the arc. Thus far Deng has a three point shooting percentage of 19% (career average of 33%). While he should make improvement throughout the course of the season, if Deng doesn't improve his long distance shooting drastically, this will mark the third strait season Deng's three point shooting percentage has declined. In fact, a look at his shot chart shows that Deng has been wildly ineffective outside of the paint.
In contrast, Afflalo has been having a great season offensively. For the sixth year in a row (he's only been in the league six years), Afflalo has shown marked improvement in his performance. Thus far this season he's put up 21.7 ppg with a 49% field goal percentage and 50% three point shooting percentage. Afflalo has been almost automatic from just about all areas of the floor while being one of the primary offensive options. His shot chart can be seen to the left.
In addition to posting better statistical numbers than Deng in the basic categories, Afflalo has been a better scoring option than Deng in most situations. The following is a table comparing the points per possessions that Afflalo and Deng score. All numbers are from Synergy Sports. The higher the number, the better.
| | | |
| --- | --- | --- |
| Situation | Deng | Afflalo |
| Overall | 0.98 | 1.06 |
| Isolation | 0.5 | 0.83 |
| P&R Ball Handler | 0.86 | 0.94 |
| Post Up | 1.15 | 1.13 |
| Spot Up | 0.8 | 1.36 |
| Off Screen | 1.14 | 0.86 |
| Cut | 1.19 | 1.33 |
In all situations except for two, Afflalo has shown himself to be the much better scorer. Now granted, these are all numbers through only 9-10 games, so it's a small sample size. However, both players posted fairly similar points per possession numbers last season. Even ignoring the numbers produced from a small sample size, Afflalo has been comparable or better than Deng in his field goal percentage and three point percentage, respectively.
So at this point, you get it. Afflalo is better than Deng on offense. But what good does that do for Chicago? Obviously having a better offensive option will improve the team's 24th ranked offense. Having Afflalo would ease some of the burden off of Rose as Afflalo is a better than Deng in isolation situations. Afflalo would also space the floor a little better, as well as force defenses to limit how often they double team Rose. Most importantly he can act as a true two-guard. Jimmy Butler is a nice option to have at shooting guard, however he is more suited to take on a Luol Deng type role (explained in my discussion to trade Deng- linked above).  By moving players into their more traditional roles, Chicago may fair a bit better on offense.
Now I won't completely ignore Jameer Nelson, though for the most part he is simply an afterthought when making this trade. For the most part Nelson would be brought in to be a three point shooter off the bench (career average 38%). There would be a log jam at guard behind Rose, however this can easily be remedied by having Hinrich play as the backup shooting guard most of the time, something Thibodeau already likes to do with Rose on the court anyways.
Financial Impact of the Trade
Many Bulls fans expect Chicago to follow through with the "2014 plan" this coming offseason. For those of you who don't know, the plan essentially entails Chicago let Deng walk and amnesty Boozer to sign a max contract player. Unfortunately the 2014 plan doesn't work out quite like how many people expect it to. Assuming the Bulls made the necessary moves, all they would be left with is roughly $14 million in cap space this offseason, possibly less depending on Nikola Mirotic. Unfortunately this isn't enough to get the player some fans want.
By pulling the trade for Afflalo and Nelson, the Bulls would kiss any possible free agent signing for this offseason goodbye but would potentially set themselves up in a nice position for the 2015 offseason. Assume Boozer isn't amnestied (which is likely because Jerry Reinsdorf isn't going to pay someone not to play) and the Bulls pick up Jameer Nelson's $8 million option for next season. That would send the Bulls into the 2015 free agency period with roughly $24 million in expiring deals. In addition to that, the Bulls may have roughtly $7.7 million free if Afflalo were to opt out of his contract after next season (if he sustains his current level of production, that is likely since he would be considered underpaid). With those three off of the books, the Bulls could make a run at either Kevin Love or Lemarcus Aldridge and extend Jimmy Butler with some money to spare. The Bulls would then be left with the option of using their bird rights on Afflalo to extend him past the cap.
Trading Deng and pick for Afflalo and Nelson would keep Chicago contending in the short term while stabilizing the financial future of the team.
—
Unfortunately, the trade likely won't ever happen so we won't really know just what kind of impact it'd have on the Bulls and their chance to win the title. But if I had my way and I ran the team that's the trade I would try to negotiate and the reasons why I would try to negotiate it. I hope that adequately answers your question, Mark B. If you, or any of you other readers, agree or disagree with the trade idea or have another trade idea of your own, let us know in the comments.