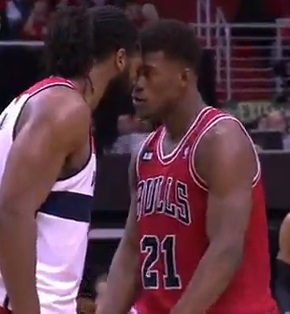 The Bulls find themselves on the precipice of defeat tonight at home against the Wizards, who have shredded their vaunted defense thus far.
On a day that is bound to be dominated by the Donald Sterling controversy (and his subsequent banishment FOR LIFE by NBA Commissioner Adam Silver), there isn't a whole lot to break down about this game. Four games is long enough to have a good feel what might and might not happen, and aside from Nene returning from his one game suspension, neither team is going to approach things much differently than they did the last game. Mike Dunleavy may or may not play with his bruised thumb, and if he does, it stands to reason that his role will be significantly marginalized. Other than that, we know what we're getting. John Wall and Bradley Beal have to be held in check. Joakim Noah has to outplay Nene. Trevor Ariza cannot drop a 30 spot again. For a team that has been about its own business, there is nothing else to do but treat this as just another game, until it isn't.
Probable Starting Lineups (Numbers are from current playoffs)
Chicago Bulls (48-34, 2nd in Central, 4th in East. 1-3 in Playoffs)
C- Joakim Noah, 7th season. 11.5 points, 11.5 rebounds, 4.0 assists.
PF- Carlos Boozer, 12th season. 9.5 points, 7.5 rebounds, 1.0 assists.
SF- Mike Dunleavy, 12th season. 15.3 points, 3.3 rebounds, 2.5 assists.
SG- Jimmy Butler, 3rd season. 13.0 points, 5.5 rebounds, 2.3 assists.
PG- Kirk Hinrich, 11th season. 9.8 points, 3.3 rebounds, 4.5 assists.
Washington Wizards (44-38. 2nd in Southeast, 6th in East. 3-1 in Playoffs)
C- Marcin Gortat, 7th season. 13.0 points, 8.8 rebounds, 1.8 blocks.
PF- Nene, 12th season. 17.0 points, 6.3 rebounds, 3.0 assists.
SF- Trevor Ariza, 10th season. 18.0 points, 8.5 rebounds, 2.8 assists.
SG- Bradley Beal, 2nd season. 20.5 points, 4.5 rebounds, 4.3 assists.
PG- John Wall, 4th season. 17.5 points, 4.0 rebounds, 7.5 assists.
Key Matchup(s): Everything I said above. Also, maybe D.J. Augustin could not be shitty. That would be nice.