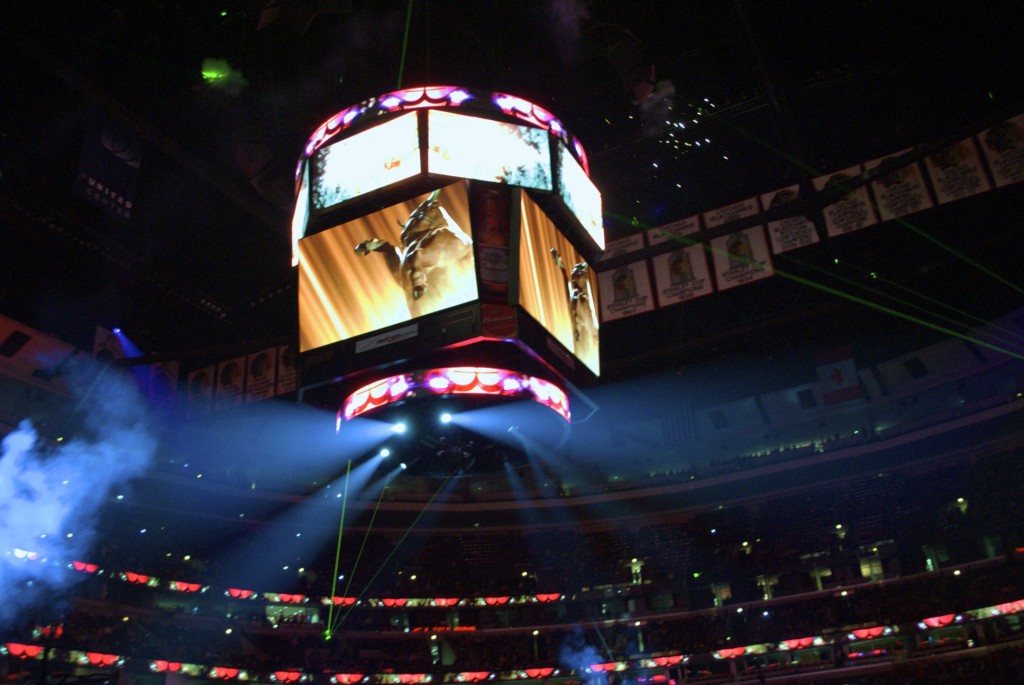 What an ugly game.
The Bulls and Knicks got together at the Madhouse on Madison and produced a truly dreadful watch. There was sloppy play throughout the game, on both ends.
The Bulls continued their worrying habit of missing rotations and leaving three point shooters wide open. Despite this, the Knicks only converted on a merely solid 37.5% of their 3 point attempts, rather than the blistering pace the Bulls lackluster defense on those opportunities may have yielded.
Offensively, the Bulls also struggled to put anything together. Tyson Chandler was seemingly everywhere for the Knicks on defense. Chandler was challenging everything at the rim, and despite a fairly large amount of contact, the refs apparently believed Chandler was staying within his zone of verticality. I'd argue with some of the no calls, but there's no denying that Chandler was just a monster out there with his activity, on both ends. He looked like 2011 Tyson Chandler, which is a scary proposition for everyone who has written the Knicks off. If Tyson is right, the Knicks are much more dangerous than previously thought. Tonight, he definitely looked right, as he recorded 19 rebounds on the game, including a staggering 8 offensive boards. In the fourth quarter, he offered second chance after second chance opportunity for the Knicks, who struggled to put the ball in the basket, as they closed the gap on the Bulls after entering the final frame down 10 points.  He was also a huge reason Chicago was only able to muster 11 points in the fourth quarter.
One other reason the Bulls struggled to score points was their decision to rely on simple, unimaginative offensive sets that were not even crisply executed. In addition, there were a number of possessions where they didn't even run a set, as Derrick Rose broke the offense and drove headlong right into a waiting Chandler. Inevitably, Rose would get stripped, blocked, or have his shot so significantly altered as to have no chance at going in. Put plainly, Derrick was forcing things, a lot. The impulse to press is understandable, but he needs to make better decisions out there. If the calls aren't coming, it's simply bad strategy to continue driving into the Tyson Chandler brick wall. Rose's pressing also manifested itself in missing open teammates a number of times as he drove into a crowd in the paint and forced up a heavily contested shot over making a simple, open pass to a waiting, unguarded teammate. Rose's timing and decision making will improve as he reacclimatizes to the speed of real NBA games and reins in his worst impulses, but in the mean time, its making for some ugly ball. Tom Thibodeau didn't do much to dissuade Rose from those bad impulses either, especially down the stretch as the play calls from the sideline seemed to be simply be "iso Derrick." It wasn't working, and it's just not the best way to get an open look most of the time.
Fortunately for the Bulls, the Knicks also went to hero ball to close out the game and Carmelo Anthony took a bunch of contested jumpers in isolation, including a potential game winner at the buzzer, which missed.
Other bright spots from the game:
Joakim Noah looked to be moving better than he did against Miami on his way to 6 points, 15 rebounds, 5 assists, a steal, and a block.
Carlos Boozer continued his stellar play to open the year, scoring 14 points on just 7 shots, chipping in 7 rebounds, dishing 3 assists, and snagging a steal on his way to a team high +9 in just under 33 minutes of play.  Boozer's Alternate Win Score per 40 minutes (AWS40) for the game was a staggering 17.86, which would have easily lead the league last year, per Hoopdata (LeBron- of course- lead the league with a 13.03 AWS40). Carlos Boozer, everybody!
Jimmy Butler having a post game is a thing, apparently.
Oh yeah, Derrick Rose hero ball won the day, in the end.
A win is a win, and the Bulls will, no doubt, improve from here. Here's hoping that improvement comes fast.
Statistical support for this post from NBA.com/Stats.