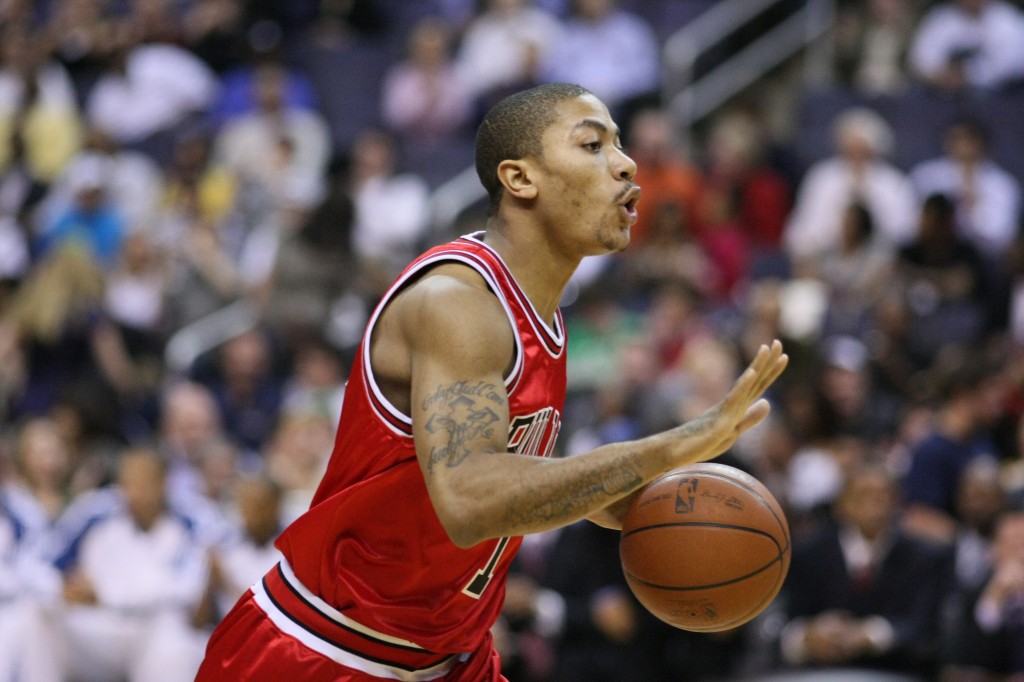 Well, that felt terrible.
The Bulls blew a 20 point lead to the Philadephia 76ers- a team that is supposed to be tanking, but is now undefeated, at 3-0. Not only did the Bulls blow a huge lead, but the same problems that appeared in the loss to the Heat and the win over the Knicks materialized again tonight, only worse.
Derrick Rose played possibly the worst game he's ever played as a professional. Rose shot 4 for 14 from the field on his way to just 13 points and he turned the ball over a staggering 8 times, including 5 catastrophic miscues in the final quarter. To top it all off, Rose was outclassed by the early frontrunner for Rookie of the Year, Michael Carter-Williams. Carter-Williams physically overwhelmed Rose in a way I don't think I've ever seen happen to Derrick before.  Rose was repeatedly blown by off the dribble by MCW on defense (it was bizarre that, given MCW's 6'6″ size, Thibodeau never saw fit to switch Jimmy Butler onto him). When Rose took his turn on the offensive end, he struggled to finish in traffic over the rookie's length. Rose's inability to finish in the lane through contact is becoming a trend. Rose also doesn't appear to be getting much in the way of calls when he gets into the paint. It's possible that this is due to a return to Rose's former playing style from his rookie and sophomore seasons where he tried to avoid contact, rather than seeking it out to get to the line. It'd be understandable, after suffering such a career-threatening injury, if Rose was more reluctant to seek contact. Unfortunately, for the Bulls to have a chance of winning titles, they're going to need the Derrick Rose that gets to the line on a regular basis.
Carlos Boozer continued to play excellently, dropping 22 points on 16 shots to go with 10 rebounds in just 32 minutes of playing time, because of course Carlos would play well when seemingly everyone else on the team is playing below their standards. Joakim Noah looks lost on offense to start the season, and it was especially glaring tonight. The Bulls' new "read and react" offense appears to call for Jo to stand out near the three point line on a regular basis, which it has to be said, is just a terrible idea. Noah seems unsure why he's out that far from the basket and it's lead to some inefficient scoring nights for Jo as he gets the ball in spots he's just not used to operating in. Tonight he shot 4 of 11 for 10 points, while contributing his usual stat stuffing elsewhere (9 rebounds, 3 assists, a block, and a steal).
Speaking of bad shooting, Luol Deng couldn't throw it in the ocean tonight.  He shot 8 for 21, missing all three of his three point attempts, including a wide open look from the wing which would have given the Bulls the lead late. All of Deng's bad shooting made the decision to draw up a play for him in the game's closing moments even more curious. He forced up a contested 3 point shot from the wing that missed the mark and that was that. Not a great job by Coach Thibodeau with that call.
The fact remains, though, that the majority of the blame for this loss belongs to Derrick Rose. He was, frankly, awful. He's been quite bad in all three games to start the season. Physically, he looks to be back to the same guy he always was, but his feel for the game is nowhere close to back. His decision-making needs to improve in leaps and bounds for the Bulls to have any chance of making a deep postseason run. I have faith in him that he'll get there, but it doesn't make the interim, waiting for him to get there, any easier.