There is but one person in the Bulls organization who understands where this team needs to go, who fully grasps the potential of this era of Chicago Bulls basketball, who is willing to do what it takes to deliver a championship.
It's not owner Jerry Reinsdorf, as he's probably been lounging by the pool at baseball's Winter Meetings asking for refunds on drinks he didn't even have to pay for.
It's not general manager Gar Forman, who surely took time out of his European scouting trip to call Knicks brass selling them on how great of a coach Tom Thibodeau is and how they could get him in the wake of this report by Marc Stein that New York might be interested in Thibs.
It's not the aforementioned Thibodeau, too preoccupied wondering how he can squeeze more out of Joakim Noah than the 37 minutes he managed to grind out tonight.
Our hero is an unlikely protagonist, sent from the future with a mission fit for every last ounce of his ineptitude. He's the real life version of Booster Gold: Kirk Hinrich.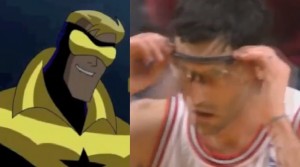 Hinrich is so terrible that he is literally S.H.*.T.: Single-Handedly Instituting Tanking. He played a big part in a miserable first half for the Bulls. New York scored 31 points in the second quarter. Chicago scored 32 points in the entire half. The Knicks started the second quarter on a 19-0 run, as it took over six minutes for the Bulls to hit a field goal, a Mike Dunleavy triple. Dunleavy was one of the few bright spots for the Bulls, which is saying something, because after a nine point first quarter on 4-8 shooting, he finished just 7-24 in 45(!) minutes, a total he hadn't reached in a non-overtime game since 2008. But back to Hinrich. He miraculously hit two of his five attempts from beyond the arc…and still shot just 3-11 overall. As for the other end, anyone who still thinks he's good defensively must not see all the point guards who cross him up, and tonight was no exception. Beno Udrih -who surely would have been a better option as a minimum signing than Mike James- got his turn in here: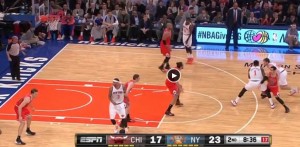 The Knicks weren't exactly playing like the '86 Celtics, but they were playing with unselfishness and intensity. JR made a great flip pass over his shoulder to set a layup. Amar'e Stoudemire looked like his old self, putting up 14 points and nine rebounds. He was agile, but also powerful, backing down Taj Gibson far enough to be able to turn around and drop in a bunny. Pablo Prigioni, getting the start for an injured Raymond Felton, made a couple plays deserving of his nickname, "The Sneak." Kenyon Martin morphed into peak-level Dwight Howard on a few possessions, including one where he stuffed Carlos Boozer and swatted Joakim Noah within seconds of each other. Carmelo Anthony continued to shoulder the load for his team with 30 points on 21 shots, adding ten rebounds. New York managed to build a 23 point lead. And then stuff happened.
I don't even know what to say. The Bulls were done. ESPN's Brian Windhorst tweeted that cameras caught players on the bench discussing the need for a team meeting. I stopped taking notes and started thinking about how this recap would be devoted to discussing the big picture. But Chicago found some of its defensive pride that is the hallmark of the Thibodeau Era, and had plenty of help from the Knicks, who turned back into the laughing stock they've been thus far this season. Smith stopped making mature plays and went back into YOLO mode. Dunleavy and even Hinrich parlayed lazy play from New York into steals and fastbreak layups as the third quarter closed. A Taj Gibson alley-oop here, a putback off a Marquis Teague miss there, and suddenly, the Bulls were tied.
But our protagonist was not to be denied. Again facing a small deficit down four, Hinrich took the ball with :40 left on a critical possession with :12 left on the shot clock, and literally dribbled all around the court. He drove to the basket, couldn't find a pass to his liking, circled back out right back to where he was and dribbled it off his foot, leaving poor Dunleavy with only the option of heaving it at the hoop as the shot clock expired.
Game over, mission accomplished. Admittedly, it was hard watching the remains of this proud group scratch and claw only to fall short, but wins mean nothing to this franchise. Actually, that's inaccurate. Wins are a detriment to this franchise. They hurt their odds of landing an impact player in this year's loaded lottery. They make it more likely that players return before they should really be playing, as Noah did tonight. They either trick the front office into thinking the team has "more than enough to win with" or supply it with such an excuse to sell to the fanbase.
That's why I say all hail Kirk Hinrich. He's not the hero we want, but he's the hero we need right now.