The following is a guest post submitted by Ruchir Deshpande. If you're interested in submitting a guest post to Bulls by the Horns, please contact us via our contact form.
This was supposed to be the year. The year Jimmy Butler announced to the whole world, "I have arrived." After coming off of a very impressive finish to the 2012-2013 regular season, Butler really burst onto the scene during the 2013 semifinal matchup with the Miami Heat, where he held League MVP (and destroyer of worlds) LeBron James to under 44% shooting. With a starting 5 of Rose-Butler-Deng-Boozer-Noah, Jimmy Buckets was supposed to be the fourth scoring option while providing elite defense.
Oh how quickly times can change. With Rose out for the year, Deng traded, and Boozer doing his best Eddy Curry impression, Butler has been thrust into a very unfamiliar role: life as a playmaker. Let's take a look at what the numbers say about his transition from role player to an offensive focal point.

The general trend that an increase in usage leads to a decrease in efficiency holds true in this case. Simply put, this season Jimmy Butler has been a shooting guard who can't shoot. Butler's three point shooting percentage has basically fallen off a cliff, and it is probably the main culprit behind his sub par field goal percentage and subsequently, his offensive rating and PER. Or is it….
Truth be told Butler has been struggling from the three point line, but a large part of that is because his three point shooting has been forced to leave the cozy confines of the corners (try saying that ten times). As he is forced to take on more of a playmaking burden, Butler has had to expand his overall game beyond just being a stationary three point shooter. Really though, the main area where he has struggled is near the hoop. On shots less than 5 feet, Butler is shooting only 55.5%, whereas last year he shot 62.5%. Lacking elite athleticism, Butler needs to work on the finer details in order to create separation. Veteran players who excel in the paint are masters of the hesitation dribble, changing pace and direction, and floaters, all in order to create that little bit of room needed to get off a shot when near the hoop. Butler too often is able to get the hoop, but lacks the guile and footwork needed to finish and instead just puts his head down and prays for the best.
Now this is not all Butler's fault obviously. The Bulls are not a team that will get very many easy buckets due to their refusal to be a "push the pace" team. The understanding of how NBA offenses work has progressed very far in the last couple of years and something we have learned is that the most efficient way to score is within the first 10 seconds of the shot clock, with the least efficient way being as the clock is winding down.

Not good. The average was calculated by taking the top 150 players in terms of field goal attempts (Butler ranks 141st), and Butler has lapped the field in taking shots with 21+ seconds left.  This is the most inefficient time to take a shot and it shows in Butler's effective field goal % (where a three is given more weight than a 2) as it dips to just below 32%. Think about that for a second, almost a quarter of the shots Butler takes are with 3 seconds or fewer left on the shot clock. Out of all 150 players, Butler's percentage of shots taken at the end of the shot clock was the highest. I am not absolving Butler of blame here, his shooting has still been very poor and his shot is too flat, but I mean geez the guy is perpetually in scenarios such as this:
In all 3 scenarios, Butler is catching the ball outside the 3 point line with less than 7 seconds left on the shot clock. He is basically left with no time to scan the defense and must commit to either driving to the hoop or pulling up, with no alternative in between. Given his size (6'7" and 220 pounds for a shooting guard is gigantic) and the fact that he possesses the best combination of experience and athleticism of any wing player the Bulls have, he has become the guy the Bulls look to when in desperation.
Butler has also had to deal with learning on the fly on how to play without Deng. Take a look at Butler's stats with and without Deng:

He's shooting roughly 3 more shots per game, but his shooting percentage has gone down the drain. 40% from the field and 33% from beyond the arc isn't anything to brag about, but given the Bulls' offensive limitations I don't think anyone had a problem with those numbers. However, since Deng left, Butler's FG% has dropped by almost 5% and almost 13% from beyond the arc. Dunleavy is a solid player, but teams don't worry about him driving in. Butler needs to cut down on the threes and use his big frame to penetrate the defense and create more for himself and his teammates. He has been taking a lot more shots off the dribble around the 18-20 foot range (following the Way of Wade huh?) which ranks as one of the lowest efficiency shots you can take. Losing Deng has had its toll on the team, but perhaps no player has felt it as much as Butler.
All that being said, Butler is not without blame. His shot has been in a season long slump and he continues to struggle with his decision making.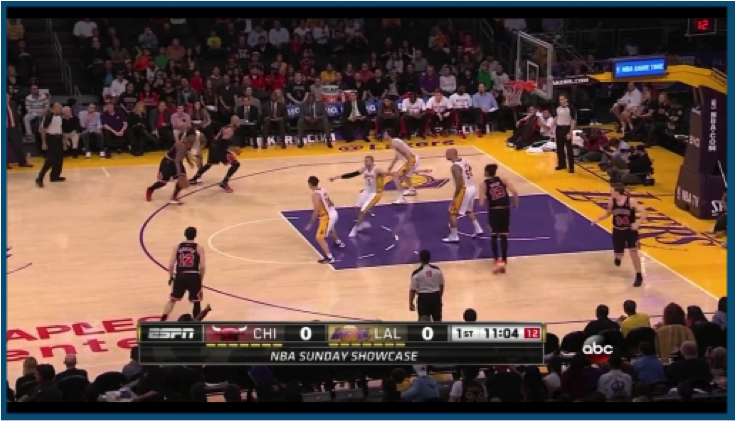 This image is from the Lakers-Bulls game. Gibson has set a pick on Wesley Johnson which has allowed Butler to round the corner and get a step on Johnson. Steve Blake appears to be signaling for Steve Nash to step up on Butler, which is exactly what happens. This leaves a couple of tantalizing options for Jimmy:
Drive in and force the defense to collapse and then hit either Gibson for the short jumper, Noah for the layup, or Dunleavy for the corner three depending on which defender steps up.
Force Nash to commit and then pass it out to Hinrich for the open 3.
Take it all the way and look to draw contact
So what does he choose? None of them! The second that Butler gets a step on Johnson, he pulls up for a long 2 which clanks off the rim. The hope here is that the more the Bulls put the ball in Butler's hands, the sooner he will be able to pick apart defenses by reading the layers of an NBA defense (and yes, the Lakers count as an NBA defense).
In the end, what does all of this mean for Butler? Well, I don't really know. He remains an elite defender, ranking second to only Lance Stephenson in Defensive Rating for starting shooting guards. He is tied for fifth in the league in steals and has shown to be a very promising player in the open court. Entering the season I thought that Butler would be the Eastern Conference version of Kawhi Leonard: a lockdown defender who can be a very solid complimentary piece on offense. My stance on this has not changed at all. Butler is a tireless worker and a willing listener, skills that will serve him well down the road. The problem with over-analyzing stats is that it does not tell the whole story of the player's surroundings. For years Monta Ellis was considered an inefficient gunner who does not play basketball "the right way". Well, this season he is putting up career numbers across the board (5th among shooting guards in PER), all because he is finally in a situation where he is not relied upon to do too much. At the beginning of the season, Gordon Hayward was struggling heavily and could not handle the responsibility that comes with being a go-to scorer. What happened? Trey Burke got healthy and Hayward has been playing far better now that he has someone else to take some of the burden off of him. I still believe that Jimmy Butler has the ability and the skillset to develop into a reliable 15 ppg, 45% shooter in this league. We have yet to see Butler play with a true superstar, and I get the feeling once we do, we will see the player we had hoped to see this season.
Note