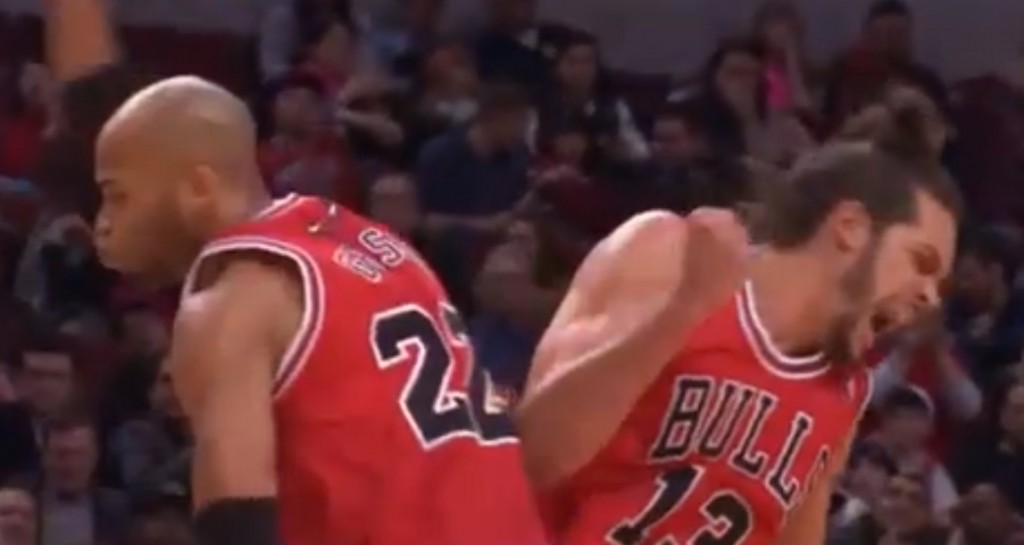 Today is Joakim Noah's 29th birthday and he couldn't ask for a better present, on or off the court, with the Bulls taking a trip to Atlanta to face what's left of the Hawks.
The Hawks have turned into what the Bulls were supposed to be: a team too broken to compete. Already having lost Al Horford for the season, somehow they are now without All-Star Paul Millsap and Carlos Boozer doppelganger Pero Antic, as well as Gustavo Ayon. That leaves them with just former Bull Elton Brand, Mike Scott and DeMarre Carroll up front, unless Bull-for-a-minute Dexter Pittman finds himself getting floor time.
Atlanta will lean on Jeff Teague and Lou Williams to create for their offense, and depend on Kyle Korver and Scott to space the floor. Scott is the type of stretch four that can take advantage of Chicago's defensive system, but without Millsap to draw attention, the Bulls will likely key in on him a little more than usual tonight.
Both teams snapped streaks in their last game, with the Bulls losing their five game winning streak in Miami and the Hawks snapping their eight game skid at home over the Knicks. They managed to play small against New York, but that tactic will not work against the Bulls. In their two meetings so far this season, Chicago has won both by dominating the boards by margins of 52-43 and 57-28, and the Hawks had Millsap in both of those contests.
As for the Bulls, they are not devoid of injuries, as Jimmy Butler looks likely to miss a second game with his ailing rib. That leaves D.J. Augustin, Mike Dunleavy, Kirk Hinrich and Tony Snell all looking at 35ish minutes, unless the frontcourt is so dominant that this one turns into a laugher.
I somewhat expect that not only because of the mismatch down low, but also because of how displeased Noah was after their loss to Miami. Chicago lost that game because their offense was as bad as the pre-Augustin days, which makes sense considering D.J. was 0-10 from the field. However, Noah felt like his team didn't fight hard enough and that they lacked intensity. Whenever Noah and Thibs perceive a lack of fight, the Bulls almost always come out swinging the next chance they get.