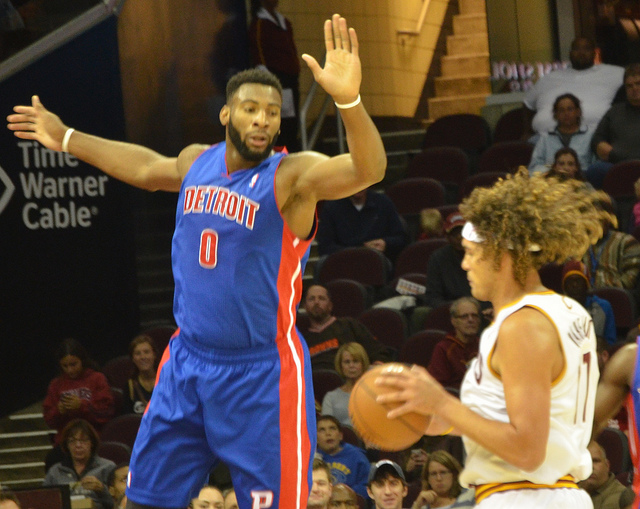 For the longest time, this game looked like one of the worst losses of the season for the Bulls. Through two quarters, they were being controlled by the Pistons defense, blown apart by the Pistons offense, and personally dominated by Andre Drummond, who outrebounded the Bulls by himself, 19 to 17, through two quarters.
The third quarter saw the Bulls slowly grind their way back into things in the same fashion you've seen a dozen times by now. After three quarters, they were down only 10. And then, the fourth quarter happened. Taj Gibson, as is custom, replaced Carlos Boozer (7-8, 18 pts, 7 reb) and dominated the entire quarter, finishing with 17 points on 7-10 shooting. DJ Augustin (7-14, 24 pts, 6 ast), overcame a bad first half of his own to spark what became a 38-18 quarter for the Bulls. Jimmy Butler (5-13, 13 pts), Mike Dunleavy (5-11, 14 pts) and Kirk Hinrich (5-13, 10 pts, 5 ast) led the way for the Bulls, who have won their seventh straight and have, by virtue of the Raptors loss, moved into sole possession of 3rd place in the Eastern Conference. The Nets also lost tonight, which guarantees home court in the first round for the Bulls. Things are going pretty well, all things considered.
The Pistons were led in defeat by the aforementioned Drummond (11-17, 26 pts, 26 reb), Rodney Stuckey (10-18, 22 pts), Brandon Jennings (7-17, 17 pts) and Peyton Siva (4-7, 12 pts). They fall to 29-51 in what has been a thoroughly disappointing season for them.
The Bulls have three games left, and could still potentially reach 50 wins, something I'm not sure we would have thought possible back in December.
Player(s) of the Game: D.J. Augustin and Taj Gibson.