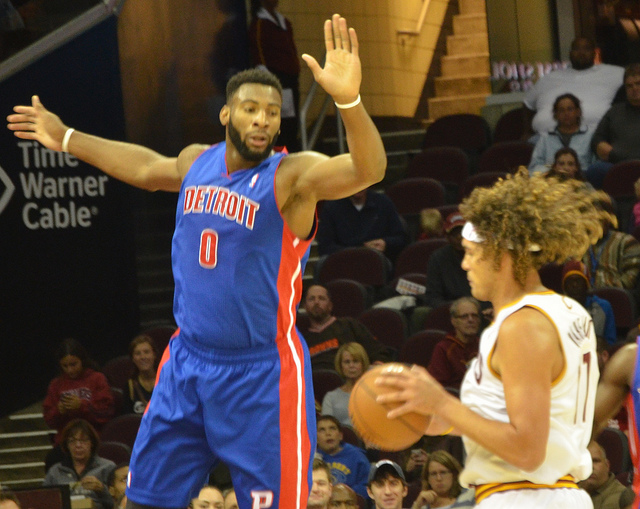 The Bulls play their last game against a Central Division foe tonight as they host the Pistons. This will be their fourth (and final, obviously) meeting this season. The Bulls have won 2 of the 3 previous meetings, with the one loss breaking an 18 game winning streak against the Pistons. That loss, on December 7, seems like a different team all together, in both ways. The Bulls who lost at home to the Pistons in December are not the Bulls who have won 6 straight and 33 of 47 in 2014.
The Pistons, on the other hand, have fallen out of playoff contention and need to decide what to do with their strange puzzle of a roster, one that on paper should be right with the Bulls in the upper half of the Eastern Conference. With GM Joe Dumars allegedly set to resign, the Pistons stand on a precipice. One wrong move could see them sink farther into the mediocrity that has claimed their existence for the last half decade, but one right move could propel them back into the ranks of the contenders.
Contendership is very much where the Bulls find themselves these days. While they are assuredly not a favorite, it's getting harder and harder to write them off completely. In the end, that's all this game is. It doesn't really matter who the Bulls face in the first round, at this point. Each potential opponent poses more or less the same threat to the Bulls. Enough to be concerned about, but not enough for Chicago not to be the favorite.
Probable Starters
Chicago Bulls (46-32, 2nd in Central, 4th in East)
C- Joakim Noah, 7th season. 12.6 points, 11.2 rebounds, 5.2 assists.
PF- Carlos Boozer, 12th season. 13.7 points, 8.3 rebounds, 1.5 assists.
SF- Mike Dunleavy, 12th season. 11.1 points, 4.2 rebounds, 3.8 assists.
SG- Jimmy Butler, 3rd season. 13.1 points, 5.0 rebounds, 1.9 steals.
PG- Kirk Hinrich, 11th season. 9.1 points, 2.7 rebounds, 3.9 assists.
Detroit Pistons (29-50, 4th in Central, 11th in East)
C- Andre Drummond, 2nd season. 13.2 points, 13.0 rebounds, 1.6 blocks.
PF- Greg Monroe, 4th season. 15.2 points, 9.3 rebounds, 2.0 assists.
SF- Josh Smith, 10th season. 16.4 points, 6.8 rebounds, 3.3 assists.
SG- Kyle Singler, 2nd season. 9.4 points, 3.7 rebounds, 0.9 assists.
PG- Brandon Jennings, 5th season. 15.6 points, 3.0 rebounds, 7.7 assists.
Key Matchup(s): Mike Dunleavy vs Josh Smith.
Joakim Noah is coming off of his fourth triple double this season against Minnesota. Andre Drummond is one of the best young centers in the league and the only player in it averaging at least 13 points and 13 rebounds per game, so you would be forgiven if you thought that was the matchup to watch in this contest. In all honesty, it probably is, but Dunleavy and Smith stands to be more likely to greatly favor one team over the other. Dunleavy has an Offensive Rating of 113 in April, playing arguably his best basketball as a Bull. Josh Smith remains talented, but already seems to have worn out his welcome in the Motor City. They might not guard one another (and Smith might not play), but the small forward spot would seem to be the hinge spot in this game.