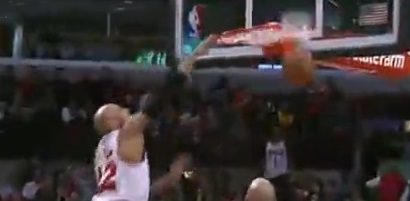 Well that was fun. Wins like the blowout over Houston are great, but there's nothing like out-hustling the Heat or out-muscling the Pacers. Judging by the players themselves, they feel that way too. The Bulls did what they do so well, and channeled their frustration over iffy calls, alleged flopping and the handful of heels on the Pacers into passionate, angry play.
It certainly didn't start out that way though. In a game of runs, the Pacers got the first one in, jumping out to a quick lead. The Bulls missed their first seven shots, failing to score for more than four minutes until Joakim Noah put in a jumper.
Noah was just one of multiple major players affected by foul trouble. Jimmy Butler took an early exit, especially for him, after picking up two quick fouls. Tony Snell was pressed into duty for more time than usual, playing both in the first quarter and in the second when Butler quickly drew his third foul upon returning. Snell was 0-6, including a couple misses on 3s he simply has to hit, but he held his own guarding Paul George one-on-one. Butler so rarely picks up fouls (he now has as many games with three or more fouls as he does with none at all, an astounding feat considering his minutes load) that unless he's hurt, we don't see the Bulls without him for extended periods. Times like tonight were nice to see and make me want to show this to Thibs: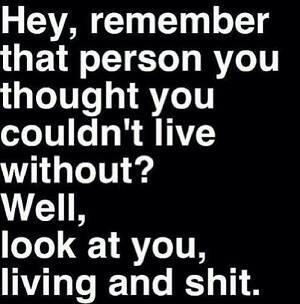 Jimmy's one of the best defenders in the NBA and he's also a great rebounder for his position. But the Bulls can survive stretches without him, and more importantly, if they can't, then the team isn't good enough anyway, and the only way that improves is for Snell to get more run. Letting him play a little more isn't just about giving Jimmy some rest, it's about setting the team up better if he's not available.
Anyways, back to the game.
George Hill's hot start pushed the Pacers to a 19-13 lead at the first quarter that would have been even worse for the Bulls had Taj Gibson not slammed home a putback of a Snell drive as time expired. The rim-shaking dunk would not be his last.
The Bulls stayed afloat without Jimmy in the first half largely thanks to Indiana's own offensive woes. After they dominated the beginning and end of the opening quarter, their bench failed them yet again. Luis Scola's Dirk Nowitzki impression from Friday did not carry over, and Evan Turner struggled yet again (a welcome sight for Bulls fans). Scola and Turner are supposed to provide scoring punch off the bench for Indiana, but a 1-4 night from each led to them posting more turnovers than made field goals.
I think their bench speaks to a larger point about the NBA. In baseball, the smart teams have realized that relievers throw such a limited number of innings throughout the season that their year-to-year performance isn't worth chasing. For every Brian Wilson or Fernando Rodney who has continued success after a dominant season out of the blue, there's a dozen Brandon Leagues who turn back into pumpkins after cashing in on a strong year that turns out to be an anomaly.
The Pacers have been more in the latter category the last few years, acquiring and/or dumping Gerald Green, D.J. Augustin, Scola and Turner based on sample sizes that aren't to be trusted, and it's cost them in multiple ways, as they've dealt assets and lost flexibility acquiring players that aren't moving the needle on the court. They keep reacting too much on the past, and this is an area where Chicago's frugality is a positive. Instead of shopping for the hot item, they let the value come to them. It's a cliche at this point, but the best teams won't pay for Augustin's performance this year, they'll simply look for the next Augustin.
Chicago looked primed to go into the locker room up 33-31, but a defensive slip-up gave Hill a look at an open triple that he knocked down with a second remaining. The Bulls didn't let it deter them however, as they jumped ahead in the third. That stretch was marked by a magnificent sequence in which Noah jumped in front of Hibbert to snatch an entry pass and chucked it ahead of Butler leaking out in fastbreak. The pass had too much on it for Jimmy to corral, but he tiptoed the end of the court, hurling it out to Mike Dunleavy who drilled a three to put the Bulls up 45-37. It only put them up eight, but considering this was Bulls-Pacers, it felt like it put them by 15.
A couple minutes later, Hibbert and Noah each picked up their fourth foul on back-to-back possessions. (Note: between these two fouls, Butler and David West picked up the weakest double technical you'll ever see.) Could the Bulls hold their 50-41 lead without Noah? That seemed questionable when Carlos Boozer contests drives like this one from Lance Stephenson this poorly: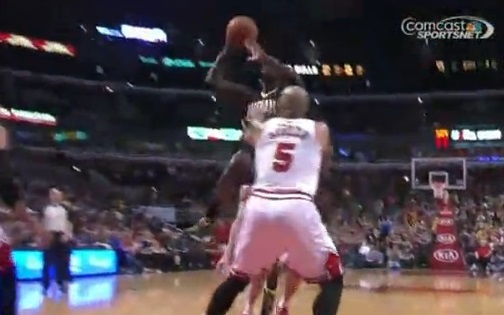 Seriously Carlos, he's not contagious. As bad as that play was, Noah's replacement decided the Bulls weren't losing.
Taj proceeded to hit that rare level where he can spark the entire team. With his rough outing Friday still gnawing at him, he let out every bit of that frustration on both the Pacers and the rim. On another magical sequence, George, whose 8-22 night belies the difficulty of shots he hit to sustain Indiana's second half offense, was ready to coast in for a dunk after swiping the ball from Boozer, but was stifled by Kirk Hinrich. Yes, Kirk Hinrich stymied Paul George. Video evidence and everything: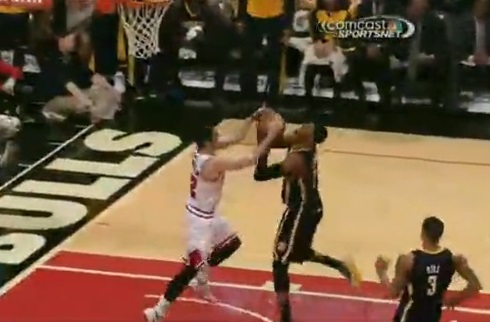 Hinrich recovered the ball, and after pushing it up court Jimmy missed at the rim. Taj cleaned up the mess though, violently slamming it through:
This shot is also the one at the top of the post, but I'm posting it again, because it was great and Taj Gibson is the best.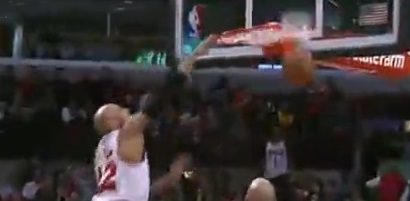 Taj's reaction?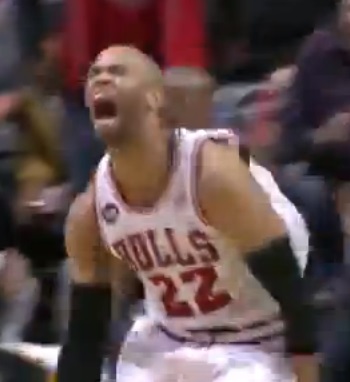 Indiana's last gasp at a comeback ended when Stephenson was called for a charge with just over a minute to play. During a last second free throw stoppage, Thibs even gave Taj and Jo the rarely seen curtain call, inserting Erik Murphy and Toko Shengelia for mere moments just to let the raucous crowd know how much they appreciated the intense duo that led the Bulls to such a prized win.
Notes:
Hinrich must have assumed Pacers-Bulls was a national TV game because he sure played like it. A couple three pointers, floaters in the lane, that stop on George in transition. He was a big help tonight.
On the other hand, Hibbert had another poor outing. 0-5 from the field, he had three points, five rebounds, no assists and no blocks. We've seen Joakim struggle with the big centers like Hibbert, but at this point in the season, Hibbert and the Pacers look gassed, which allowed Noah and Gibson to outwork them.