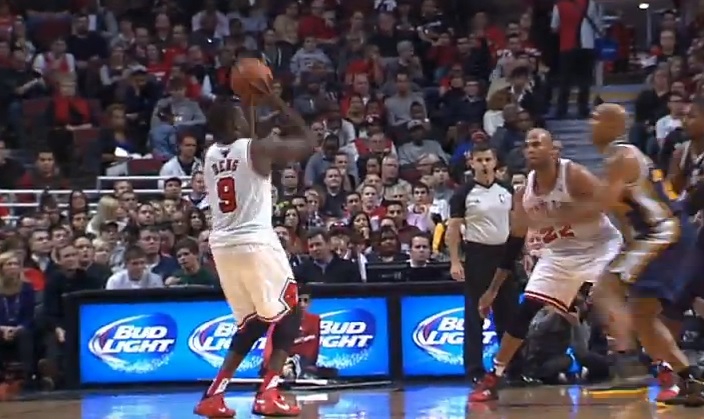 For years the Bulls have touted 2014 as the year the team would finally have spending flexibility. But with the summer approaching, management has thrown cold water on the possibility of bringing over long-awaited Real Madrid star Nikola Mirotic. With a franchise so well-versed in bracing its fans for disappointment, that got us at Bulls by the Horns thinking of exploring the other possibilities that await Chicago this summer. This week, we move over to the Eastern Conference.
Simply put, the Central Division has stunk this season, and in 2014, it's been a complete dumpster fire. Once a juggernaut, Indiana has faltered badly against good teams. Cleveland failed to climb into the playoff picture even though Atlanta was struck by a comically sad collection of injuries, and now Kyrie Irving is out yet again. Milwaukee amazingly still has pole position on the worst record despite Philly dropping 25 games in a row, and yet they probably aren't even the most hopeless team in the division so long as Detroit is anchored down by the albatrocities of Josh Smith and Brandon Jennings. The Bulls, who aren't a title contender and have four players they can count for solid production night to night, have been the bright light in the starless sky for the Central.
Even worse, the three bad teams in this division were honest-to-God trying to win this year, and as a result, there aren't many expiring deals to found here. Let's get through them speed-round style:
Spencer Hawes and Charlie Villanueva
The correct answers are "laughs so hard milk comes out your nose" or "don't even joke about Spencer Hawes on the Bulls." Either is acceptable.
Lance Stephenson
The fine folks over at Blog a Bull made the argument for Stephenson a couple months ago. Not much has changed, except that some of his flaws and bad habits have stuck out a bit more now that Paul George is no longer the Human Torch from midrange and Roy Hibbert has gone dormant. The chatter concerning Stephenson's free agency has revolved around the idea that he might take a little less to stay with a tight-knit title contender, as well as to pay back Larry Bird for cultivating his once rocky prospects of even lasting on an NBA roster, let alone becoming a borderline All-Star.
If that's true, then even if they can't make a deal work, it's hard to envision him turning around and signing with one of their chief rivals. In the event that's not how he feels, he can find the money the Bulls could offer him with other teams that will make him the star of the show that he'll never be in Indiana or Chicago.
Ramon Sessions
Now in Milwaukee, Sessions is about to finish his two year, $10 million deal that he got from Charlotte after catching fire upon being traded to the Lakers. (Related: Earl Clark got the requisite ex-Laker free agent bonus last summer. Who will be it this year? My money's on Jodie Meeks.) Shockingly, his numbers in Los Angeles, 47.9 FG% and 48.6% from three, did not hold, as he fell back to 40.8%/30.8% and 43.1%/28.0% since, the latter of which is displayed here: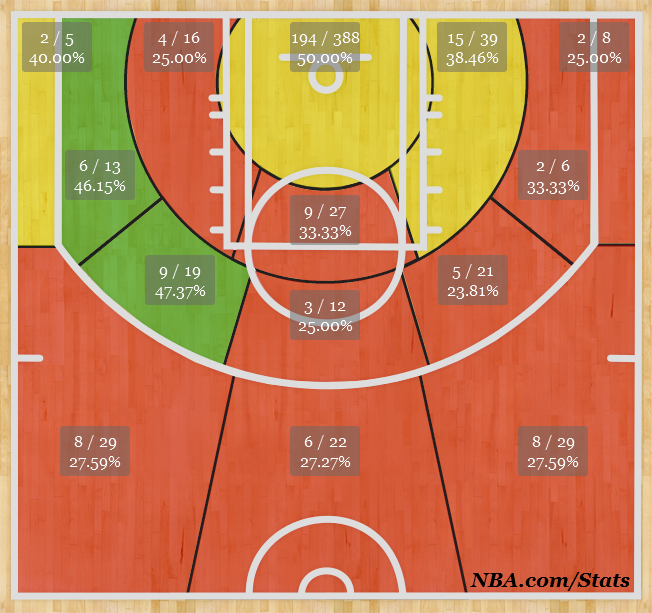 Don't call us, Ramon. We'll call you.
Rodney Stuckey
Stuckey managed to right the ship on his reputation just as his contract is expiring. That often represents a bad sign on whether teams should pursue such a player, but the Pistons roster was put together about well as an AI-controlled team in 2K, and I can't fault a guy for getting a little pep in his step after seeing the light at the end of the tunnel.
He's actually taken a rather precipitous fall since the end of November. Over the first month of the season, he scored 16.9 PPG, on 49.5%/37.5% shooting. Since December though, he's put up just 12.4 PPG on 41.9%/25.0%. Still, he's bigger than guys like Sessions, and has yet to play for a functional franchise. Maybe it's just because he's from my hometown, but I think Stuckey could play a nice role off the bench if he finds the right fit.
Luol Deng
After Chicago's "take it or leave it" offer for three years, $30 million, or, you know, anything in this post-trade reaction piece from K.C. Johnson, I can't imagine Deng would ever come back, no matter how much he loves his former teammates. In many ways, I'd prefer he didn't. Lu, go to a place like Dallas, or Phoenix, where where management appreciates you and you never have to deal with #FredClearedHim ever again.