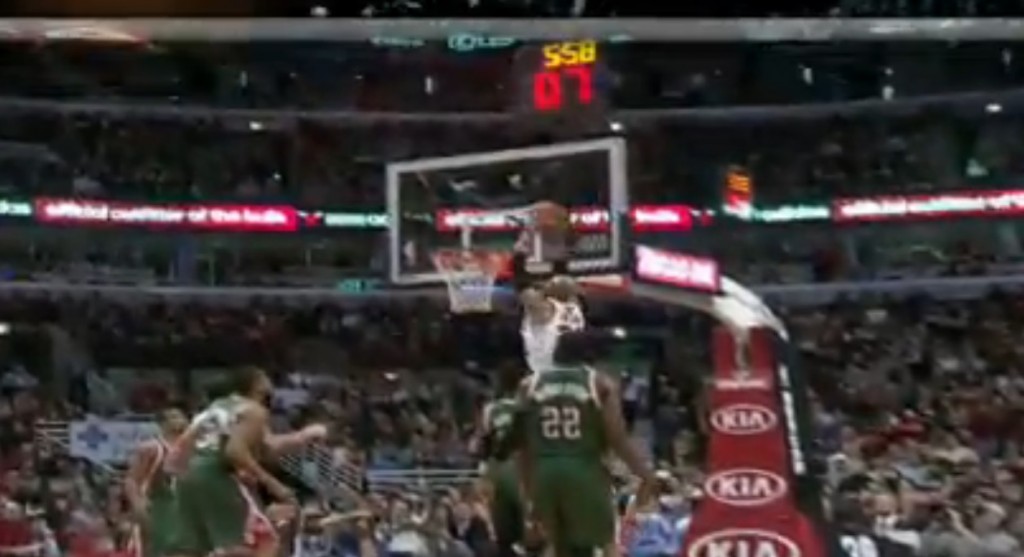 If you find yourself missing the NFL these days, then hopefully you caught the Bulls 102-90 win over the Bucks. The refs were terribly inconsistent, leaving both teams frustrated as to what constituted a foul. The game wasn't full-on chippy, but both sides certainly got a little agitated, with a some verbal sparring and D.J. Augustin taking offense to getting hit in the nether regions. Seemingly every fastbreak ended with an interception or a fumble that reversed the action. When a fastbreak did end in a shot attempt, the offensive player usually hit the deck, often without a whistle to show for it. This was the NBA equivalent of one of those super sloppy Thursday Night Football atrocities. (Some dispute that the Thursday games on short rest are worse than regular games, but this is one occasion I give in to confirmation bias. If I had to watch Brandon Weeden, then it was a sloppy game.)
Early on, the game environment was nothing more than a minor annoyance. The Bulls shot 12-24 in the first quarter, including 3-7 from three, and immediately established a respectable lead. Chicago led 27-15 after one, and managed to tread water with the bench in the second quarter. Nazr Mohammed even hit a turnaround jumper, and Tony Snell had a sweet dunk after selling a flying defender on a pump fake from the three point line. Up by 24 going into the half, and with the severely shorthanded Bucks only suiting up eight players, a full-on blowout looked promising.
That would have been the case except the Bulls shooting worsened quarter by quarter. Just 10-28 in the third, Chicago still led 82-62 going into the final frame. Milwaukee then cut it to single digits in the fourth largely thanks to the Bulls going 3-16 from the field, and that promising 50% start in the first quarter had plummeted to a shade under 37% by game's end. Aside from Mohammed's one attempt that he made, Mike Dunleavy was the only Bull to shoot over 50%.
All seven of the core rotation players scored in double figures though. They made up for their putrid night from the field by getting to the line a season-high 42 times, eclipsing their previous high of 37 against the Kings. Only five times all season had they even shot more than 30. They got to the line 19 times in the fourth quarter, and that wasn't simply Milwaukee playing the foul game, as only four attempts came in the final minute. Dunleavy is excused for his lack of free throws because he made shots, but Carlos Boozer, who as usual was active early, going 6-16 stands out since he only got to the line twice. The other five heavy minute guys had between six and ten attempts each.
The Bucks were led by Jeff Adrien (21 points, nine rebounds, 9-12 FG) and Brandon Knight (22 points on 8-17 FG). They shot over 45%, but only attempted eight threes, converting just two, which limited their scoring capability. Giannis Antetokounmpo played 32 minutes off the bench, with just four points on 1-6 shooting.
This was easily one of the dumbest games of the Bulls season, but the important thing was they didn't allow themselves to implode due to the circumstances and they finished off a game they needed for seeding, keeping pace with Toronto who beat Indiana tonight.
Notes:
In the title photo, Adrien made what some would call a "business decision" in not attempting to prevent Taj Gibson's thunderous dunk.
After the first of two free throws, Jimmy Butler tapped hands with both frontcourt players and then realized neither of the guards behind him were present to slap his hand. What did Butler do? Gave himself a high five. Unfortunately, no GIF of this is available.
The Bucks dressed eight players, and didn't dust off someone named D.J. Stephens until the final seconds after Giannis fouled out, so they had only a seven man rotation. Still, Butler played the most (40:56, edging Zaza Pachulia's 40:08) out of any player because Thibs.
Thibs did pull Noah, Butler and Kirk Hinrich with 22 seconds to go in favor of Snell, Toko and Jimmer. Baby steps I suppose.
Up next, the Bulls face their toughest remaining test, the second end of this back-to-back in Washington tomorrow night.