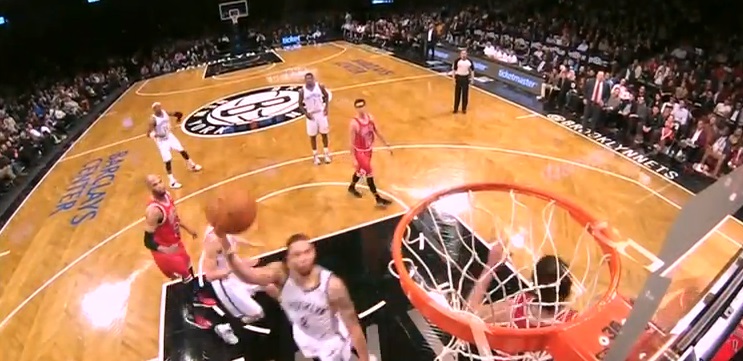 Sometimes they're the Bad-A** Bulls, but tonight they were just the Bad Bulls.
Jeff Van Gundy noted Chicago's win over New York yesterday wasn't a fourth quarter blowout, but rather a game that was decided in the first quarter, and the same could be said of tonight's game. The first quarter was a trainwreck, primarily because of Carlos Boozer. He was essentially a double agent, inept on the offensive end and a saboteur on the other.
The Bulls tried to attack Brooklyn's small lineup early by going to Boozer down low against Paul Pierce, but truth be told, there is no size advantage there. On defense, he guarded center Miles Plumlee (starting for Kevin Garnett, out with back spasms), as he does against small lineups, leaving Joakim Noah to guard a perimeter player. The Nets took advantage of this in multiple ways. First, Plumlee is bigger, more athletic and more active than Boozer, so he was able to muscle his way to a rebound or two Noah wouldn't have conceded. It removed Noah's presence from the paint as a shot-blocker, and Brooklyn got multiple open shots out of pick and rolls.
Chicago stabilized themselves nearly immediately after Boozer exited. A Noah-Mohammed frontline, which according to NBA.com had only happened once for less than a minute prior to tonight, even did fine. Boozer came back in later in the quarter and they went right back to struggling.
That's not to say they looked good without Boozer, as their offense was completely miserable. After just three turnovers yesterday, they had 28 tonight. The Nets did a very good job of containing pick and rolls and dribble drives intended to suck in a defender to kick to the open man. The closest thing the Bulls had to a go-to offensive playmaker was D.J. Augustin, and he missed four of his five threes.
The Bulls closed the deficit to just nine after Augustin's lone make from beyond the arc, but Brooklyn stemmed the tide with a timeout and Pierce hit a dagger three with less than five minutes to play to put the Nets up 88-71. Garbage time ensued for fan favorites Jason Collins, who received an ovation in his first game on Brooklyn's home floor, and Jimmer Fredette, who hit a layup in the final seconds to get to the Bulls to the 80 point mark.
Jason Kidd and the Nets all year have bemoaned their lack of identity. Tonight was another sign that they've found one in their small ball lineup. A team that appeared to be giants with a preseason Williams-Johnson-Pierce-Garnett-Lopez lineup now outhustles and befuddles teams with funky groups that function thanks to big shooter Mirza Teletovic and swiss army knife Andrei Kirilenko. They are .500 for the first time since November.
As for the Bulls, they have a very winnable game in Detroit on Wednesday, followed by a tough five game homestand, with four of those contests against legitimate playoff contenders.