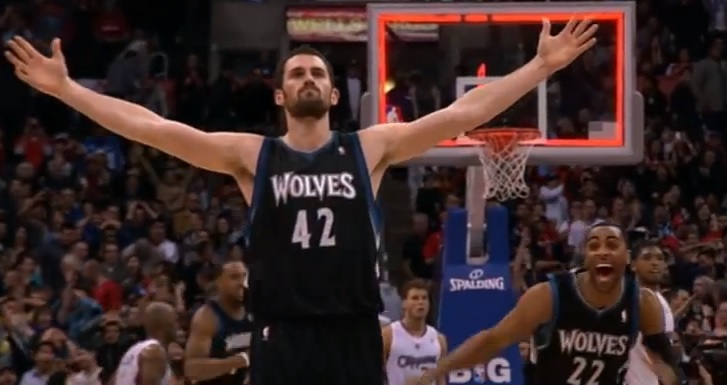 For years the Bulls have touted 2014 as the year the team would finally have spending flexibility. But with the summer approaching, management has thrown cold water on the possibility of bringing over long-awaited Real Madrid star Nikola Mirotic. With a franchise so well-versed in bracing its fans for disappointment, that got us at Bulls by the Horns thinking of exploring the other possibilities that await Chicago this summer. Our look at unrestricted free agents starts this week.
For the next few weeks, we'll examine players by division, starting with the Northwest Division, which captures the geographical layout of its teams about as accurately as the Big 10 and Big 12 monikers reflect the number of schools in their respective conferences.
The Big Fish(es)
Last offseason, rumors were rampant that Blazers star LaMarcus Aldridge was prepared to force his way to somewhere like Chicago, Houston or Dallas, either that summer or the next. What a difference a season makes. Portland is now an offensive juggernaut and instead of using his expiring contract as leverage to get out of Rip City, he's a good bet to do as the CBA incentivizes stars to do, and let his contract play out before re-signing with them in 2015.
As for Kevin Love, he's now in a similar position as Aldridge, except he'll have the leverage Aldridge lacked last year. He'll hit free agency in 2015 as well and doesn't have much reason to stay in Minnesota. The Wolves are a good team, but good doesn't cut it in the West, and it's highly unlikely they'll be able to acquire a true second star to put next to Love. As for Chicago's prospects of netting him (which they would only do if they were confident he would stay long-term), they're talented, highly respected around the league, and they have legitimate assets to deal. Also, for whatever it's worth, Love was teammates with Derrick Rose on the 2010 World Championships group that won gold, and they've worked out together in the past with trainer Rob McClanaghan. He's long been rumored to end up with the Lakers, so Chicago's chances of acquiring him are very, very, very slim, but that's more than 20-some other teams can say.
Denver Nuggets
For such a young team, Denver has one of the clunkiest cap sheets in the league. Their roster looks a lot like Chicago's in the Hinrich-Gordon-Deng-Scott Skiles Era. They have a lot of good players, but only Ty Lawson is a serious difference maker, and yet most of their rotation guys have midsized veteran deals. JaVale McGee and Danilo Gallinari, both question marks with season-ending injuries, are due eight figures each through 2016. As for their free agents, they only have a couple. The first is Darrell Arthur, who made an impact in Memphis before an Achilles injury and getting traded to Denver. At this point, he's unfortunately just a guy, but they do have one other player who could come off the books…
Nate Robinson. The ultimate fallback plan for the Bulls this summer to me was always to sign a third big man to replace Carlos Boozer, bring back Nate, who can opt-out of his $2.1 million deal for next year, and rely on the draft for long-term upgrades. Robinson loved Chicago, and for once, his team loved him back. Few players in the league resonate with fans like he does, but his frantic energy has worn out multiple locker rooms in the past. He fit right in with Joakim Noah and the Bulls though, providing a couple playoff performances fans will never forget. It seemed quite plausible that he could get a deal with the Bulls for the same amount of money he was due next year from Denver. However, once Nate tore his ACL at the end of January, that went out the window. Now he'd likely only get the veteran's minimum on the open market, making him a lock to opt-in for next season, get healthy, and hope to restore his value in 2014-2015 with the Nuggets.
Minnesota Timberwolves
Their key contributors are all under contract as well. The only player who even slightly impacts them that expires this year is Dante Cunningham. He's a rotation big, but the last thing the Bulls need is a big who only shoots from midrange. If Carlos Boozer taking nearly half his attempts from there is annoying, imagine how agonizing it would be to watch Cunningham, who takes two-thirds of his attempts from no man's land.
Oklahoma City Thunder
Two minor cogs from OKC will hit the market this offseason. First is Thabo Sefolosha, who Bulls fans may remember from his first couple years in Chicago. The Bulls dealt him for a first round pick that ended up being used to select Taj Gibson. Sefolosha's been a fine player for years, but it's safe to say Chicago doesn't regret doing that deal one bit.
Sefolosha falls under the Avery Bradley category in that he's not the type of player Gar Forman and John Paxson should be spending money on. With Thibs at the helm, and the Noah/Gibson/Butler trio on the floor to execute his schemes, there's no need to pay for a cog that the Bulls don't need. He turns 30 in a couple months, isn't a shot creator, and after a couple scalding-hot shooting seasons, has fallen back to just 33.8% from three.
The other OKC role player who may be available is Derek Fisher. He's aggravating to watch as an objective fan of the league, because he's a Kirk Hinrich All-Star. Announcers, analysts and coaches laud these players for scrap, leadership and intangibles, usually right as they brick a jumper or get blown by on defense. Yet Fisher still comes up with those random games where he hits all his open threes, leaving the opposing team's fans to do the "You've got to be kidding me!" gesticulations. He'll be 40 next season, but there's far worse players to stash at the end of the bench. I mean, check out his shot chart. 45% on above the break triples!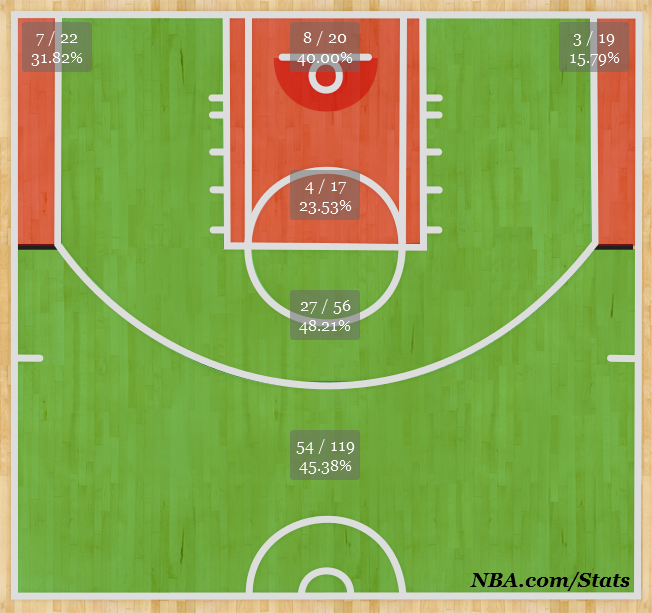 Portland Trail Blazers
Mo Williams is the only Blazer of consequence here. He can pass up a $2.77 option to search for a long-term home after playing for four teams in the last four seasons. He'd seem like a candidate for the Bulls considering all the score-first guards who've been revived by Thibodeau's pixie dust , except if he opts out, he'll be looking for more than what he makes now, and since Thibs can work with minimum-salaried castoffs, there's no sense in handing out a decent chunk of change to fill the role.
Utah Jazz
The Jazz have four notable free agents coming off the books. Let's evaluate them using the Thibs Mood Scale:
Brandon Rush:
Thibs Mood: Contemplative. Rush is a career 41% three-point shooter except he's averaging just 2.2 points per game after an ACL tear cost him all but two games last season in Golden State. He might never be the player he once was, but he also may be a good buy low option with a full year under his belt post-surgery.
Richard Jefferson:
Thibs Mood: Perplexed, as in "Do we get 2008 Richard Jefferson? No? Then why are you asking?"
Marvin Williams:
Thibs Mood: No. Just…no.
Andris Biedrins: Thibs Mood: Defcon 1. GarPax are never seen again after entering the Witness Protection Program.
-GIFs via Buzzfeed Sports and CJ Fogler (@cjzero)