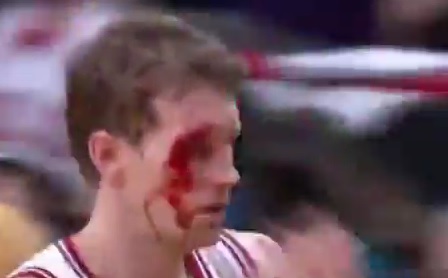 One does not simply beat the Bulls following a loss.
This game is a good example of what it takes to be a title contender. Yes, the Bulls haven't been one since that fateful Game 1 against Philadelphia, but they carry themselves like one. On the other hand, while Houston has grown into a legitimate Finals contender in 2014, tonight showed that they still have maturing to do. In the preview, I noted the biggest factor in tonight's game would be if Houston was drained or angry after their emotional loss in OKC on Tuesday. We knew the Bulls would show up ready to play after getting their doors blown off by San Antonio, so Houston would need to be prepared to match Chicago's energy. Well, they weren't.
The first half was relatively even. Carlos Boozer's 4-5 start got the Bulls some offense, but as he cooled off, so did the Bulls, and despite missing shots and getting excoriated by coach Kevin McHale for their lack of effort, Houston was getting to the line and hanging around. The Bulls carried an eight point lead into the locker room, but couldn't rely on midrange shots, as it was only a matter of time until Houston's barrage of three-pointers started falling.
Or not, because the best way to describe the Bulls in the third quarter is this:
Mike Dunleavy Jr. came back after a scoreless first half and a massive blow to the forehand from a driving Chandler Parsons and decided to strike back. He caught fire and poured in 18 in the third quarter. All of a sudden the Bulls had opened the half on a 10-0 run, up 60-42, and Houston basically decided they weren't interested in playing basketball anymore. The Bulls proceeded to take advantage, launching 3's at a clip we've not seen all season. They hit 14-24 triples, 12 from Dunleavy and the point guards.
Houston not only stopped guarding, they couldn't hit anything from the field. They were just 5-26 from beyond the arc. They lost the turnover margin 16-7. Dwight Howard had a double-double with 12 and ten, but tallied seven turnovers against the swarming Bulls, scored just two points after halftime, and a picked up a technical foul. Parsons was 1-11, and Terrence Jones was 1-7, each posting just two points. Even James Harden was 2-7 with eight points. The lone competent Rocket was Jeremy Lin, who had 21 on 7-13 shooting, and was their player with more than 12 points.
The game turned into a series finale for a great television show, because every Bull got their moment. Noah finished one assist shy of a triple-double. #NationalTVKirk and DJ were hitting threes. Taj Gibson posterized former Bull Omer Asik. Jimmer Fredette hit a three. Erik Murphy scored on a nice hook shot. Nazr Mohammed swatted a transition layup away with force.
If you're sick of watching Bulls games turn into grinding slogs, hopefully you caught this one, because short of beating Miami, or crushing Indiana early before Rose got hurt, this was as fun of a win as they've had all season.
Lineup notes: With Taj picking up three quick fouls, in the first half, the Bulls fielded their worst defensive lineup possible (non-garbage time) with Augustin/Snell/Dunleavy/Boozer/Mohammed. They also threw out the magical Fredette/Snell/Shengelia/Murphy/Mohammed garbage time unit.
Minutes watch: Aside from the win over Denver in which he sustained his rib injury, Jimmy Butler posted his lowest minute total since before Christmas with just 27:33.