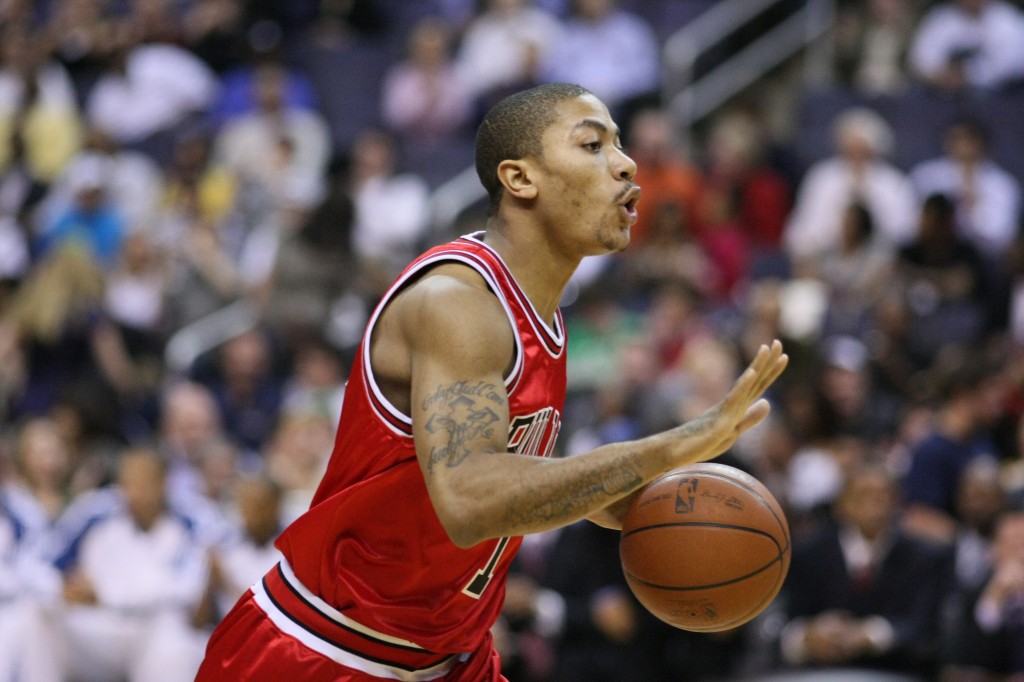 With Derrick Rose's meniscus injury, a team that seemed destined for a spot atop the Eastern Conference is now full of question marks.  For the second straight season, the Bulls will have to figure out how to go on without their superstar.
There are a lot of theories out there about what they should do off the court.  For instance, some believe they should try to do what the Spurs did in the 1996-1997 season when David Robinson played only six games and try to get themselves in the lottery for one of the most stacked draft classes in history.  Others think it may be worthwhile to move Luol Deng and get under the cap in order to avoid exceeding the threshold of the repeater tax.  These may not be bad ideas, but I will not be covering either of those strategies here, but rather I will take a look at the problems the Bulls may face on the court without Rose as the roster stands today.
We'll start on the defensive side of the ball where there should be very few problems.  As mentioned by Matt Moore on early Sunday morning, the Bulls should not have any problems on this side of the ball.  Thus far, the Bulls have given up 100.6 points per possession with Rose on the floor and just 84.8 with him off of it.  Admittedly, this season represents a very small sample size, but there is still little evidence that would suggest the Bulls will struggle defensively without Rose.
Offensively, though, the Bulls may have some problems.  This may be somewhat surprising considering the Bulls did well enough offensively last season to earn the 4th playoff spot in the Eastern Conference and win their first round playoff series against the Brooklyn Nets, but significant changes have been made to a roster that finished 29th in points scored per game and 23rd in offensive rating last season.
With Rose's return, the Bulls decided to fill out their roster with players that complimented his skills as a playmaker better than last year's roster.  With less playmaking needed, the Bulls decided to replace Marco Belinelli's production with free agent Mike Dunleavy Jr. and Nate Robinson's production from within by promoting Marquis Teague to backup point guard.
This lack of competent playmakers will be the Bulls' biggest problem going forward.  Through ten games this season, Rose had compiled a 29.4 % usage rate, which was good enough for fifth in the NBA.  In Rose's absence, the Bulls will need to find players to step up and start using more possessions.
A lot has been made about Dunleavy's inability to make plays off the dribble, but the numbers just don't support that.  It is true that Dunleavy's usage rate this season is only at 14% compared to Belinelli's 18.7% last season, but Dunleavy is certainly capable of more.  For their careers, Dunleavy and Belinelli's usage rates are nearly identical with Dunleavy at 19.1% and Belinelli at 19.4%.  Now, it is certainly necessary to also mention Dunleavy's advancing age, but in his last two years in Milwaukee, Dunleavy was in a dribble-heavy system in which he was expected to do a good amount of playmaking with a usage rate of 19% two seasons ago and 17.3% last season.  Though Dunleavy doesn't attack the basket with the same vigor as Belinelli, the threat of his shot makes him a creative player when he puts the ball on the floor and attacks the basket.
The major problem will be how the Bulls will attempt to fill the shoes of the departed Nate Robinson.  For all of Robinson's shortcomings, the one thing he really excels at is using a high number of possessions.  Last season, Robinson posted a usage rate of 25.1%.  He wasn't the most efficient player, but Robinson did a pretty decent job of putting points on the board and giving the Bulls great energy each time he came on the floor.
Without Robinson to take over offensively, the Bulls will need a few players to step up and start contributing a bit more on the offensive end.  One might think that Joakim Noah may be a player to lean on for more offensively with a usage rate of 15.6%, but last season his usage rate only rose to 17.2%.  Though Noah may be a talented player, he has never been the type to force anything on the offensive end.

The two players to keep an eye on in the coming weeks as far as increased usage is concerned are Taj Gibson and Jimmy Butler.  Gibson's usage rate has already increased a bit this season (up to 20.3% from 18.1%) and he has been relatively more effective offensively thus far.  Butler is quite possibly the most interesting candidate to step up in Rose's absence as many had expected a breakout season from him.  Even with Rose around, Butler's usage rate had already increased from 14.6% to 16% and it may increase even more once he returns.  It's a lot to ask from a young player, but Butler may have to take on an increased offensive role for this Bulls team to stay afloat offensively when he returns from injury.
No matter who the Bulls rely on in Rose's absence, it will be considerably different than last season and Bulls fans will need to remain patient.  The Bulls will be completely retooling their offense during the regular season with limited practice time.  It's not going to be pretty at times, but it will give a few players opportunities they wouldn't have been given with a healthy Rose.