A titanic game is on tap for this week's Total Recall: the first matchup between Magic Johnson and Larry Bird in the Boston Garden (their first overall meeting is unfortunately not on YouTube). To set the scene, Boston holds the league's best record at 32-10, while the Lakers are 30-15, two games behind Seattle for the top seed in the West, trying to hand the Celtics just their second home loss of the year. Such a tough task becomes even more daunting for the Lakers when accounting for a nagging groin injury for Magic (insert Magic Johnson joke here). To watch this game, here's part one.
Obvious statement is obvious, but it's amazing how big Kareem Abdul-Jabbar is. I mean, Anthony Davis gets attention for how freakish his wing span is, but this is a whole other level: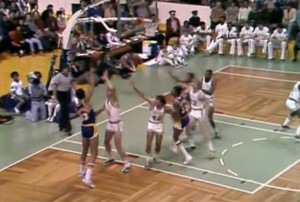 Color commentator Hot Rod Hundley: "Nice to watch two highly touted rookies come into the league who feature passing." He's obviously speaking of Bird and Johnson, but the same could have applied to the legendary rivalry from the Class of '03. Of course, I'm referring to LeBron James and Kirk Hinrich.
Boston's Chris Ford, one of the few sharpshooters at this point in the league, has hit a three pointer in 11 straight games, which is treated as some sort of crazy accomplishment. It obviously was at the time, but it's funny to hear considering it's been a whole season since Kyle Korver went without a triple in a game.
With Boston up ten early, Michael Cooper gets the steal, his first of many impact plays in this game picking up the slack for Johnson. The ensuing Abdul-Jabbar basket is just unfair. 7'2″ with that kind of footwork?
Hundley: "Larry Bird's a good defensive player. I think he'll surprise a lot of people in that area." This must be the 1980 version of saying Andrew Luck is "a better athlete than people give him credit for," or that Julian Edelman has "deceptive speed."
Part of the fun of these iterations of the Lakers and Celtics is their point guards. Norm Nixon and Tiny Archibald are smaller guys who can penetrate into the lane like in this play. They both seem like players who would have thrived in today's pick and roll dominated NBA.
The broadcast highlights both assistant coaches, K.C. Jones and…woah, 1980 Pat Riley!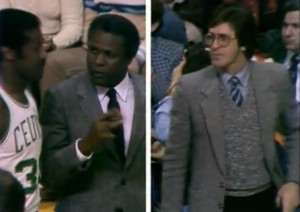 Interesting nugget: Brent Musberger notes that before hiring Bill Fitch, Red Auerbach offered the Celtics head coaching gig to… Bobby Knight.
NOTE: Part 5 of this video was pretty wonky. Maybe it's an isolated problem on my end, but it skips around and randomly ended multiple times.
Play of the game:
The first time I saw that play I'm pretty sure I ended up yelling "OH MY GOD!"
Unfortunately for Boston, that amazing block is merely a speed bump in L.A's 21-0 to come back and take the lead. The best part about the run is only a couple buckets into it, you can hear the Boston crowd getting nervous. It's like one, big collective "Uh oh." Magic and Bird get the headlines for these dynasties, but the 1980 Lakers are far and away Kareem's team. Magic is either on the bench or ineffective for the whole run and essentially the game.
Too long, won't watch (picking a slice of the action for those short on time)
Watch parts 9 and 10. Combined, they're only 15 minutes long and it's a great, frenetic stretch of basketball.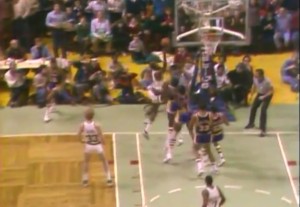 Off a Kareem miss, Bird does a great job pushing in transition and Cedric Maxwell does an even better job avoiding Nixon (you can see him in the sideline on the left) and finishing with a Derrick Rose-ian degree of difficulty to tie the game at 98.
With three seconds left, Nixon draws a foul, one too hard to tell if it was a good call, and puts the Lakers up two. Out of timeouts, Boston still gets a wide open look from Dave Cowens…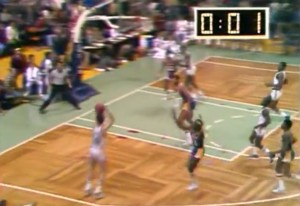 but he misses and Los Angeles escapes with a narrow road victory.
Spoiler Alert
Boston builds a double digit lead and holds it into the third quarter. However, Abdul-Jabbar spurs a 21-0 run that puts the Lakers ahead. Los Angeles looks ready to seal the win, up five with less than two minutes to go, but the Celtics rally. In the final seconds with the game tied, a questionable call puts Norm Nixon on the free throw line. He hits both, and with no timeouts, Boston pushes the length of the court, getting a quality look for Dave Cowens to send it into overtime, but he can't convert. Los Angeles squeaks out a 100-98 victory as Boston loses at home for just the second time.
Report Card
Quality of game: 9/10, what looks to be a blowout ends up as a nailbiter with an iffy foul call and a last second shot to send it into overtime.
Quality of teams: 9/10, the Lakers are still growing and the Celtics are a year away, but it's easy to see from a game like this how they combined for eight titles in the decade.
Individual performances: 7/10, Kareem drops 33 but takes a ton of shots to get there, Bird only posts 14 after a 6/6 start and Magic is too hurt to make an impact.
Fun factor: 9/10, a game of runs with up-and-down fastbreak basketball, with a great Boston crowd. Plus, the video quality is pretty good.
Time commitment: 9/10, not too many foul calls and a couple stoppages in plays are chunks that can be skipped entirely, saving time in the process.
Extra credit: +2, neither are at their best, but deserves a bonus point for the beginnings of the Magic/Bird saga.
Final score: 45/50, A-
Watch, skim or skip: Watch.