Let the games begin here at Total Recall. If you missed the introduction to the series last week, check it out here. Our first game is from October 12th, 1979, as Magic Johnson makes his NBA debut against Lloyd Free (not yet World B. Free) and the San Diego Clippers. To watch, check this playlist. For game grades and spoilers, skip to the bottom.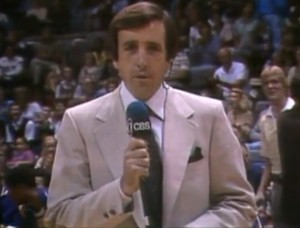 Woah! A young Brent Musberger! NOTE: At this point in time, Katherine Webb is -10 years old.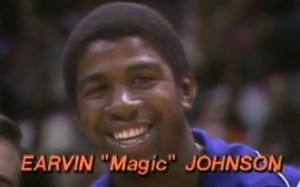 Musberger on Magic: ""I want to tell you that this man has a smile that lights up a television screen… I predict stardom for you."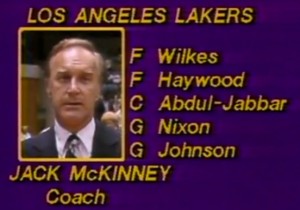 Get a good look at Jack McKinney, because he won't be the Lakers coach much longer. A freak bicycle accident detailed
here
led to Paul Westhead becoming the interim coach. Westhead asked former player and Lakers broadcaster Pat Riley to leave the booth and join his staff. McKinney never coached another game for Los Angeles as Westhead got the gig full-time, at least until he himself got fired a couple years later and Riley replaced him. Life is weird.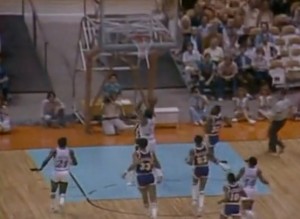 Early first quarter, off a missed Lakers jumper, Lloyd Free hits this PUJIT. Somewhere, Russell Westbrook is smiling. Just kidding, Russell Westbrook never smiles.
Right off the bat, strong chemistry between the Lakers stars:
In the second quarter, the first glimpse of what becomes of this Lakers team becomes can be seen. They just have so many weapons that can impact a game. Magic strings together a few creative plays in a row, Norm Nixon and Jamaal Wilkes chip in. Those two will disappear at times but they have enough talent that when either gets hot, L.A. hits another gear other teams can't match. That's before even mentioning Kareem Abdul-Jabaar, the spark off the bench Michael Cooper eventually brings, or their big man depth.
Still second quarter, Free steps to the line to add to his 20 first half points. Say what you want about LeBron and his hairline, but it's nowhere near *this* bad: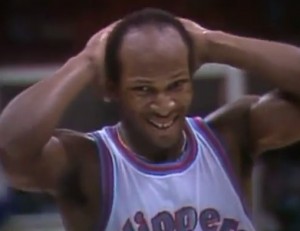 Third quarter now, Magic ties the game with his first sky hook. It certainly won't be his last.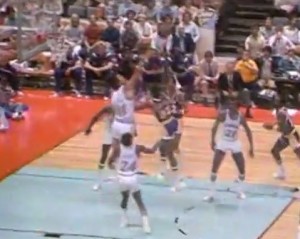 Back-to-back wow plays in the third quarter, courtesy of Magic and Joe "Jelly Bean" Bryant:
Kobe got it from his papa?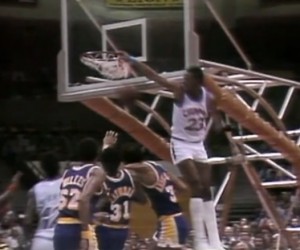 I…I don't even…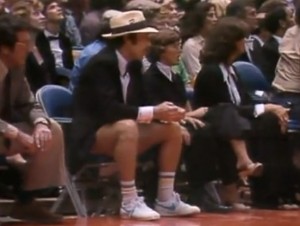 The Lakers make another comeback and even briefly take the lead, but now trail by one with :16 left, leading to this incredible sequence to end the game: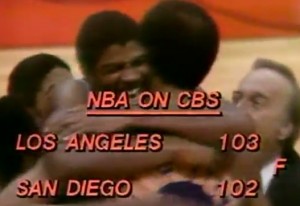 Kareem's buzzer-beater is just the beginning for this Lakers team, and Total Recall here at Bulls By The Horns.
Too long, won't watch (picking a slice of the action for those short on time)
If you just want a snippet of the game, check out part 4. After a quiet first quarter, Magic finds his groove and makes a handful of astounding plays spurring an L.A. run.
An ice cold Lakers team falls behind by double digits in the first half but recovers by halftime. Every time the Lakers seem poised to pull away, Free puts a stop to it. San Diego makes another run to seemingly seal the win, and despite timely buckets from Abdul-Jabaar, lead by one with the ball with :16 left. As they dribble out the clock, Freeman Williams loses the ball off his foot and out of bounds. Only two seconds remain, but that's enough to Kareem to hit a midrange sky hook for the win as time expires.
Quality of game: 8/10, after the initial Lakers comeback, there's a feeling of inevitability that L.A. will win, yet San Diego never allows the Lakers to break them.
Quality of teams: 7/10, the eventual champs matched up against a sub-.500 team.
Individual performances: 9/10, Free drops 46 and is especially fun to watch in the second half, Magic has a strong debut, and Kareem owns crunch time.
Fun factor: 8/10, after a whistle-laden and boring first quarter, L.A. makes their run in the second, leading a frenetic back-and-forth second half.
Time commitment: 7/10, it feels long at first, but the game isn't too cumbersome to get through, especially when skipping breaks in play.
Extra credit: +2 for Magic's first game.
Final score: 41/50, B-
Watch, skim or skip: Watch, just start from part 4.