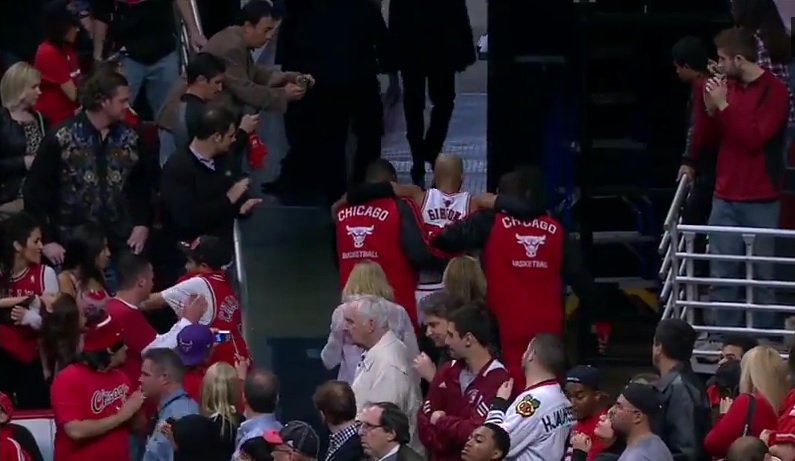 While each game was periodically slow and occasionally agonizing, in a macro sense, the end was swift and merciful for the 2013-2014 Chicago Bulls. No going home for a winner-take-all Game 7 against the Wizards, or attempting to fend off elimination in Game 6 versus Indiana, just a meager 69 points scored at home in Game 5 of the first round. This was also the first time in the Thibodeau Era that the Bulls didn't win Game 1 of a series in which they were eliminated. Aside from the time between Sunday night and tipoff on Tuesday, in which a 2-1 deficit with Nene facing suspension for Game 4 inspired tempered optimism, the Bulls thankfully didn't get our hopes up.
That's not to say we gave up on them, but the prospects of Chicago making a run to the Eastern Conference Finals were never based out of confidence in the Bulls themselves, but rather that their experience, maturity and culture, in addition to their smothering defense, would be just enough to outlast the decaying depth of decency in the East. It seems like a long time ago now, but before the playoffs started there was serious doubt as to how much impact Nene would have in the playoffs coming off of injury, while the Pacers are one loss away from completing the most baffling collapse in recent memory. Since D.J. Augustin and Joakim Noah rescued their season, I'd hoped for the Bulls to lose in Round 1 so the likes of Noah and Jimmy Butler could simply get a year's respite from the grind of playoff basketball. I changed my tune a little bit when the Pacers stumbled, and then eventually imploded, but it's probably for the best that another unexpected postseason run doesn't mask the major blemishes that currently prevent the Bulls from being on the initial roll call of title contenders. Anything that prevents the Thibs mantra of "more than enough to win with" from absolving ownership and the front office from doing what needs to be done is fine by me.
That motto fits with how the Bulls have won games under Thibs, especially in the absence of Derrick Rose. It's a relative to the always popular "hard work beats talent when talent doesn't work hard," which can be true, but this series showed what happens when the talent does work hard. The Wizards won 44 games, their most since 2004-2005, also the last time they had won a playoff series. It was a great turnaround for a team that hadn't even won 30 games since 2007-2008, but think about it. That team only won 44 games. Yes, Nene missed a large chunk of games and their backup point guard situation was a flaming mess until trading for Andre Miller, but still. To say that a team with that starting five and quality backups like Martell Webster and Trevor Booker was a disappointment only winning 44 games in this year's East isn't unreasonable. I picked the Bulls to win this series because, just as I suspect many did, I thought they would be more dialed in to the intensity of the game and honestly want it more. Even Wizards fans were surprised by how well they came to play.
To absolve the "experts" a bit, this team I just watched for 5 games I did not see more than 5x during the regular season.

— James Straton (@WorldwideJames) April 30, 2014
Washington was locked in, and with that, the Bulls were doomed. 
The Wizards have eight legit players with practically a perfect distribution. John Wall is the star, so dynamic that his movement bends the entire fabric of the defense. Bradley Beal is The Next Great Shooter, except he's largely already arrived. Trevor Ariza is a spot-up shooter who can handle a bit and is a rangy defender. Nene and Marcin Gortat are an upper tier pair of bigs who complement each other well. Then they have the three pieces every contender needs off the bench: a backup point (Miller), a third big (Booker) and a useful swingman (Webster).
Every Bull other than Noah and Taj Gibson has flaws so glaring that elaborating on them would feel like overkill, and in addition to Taj's ankle injury late in Game 5, we learned Noah had been dealing with a knee injury for some time now, perhaps explaining his substandard play for much of the series. The Wizards dominated the Bulls because they had more two way players and more difference makers.
The other reason Chicago was such an overwhelming pick to advance was the coaching mismatch. To his credit though, Randy Wittman and his staff were great. They had their team prepared in every way and made the necessary adjustments, such as making sure Mike Dunleavy wouldn't beat them again after his historic Game 3 performance. Thibs on the other hand was rather underwhelming, though that's more of a big picture concern, as any adjustments in this series would have been rearranging the deck chairs on the Titanic.
The way the season ended shouldn't discolor the achievements of the entire season. Noah was a completely deserving Defensive Player of the Year, Taj should have claimed Sixth Man of the Year, and overall, they won 48 games after losing their best player to injury again as well as dealing with the on-court and off-court ramifications of trading away Luol Deng, All-Star, beloved teammate and the franchise's most tenured player.
With that being said, uncertainty continues to cloud this team. The Rose/Noah/Deng/Boozer nucleus ran its course, and the bridge to the next true contender has only partially been built. The 2012-2013 Bulls had us (and them) waiting for Derrick Rose. Ultimately, the 2013-2014 Bulls, for all their success, have us waiting for change.