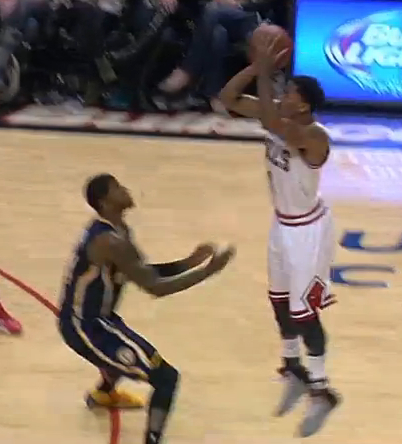 The Chicago Bulls finally seem to be living up to their preseason promise, winning their fourth straight game in a blowout over the Indiana Pacers tonight at the United Center. All four wins have come by double-digits after the 110-94 victory over their previously undefeated division rival, and the game was not really as close as the score indicates. The Bulls led by 33 in the third quarter before allowing 35 points in the mostly meaningless fourth quarter.
Derrick Rose led the charge, totaling a season-high 20 points and adding 4 assists. He started 6/8 from beyond the arc before missing his final three attempts in garbage time and maybe kind of sort of looked like himself. His rhythm was better and he played with confidence. Including Rose, the Bulls finished with 7 players in double-figures, with Luol Deng leading the charge with 23 and Kirk Hinrich, Taj Gibson and Mike Dunleavy scoring a combined 38 points off the bench.
Defensively, the Bulls were everything we've come to expect from the Tom Thibodeau era. They held the Pacers to 40 percent shooting, including a 12-point performance from superstar Paul George on just 3/14 from the field. Indiana managed all of 35 points in the first half while surrendering 60, which — I'm told — is less than ideal.
The Bulls also posted a season-high in threes made, finishing 11/19, and controlled the paint from start to finish. After three commanding wins against subpar teams, this is the type of game that cements the Bulls' position among the elite teams in the Eastern Conference.
The Bulls have tomorrow off and will host the Charlotte Bobcats on Monday at 7 p.m. central time at the United Center.