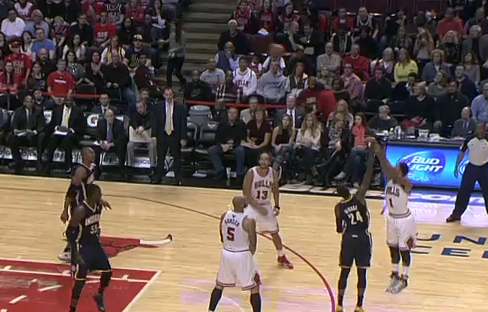 Since you've had a night to sleep on it, allow me to start things off by reassuring you that the Chicago Bulls' 110-94 win over the Indiana Pacers did indeed happen, and it was just as dominating as you remember, if not more so. Derrick Rose had probably his best game of the season, Luol Deng shut down Paul George and led all scorers with 23 points, and everyone went home happy.
Now, here's what we learned:
1. Derrick Rose can be pretty fun when he's not busy being terrible.
A couple of caveats before we go any further: Rose took 11 threes and didn't attack the rim much and when he did attack, he didn't score. Having said that, Rose actually shooting well from the field — he started 6/8 from three before missing his final three attempts in garbage time — is very enjoyable and the type of thing that really should happen more often. He was confident, and actually hit some shots off the dribble, something he had previously shown absolutely zero ability to do.
One thing that came up with regard to Rose was Tom Thibodeau's decision to have Rose play the final 8 minutes or so even with the game well in hand. I'm going to defend it, but with a large caveat: Everything I'm about to say stems from the assumption that the hamstring injury that forced Rose to miss Friday's game in Toronto is healed and no longer an issue.
Derrick Rose is not himself. We know this. He's getting there, but he's not all the way back yet. The only thing that will get him there is time. Therefore, it is my position that more time on the floor is the best thing the Bulls can do for him at the moment. He played a second less than 31 minutes last night, and for my money, that number isn't nearly high enough.
People can yell about how Rose tore his ACL in garbage time and therefore he shouldn't be playing in garbage time for fear he'll tear it again or suffer some other catastrophic injury. To which I will respond that the injury was a freak occurrence that could have happened just as easily in the first two minutes of that game as the last two and then what would the narrative be. So far as I'm concerned, you can't control freak injuries, so why even bother to take them into account?
2. Whatever the Bulls' flaws, defense is no longer the problem.
The Bulls gave up 97 or more points in three of their first four games. Since then, they have allowed fewer than 82 points in three of the last four, last night's game being the only exception. And before a garbage time explosion for 35 points in the fourth quarter, the Bulls were on pace to hold Indiana to something in that range too.
Even with that explosion, the Pacers shot all of 40 percent from the field. Paul George, who has torched the Bulls in the past, managed 12 points on 3/14 from the field — and we won't even mention that Luol Deng scored 23 points on him at the other end. All told, this Bulls team is shaping up as the fearsome defensive juggernaut we've come to expect from Thibs and it is fun to watch.
3. The Bulls shooters seem like they're starting to shoot.
When Mike Dunleavy and Luol Deng struggled from outside to start the season, people panicked. And yet here we are, after facing a top-notch defensive team in the Pacers, and the Bulls shoot 11/19 from three.
Look, Dunleavy has a track record of being an excellent shooter. Deng doesn't have that same pedigree, but he's certainly better than the 5.6 percent mark he posted through six games. And look, he's 3/6 over the last two games from outside. Jimmy Butler hasn't lit the world on fire either, but he's been hitting from the corner this year, and he made his only attempt tonight. Would it be nice to have some extra shooting around? Of course, but I don't consider it necessary.
That's all I got. The Bulls are off today, and they'll host the Charlotte Bobcats on Monday.