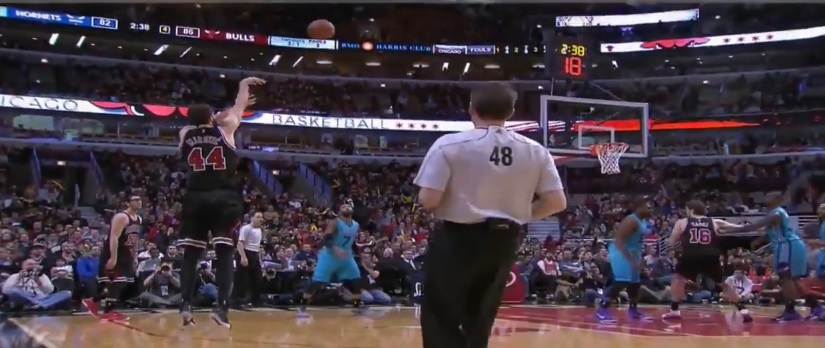 He might not win Rookie of the Year or Sixth Man of the Year, but Nikola Mirotic is proving he will, given the opportunity, be a difference maker for a contender come May and possibly June.
With early production from Pau Gasol plus Jimmy Butler back in the lineup (and immediately back to playing 40 minutes), the Bulls controlled this one early. However, some uncharacteristically potent deep shooting from the punchless Hornets sent Chicago into the locker room actually trailing by one.
Chicago stemmed the tide in the third though, helped by Charlotte's shooting falling back to normal. The game felt comfortably in control, though the Bulls weren't quite putting their foot down to end the proceedings.
Here's the part where things circle back to Mirotic, who, in Derrick Rose's absence, has become the interim closer for the Bulls. He nearly matched his career high by pouring in 28 points, half in the final frame, marked by a three with just over 2:30 to play to put the Bulls up seven. Post-ups, fadeaways, it was all working. Even when it wasn't, like when he missed a corner three, Gasol was able to grab the rebound and pitch it to Niko for a thunderous slam.
Chicago compensated for 3-16 shooting from downtown with just six turnovers, a season low, as the team improves to 14-4 when it turns the ball over ten times or fewer. Butler was just 6-20 but got to the line ten times, finishing with 19 points and nine boards. Aaron Brooks had one of his steadiest games of the year, posting 13 points and ten assists, while taking only ten shots and committing only one turnover.
Charlotte got 29 points out of Kemba Walker but the man who replaced him in his absence, a resurgent Mo Williams, was just 4-16 from the floor. Those two along with Gerald Henderson (11 points on 12 shots) were the only Hornets in double figures, as there was no miracle performance from Jason Maxiell this time around.
Getting a win while Joakim Noah rested was quite fulfilling, considering the organization seems to finally be preparing its higher gear for the playoffs, and with an ever-improving Mirotic leading the way for a deeper team it seems they might have the necessary talent as well.