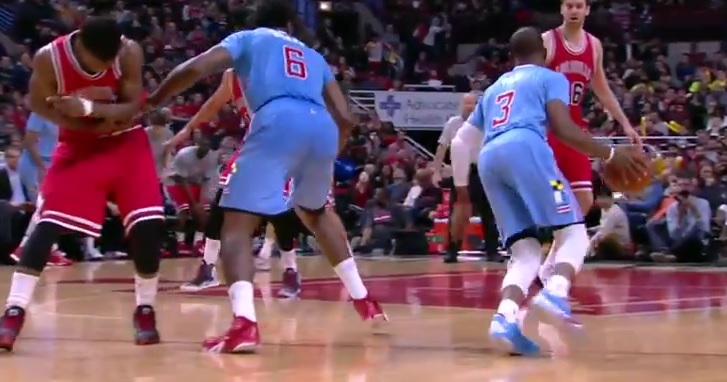 When the Bulls mismanaged the PR portion of Derrick Rose's meniscus injury and initially failed to note that it was likely just an expected maintenance procedure, the questions quickly turned from Rose's career in a personal sense to "Can the Bulls trust Rose's health enough to build around him going forward?"
After three games, the appropriate response to that question appears to be, "You got a better idea?"
The Bulls hung around for a while, even leading at times, thanks to what Mike Breen generously called a "defensive minded" first half, which was TV code for "it was horrendous." It lived up to the billing of a Sunday morning contest, with both sides sleepwalking early, aside from Nikola Mirotic and DeAndre Jordan.
In the second half, Chris Paul got to the midrange jumper he loves time and time again, finishing with 28 points on 12-19 shooting, adding 12 assists and five rebounds. DeAndre Jordan had 26, yes 26, rebounds and managed to hit enough free throws to negate the effect of the "Hack-a" strategy.
Chicago's offense again slogged their way through the entire game in Rose's absence. Both Aaron Brooks (14 points on 17 shots) and Kirk Hinrich (0-7 from the floor, zero points, zero assists in 25 minutes) continued to be dreadful. Throw in Taj Gibson sitting with his ankle injury, Pau Gasol less than full strength after illness, plus Jimmy Butler leaving the game with a sprained elbow sustained during a hard screen from Jordan and it's easy to envision an anemic attack. However, the decision making by Tom Thibodeau on how to support the offense continues to be puzzling.
Despite Joakim Noah having a strong game, Thibs left the ailing Gasol in during the final minutes and Mike Dunleavy was nowhere to be found in the fourth quarter even though the Bulls desperately needed shooting to make up the deficit.
The positives to take from this game were that Tony Snell continued to play well, making 3-5 triples to boost his percentage over the 40% mark. Noah had a strong performance (13/11 with six assists) and Mirotic had a career-high 29 points on 11-23 from the floor. Unfortunately, Niko was the only Bull to make a shot in the fourth quarter as the game slipped away.
Next for the Bulls is a big game with Washington, but we'll have to see if Butler or Gibson will be able to play.