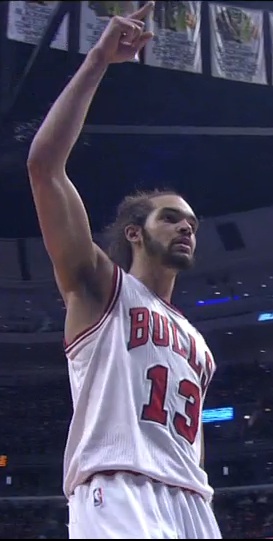 What is there to say about Joakim Noah that hasn't already been said?
No, seriously, what is there? We know all about his insistence on outworking anyone and everyone he's ever met. We know about the brilliance he displays as the hub of Tom Thibodeau's defense. We know he's almost single-handedly kept the Chicago Bulls' offense alive despite the absence of Derrick Rose and Luol Deng.
Before the Bulls beat the Miami Heat in overtime yesterday, I was all set to write about how, as much fun as Noah's exploits have been, there was no way the Bulls could score enough to win against elite defensive teams. After all, they'd scored just 77 points against the Memphis Grizzlies two days earlier, and just 79 the last time they saw the Heat two weeks ago. Furthermore, Noah had turned the ball over six times against the Grizzlies, as Memphis seemed clued in to what Noah was trying to do with the ball.
But then, Noah rendered all that meaningless with yet another virtuoso performance. 20 points (on 9/16 from the field), 12 rebounds (6 offensive), 7 assists, 5 blocks, and complete dominance of the fourth quarter and overtime, all with his family watching and cheering him on.
The collective psyche of Bulls fans has taken a beating over the past two years. That's what happens when your superstar suffers two season-ending knee injuries in 19 months and plays in just 10 games over two seasons. Then there's the Deng trade, conflict between Thibs and the front office, and a host of injuries. It's depressing. I legitimately checked out on the Bulls back in December, opting to go see DePaul play something called a Houston Methodist rather than watch the Bulls play the Houston Rockets. It was bad.
But watching Joakim Noah over the past two months or so has been a legitimate joy. Noah's constant string of backdoor passes, offensive rebounds, lefty hook shots and tornado jumpers turn the Bulls' offense from an eyesore to something remotely in the realm of entertaining. And his defense has always been mesmerizing, with his seeming ability to be everywhere at once, along with his ability to switch onto perimeter players without getting burned. He takes a team that is at best forgettable and at worst unwatchable and makes them entertaining.
I'm going to spare you all my musing about what this team might have been had Rose stayed healthy, because it's depressing as hell, and will instead leave you with this: Since Luol Deng was traded, the Bulls have scored 103.9 points per 100 possessions with Joakim Noah on the floor, and 93.9 with him on the bench. That's the difference between an offense that would be the 14th best offense in the league and one that would be the worst in the league by a country mile. Even the pitiful Philadelphia 76ers score 95.8 points per 100, so 93.9 is BAD. Like, horrific.
So be thankful for Joakim Noah. God knows where we'd be without him.