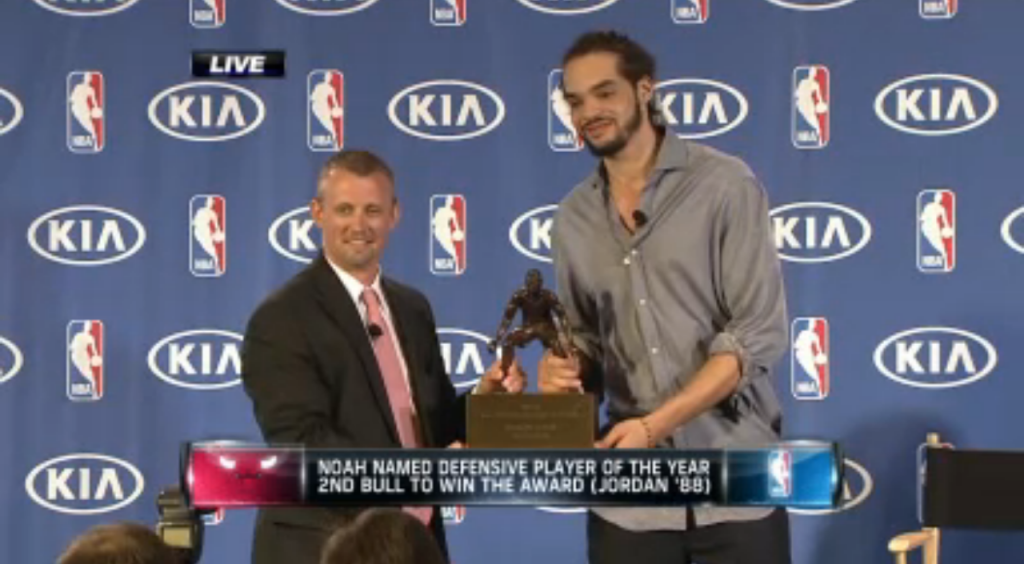 After several weeks of award speculation and several hours of Chicago based writers tweeting out about their sources, it's official- Joakim Noah is the 2013-2014 NBA Defensive Player of the Year. This is Noah's first major individual award and one that caps what has been a spectacular season for the 29 year old center. Noah gathered 100 first place votes.
Noah winning the award shouldn't come as a shock for those who have seen the Noah go to work since the Luol Deng trade. Many writers have noted just how major Noah's defense has on Chicago's overall defensive success. For instance, Kelly Scaletta noted a near 20 point drop-off in defensive rating for the Bulls when Noah plays versus when Noah rests in the 3rd quarter. Additionally, Noah only allows an average 0.84 points per possession according to Synergy Sports including staggering numbers in pick-and-roll defense (0.77 ppp) and defending off of screens (0.74 ppp)
But Noah winning the award comes down to more than just the numbers. What has helped separate Noah from the pack was how his saved Chicago's season. Prior to his breakout performances and the Deng trade the Bulls sat with a sub-.500 record and little to no hope for the season. Many, including yours truly, felt the Bulls should tank the season and get whatever good picks they can for the future. Noah had different plans. He stepped his play on both ends of the floor, especially defensively, and carried this Bulls team sans-Derrick Rose and sans-Luol Deng to the best second-half record in the Eastern conference and the fourth seed in the playoffs. His impact for Chicago has gotten him as high as third place on several MVP voting ballots this year as well.
Upon being awarded the trophy thanked his teammates, the organization, and Tom Thibodeau. "This award is not about me. It's about our team. These awards are great. Winning is what really makes me happy." Noah also somberly honored the memory of his recently-passed mentor Tyrone Green. Overall Noah was up to his general antics at the podium with jokes with and/or about Thibodeau while also comedically critiquing the DPOY trophy for having a bad defensive stance.
Noah is the first Chicago Bulls player to win Defensive Player of the Year since Michael Jordan won it in 1988. Noah's is also a candidate to make the All-NBA first team this year.