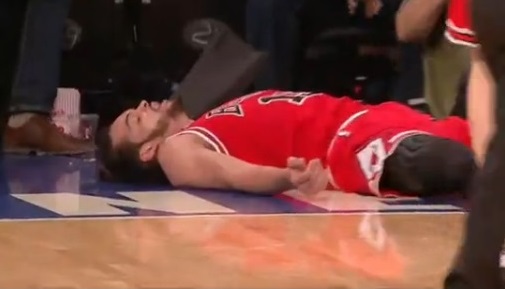 In more ways than one, the Bulls were very hard to watch tonight. First, they simply didn't play very well. They had 16 turnovers, shot under 40% overall, and missed some important shots, both from three and from the line. Then, on top of that, they got rather frustrated, with Joakim Noah and Taj Gibson both drawing technicals. The other manner in which it was hard to watch was knowing that they were better off losing. Toronto is now back in the driver's seat for the 3 seed. If they manage to win both a home game versus the Bucks and a road game in Madison Square garden against these Knicks, the results of Chicago's final two games are irrelevant. If the Bulls stay slotted at 4, they will in all likelihood avoid being in Miami's half of the draw, and have an opportunity to go against a Pacers team they feel they can beat.
The first half was rather even and particularly uneventful, though the Knicks went on a little spurt to take a 45-39 lead into the locker room. The only player in double figures in that half was Carmelo Anthony, who tallied 11 points on 5-7 shooting. J.R. Smith and a very effective Amar'e Stoudemire each had eight. Mike Dunleavy led the Bulls with nine points, followed by four different Bulls with six.
Chicago continued to lose ground in the third, as the Knicks came out bombing threes to start the half. New York missed their first ten threes and went just 2-12 in the first half, but converted five of their nine attempts in that third quarter. Smith hit a trio of triples in less than 90 seconds, followed by Ray Felton and Melo adding a couple more. Suddenly the Bulls were losing by over 15 and fighting just to get it back to single digits. Chicago matches up well with the Knicks, having taken nine of the previous 11 meetings over the last three seasons, but New York's ability to get hot from deep presents the Bulls with problems. When they get going, it's often because the likes of J.R. and Melo get hot and hit the type of circus shots that not even the Bulls can defend, and then because the Bulls don't shoot many threes, it can take them a while to catch up unless they're pounding the boards.
Because they're the Bulls, of course they scratched and clawed back into it just enough to warrant keeping the starters in the whole game. They cut it to six at 93-87 with a few minutes left, but with D.J. Augustin going 1-8 in the final quarter, they couldn't quite get over the hump and complete the comeback.
It's such a cliche, but the Knicks deserve a lot of credit. Having been eliminated from the playoffs, they easily could have rolled over, especially with Mike Woodson likely getting the boot after the season, but they played some inspired basketball. As mentioned, Amar'e had a strong game, they did enough on defense to prevent the Bulls from carving them up as they did the last time they played. Limiting a banged up Carmelo to 28 minutes, they even finished with a peculiar Felton-Hardaway-Shumpert-Stoudemire-Aldrich group. Hardaway led the Knicks with 20 points and Aldrich matched Chicago's activity. His turn around shot in the paint over Noah early in the fourth was one of those "if that's working, then it's really not our night" kind of shots.
As for the Bulls, Jo slapped up another insane stat line, 13 points, 17 rebounds and nine assists. Taj Gibson was just 5-13 and was rather off tonight. He had two airballs and was sloppy with the ball, dribbling the ball off his foot or fumbling it through his legs a couple times. Carlos Boozer was again the only member of the Core Seven (the starters plus Taj and D.J.) to not get to the free throw line. Jimmy Butler hit 2-4 from three but just 3-6 from the stripe en route to a team-high 17. He played 45 minutes as Tony Snell managed to draw the ire of Thibs, ending his night before he'd even played three minutes.
The Bulls won't have to wait long to atone for tonight's performance, as they return home for the penultimate game of the regular season against Orlando tomorrow night.