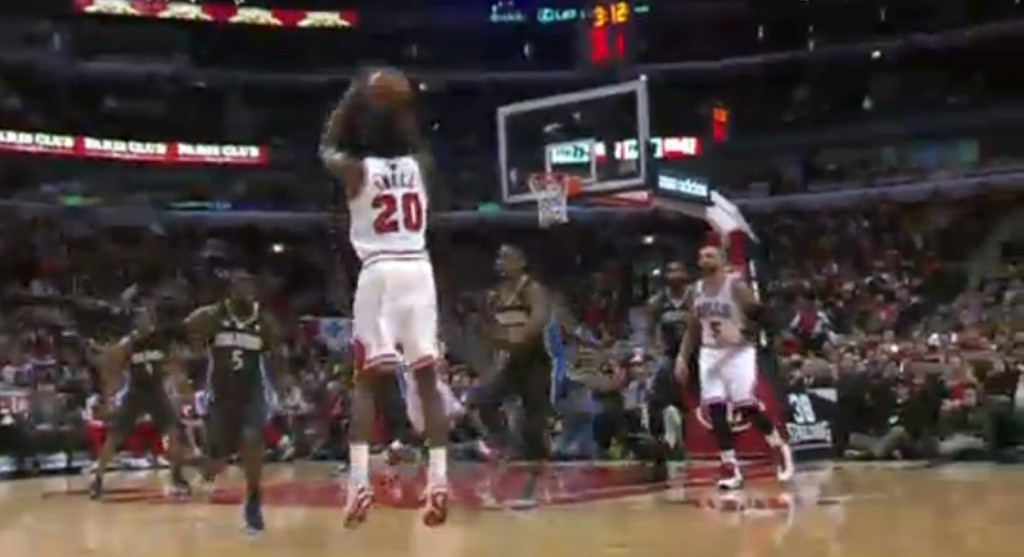 It wasn't always pretty, or comfortable, but the Bulls got the job done tonight. With D.J. Augustin away from the team to be with his wife and new baby boy (not that he's reading this, but congratulations to the Augustin family), the Bulls had some surprise contributors step up and fill the scoring void left in his absence.
The night started with the Bulls looking like they might cruise over a team ready to go on vacation a bit early, as they jumped out to a 16-4 lead. But this is the Bulls so of course nothing can be easy, and the lead quickly dissipated, though Chicago built it back up to five by the quarter. The second quarter was a bit wonky for the Bulls, as Jimmer was filling in for D.J., Carlos Boozer got rare floor time outside of his usual 24 minutes after Taj Gibson picked up three fouls, and Tony Snell came in late in the quarter, rather than at the beginning. It's hard to envision ever seeing a Fredette-Butler-Dunleavy-Boozer-Mohammed lineup ever again.
By that point, the Bulls had stretched their lead to a dozen. They got the usual scoring from the likes of Noah, Boozer and Dunleavy (11, 10 and nine, respectively), but the shocking contribution came from the rookie Snell. Yanked after less than three minutes last night, Snell got off to a rocky start after getting demolished on this ambitious dunk attempt: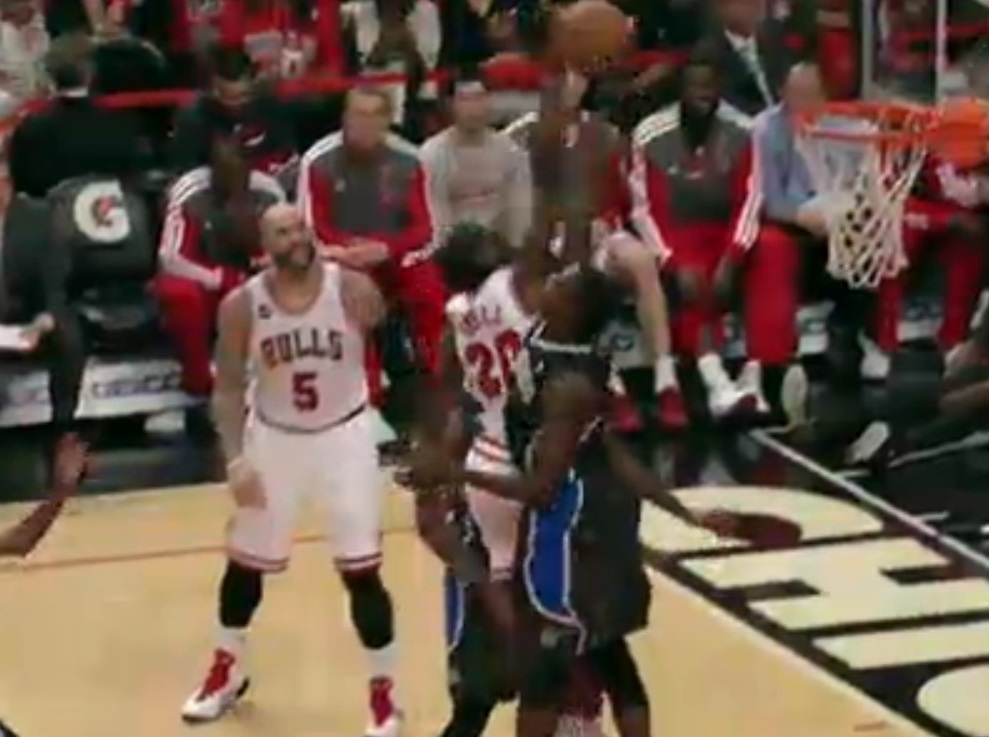 He could have easily been discouraged, but he recovered with a midrange jumper, a made three (seen in the header photo), and then recovering a loose ball, going half the length of the court and finishing at the rim. He helped on defense as well, committing a hard foul at the rim to prevent a layup, for which Jo praised him. To end the half, he threw up a high-arching baseline shot that swished in, giving the Bulls a 13 point lead. Again, Jo tried to amp him up with a celebration, bumping his chest, to which the rookie got a little more animated than in the past. Jimmer was fun, but for me, the best part of the night was watching Snell play well and fit in with the team in multiple ways. You can tell he still feels not quite settled in his role and how his personality fits with the rest of this emotional team (Taj picked up his second technical in as many nights), but he's getting there.
Orlando managed to trim the lead to three in the third quarter, but this game was never totally in doubt because the Magic again chose not to play their best players in the fourth quarter. After letting their backups decide a winnable game against Brooklyn, they again left Arron Afflalo and Victor Oladipo watch as their bench slowly but surely succumbed to the Bulls, who as usual pushed hard at the beginning of the final quarter with a closing-type lineup, with one notable exception…
Just as I had tweeted that it was disappointing to see Snell not get a second stint when he plays this well, he entered the game for, of all people, Jimmy. And he stayed in for the whole quarter. To repeat: Jimmy Butler got to rest the entire fourth quarter in favor of Tony Snell. That might seem like the team backed off the pedal in light of playoff seedings, but Noah remained in the game until almost the final minute (which was ridiculous, but whatever). Regardless of the reasons, it was nice to see Jimmy rest and to see Snell get to close.
Jimmer deserves a mention here as well. He only hit one of five triples, but as Nate Robinson did and Augustin does, it was great watching Jimmer be able to create shots on his own, especially with floaters in the lane. Playing over 30 minutes, he finished with 17 points on 7-14 shooting, and held up alright on defense. He's not going to be a good defender but he did some little things like taking a charge that will endear him to teammates and compensate for his flaws.
With Orlando content to play backups, no Magic player tallied over 30 minutes. Kyle O'Quinn (9-11 FG, 20 points, seven boards) and Andrew Nicholson (8-9 FG, 3-3 3FG, 19 points) led the way for Orlando, but when Ronnie Price, 11 assists aside, logs more time than Oladipo, it's obvious the franchise is thinking ahead to the lottery.
In addition to Snell and Fredette's contributions, Dunleavy tied his 2014 high with 22 points and Noah had yet another near triple double, with 18, ten and eight.
The Bulls close out the regular season in Charlotte on Wednesday.