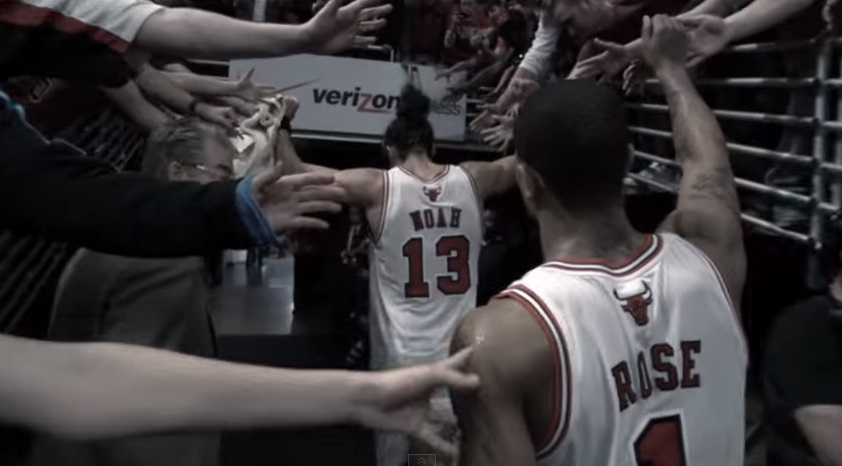 For someone who the world wishes would just stop talking, people sure listen when Derrick Rose speaks.
He caused a stir with his recent comments about saving his body. As a refresher:
"I feel I've been managing myself pretty good. I know a lot of people get mad when they see me sit out. But I think a lot of people don't understand that when I sit out, it's not because of this year. I'm thinking about long term. I'm thinking about after I'm done with basketball, having graduations to go to, having meetings to go to.

"I don't want to be in my meetings all sore or be at my son's graduation all sore just because of something I did in the past. Just learning and being smart.''
Even among Rose's supporters in the media, the general reaction was essentially "Derrick, we know you mean well, but please just stop saying things and play basketball."
After two and a half years away from the game, Rose has returned with an outspokenness that has caught some off guard. The quiet kid known more for beginning interviews with long "ummm"s than saying anything of substance has now turned off the filter with a touch of the infamous Ricky Watters soundbite "For who? For what?"
Boosted by being Rookie of the Year, youngest MVP ever, and getting to the Conference Finals in Year 3, he was a media darling. But as Rose found out the hard way, the "Hot Take"-driven world of sports doesn't care what you've done before if it doesn't include a championship. All it took was a lengthy rehab and some poor PR management from all parties involved for Rose to go from next big thing to damaged goods.
Why? Bomani Jones sums it up perfectly in his prescient piece on the athlete so commonly linked to Rose, Robert Griffin:
"Fans watch players, but they love the jerseys they wear. The affection Griffin has received is accentuated by his singularity, but it will disappear if that does nothing for the Redskins, the fans' true love … They love him? No they love what he can do. And they'll stop as soon as he doesn't – or can't."
Based on multiple responses to the backlash he received, Rose has shown he understands that. His most detailed reply came via his interview with TNT's Rachel Nichols:
The replies to that interview in K.C. Johnson's mentions were mixed, with these among them: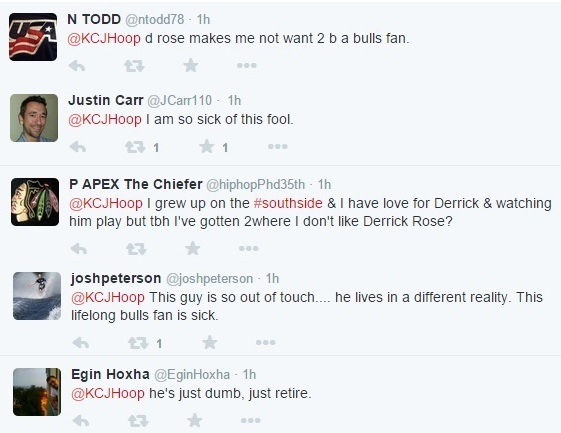 His comments partly caught heat for being interpreted as giving off a sense of superiority. It's debatable whether that actually exists, but regardless of that, then what are the people knocking his commitment, toughness, resolve, if not all of the above, every time he hits a speed bump along the way? Besides hypocrites, of course.
The main reason he drew vitriol was for violating the sacred unwritten rule of sports fandom: just be quiet because you make a lot of money to play a game. As Carmelo Anthony's free agency reinforced this summer, an athlete's reputation is tarnished, often irreparably, for taking the most money available. Winning is the goal, not money, yet that's exactly how Derrick Rose is operating. By being cautious in regular season games, he's prioritizing winning a championship, just in a more blatant manner than someone like Chris Paul, who has mastered pacing himself through the season to the point that it suppresses talk of decline in his game.
After years of grinding out games at less than full strength, Rose is now focused on playing when he feels 100%, or something close to it. Luol Deng confirmed as much to Bleacher Report's Ethan Skolnick:
 "When he first came to the league, me and Joakim [Noah] would always tell him, 'Derrick, you can't play tonight. You're hurt.' And he always wants to put the team behind him and the city behind him. And even when he was hurt, he would play … he was so determined and wanted to be the best he could be, not only for the team, [but] for the city. And we kept trying to tell him to understand, like, 'Look, there's a difference between pain and injury.' And I think now after two injuries, he's being smart."
This Bulls roster (though not their coach) seems to have learned that maxing out in the regular season has bore them little fruit, but when Rose sits out games, the burden of sacrificing money to win championships shifts to the fans. At that point, the facade they give of sacrifice and selflessness crumbles, because playing a game suddenly becomes much more vital when it's an event the customers paid their own money to see.
Rose is inverting the dynamic between players and fans, something that LeBron James achieved, largely unnoticed, in his return to Cleveland. From the moment his letter in Sports Illustrated was released, the city became putty in his hands all over again, erasing the hatred that resulted from leaving for South Beach in 2010. They fell for his message of "In Northeast Ohio, nothing is given. Everything is earned. You work for what you have," and that they would build a contender from the ground up. The people came back to flood the arena, all because they know James can bring them that elusive title.
To say Rose and his camp have handled everything perfectly over the years would be incorrect, though as James himself showed us years ago, the burden on a 20-something to live up to expectation for his home team is an entirely unique pressure. While he isn't in LeBron's class as a player, the disparity in Chicago's play with him on and off the floor shows Rose is every bit as important to bringing his team a championship, so there are but limited consequences for what he says. He can only lose so many supporters because bailing on Rose means bailing on the franchise entirely, which is the reason most root for him in the first place and a sacrifice most fans are incapable of making, even though the Bulls are little more than the mascot of a company owned by Jerry Reinsdorf.
And so they'll put up with him, begrudgingly, for they need Rose far more than he needs them. Joakim Noah spoke vehemently in defense of him, as did Deng and even players who've never suited up with him like Dwyane Wade and Mike Miller. His injuries, the resulting criticism, and, most of all, becoming a parent have given him perspective. It's shown who's there for him unconditionally as he attempts to deliver a championship for the city that loves him conditionally until he does.