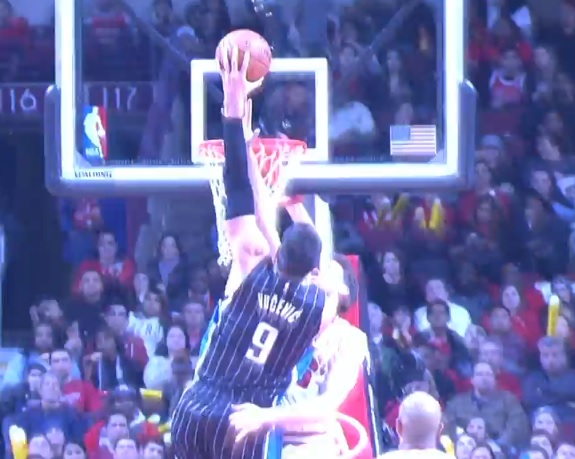 The Bulls have had a dozen or so lackluster efforts against weaker competition this season, and yet their 121-114 home loss to the Magic was still frustrating. That tells you all you need to know about how extraordinarily poor they were tonight. Some really positive things happened, and I mean really positive, but for every step forward, it feels like the Bulls took multiple steps back.
You know the drill by now: even game through the first few minutes, underdog pulls ahead, Bulls look poised to wake up but don't and trail by double digits at halftime. Chicago trailed by as much as 15 in the first half. A 14-2 run capped by a Tony Snell three cut the deficit to just three, putting the score at 54-51 with under two minutes left. However, Victor Oladipo nailed a triple of his own immediately following that and Orlando bumped the lead back to eight going into the break.
Going back to Snell, he got the start in place of Kirk Hinrich, a very welcome development. Snell responded with the aforementioned three and some smart passing. Alongside the starters, he looked much more confident and comfortable than in his usual spot minutes.
So, naturally, in typical Thibs fashion, Hinrich started and played nearly the entire third quarter, despite hitting the side of the backboard with a shot in the first half. Midway through the third, the Bulls again got to within three. Yet again, the Magic answered. Nikola Vucevic and Oladipo continued to be unstoppable, scoring a combined 13 points over the back half of the third, pushing the lead back up to 17 before a pair of Aaron Brooks free throws to end the quarter.
At that point, Joakim Noah had given the Bulls nothing and Pau Gasol was giving back every bit of his 28 and 14 to Vucevic on the other end. Despite their struggles, Nikola Mirotic had logged just 3:33, which simply should not happen. Mirotic relieved Gasol to start the fourth and predictably teamed with Taj Gibson to bring the fire and passion Chicago had lacked all game. They scored 15 of the first 18 points in the quarter for Chicago, with the other three coming on a Jimmy Butler three assisted by Gibson. The once-15 point lead had been cut to six when Thibs inexplicably went back to Noah and Gasol for the final few minutes. With neither providing adequate rim protection, Oladipo proceeded to gash the Bulls, scoring nine of Orlando's final 12 points, the last two coming on free throws to put the game out of reach at 121-114 with 12 seconds remaining, breaking their six game losing streak.
Oladipo and Vucevic were dominant, each notching 33 points. Vucevic ate Gasol's lunch down low, with a vicious posterization as the exclamation point. Elfrid Payton and his ten points were the only other Magic (Magician?) in double figures, though they shot 59.3% as a team.
Meanwhile, the positives for the Bulls were the continued development of Snell and Mirotic, and most of all Derrick Rose. 18 points in 30 minutes might not stick out, but he was more aggressive than in recent games, including a couple knifing scores in the fourth quarter as Chicago tried to make up for lost time. All that said, the loss left the players every bit as confounded as the fans.
Rose on if he can remember a stretch like the Bulls are having: "Never."

— Nick Friedell (@NickFriedell) January 13, 2015
Pau Gasol: "I am upset. We've given away too many home games against teams that we shouldn't and that has to stop."

— Nick Friedell (@NickFriedell) January 13, 2015
As one might have guessed, Thibs wasn't too happy either.
Thibodeau: "If you want to do something special, there's a serious price to pay. And there's no getting around the work. It's that simple."

— K.C. Johnson (@KCJHoop) January 13, 2015
Thibs: "Either you're in the circle or you're out. You want to be in? Let's go. You don't want to be in? That's fine too. Let's go."

— K.C. Johnson (@KCJHoop) January 13, 2015
His words about committing to do the work ring hollow. If it were really all about effort, Mirotic and Gibson would have remained in the game and Snell would have started the second half. Gasol and Noah were getting outworked by Vucevic down low all night. The Bulls are going to struggle against the tall, physical centers like Vucevic and Marcin Gortat. Gasol is comparatively frail at his age, plus he has trouble moving laterally. Noah, even at full health, which he is nowhere close to at the moment, is overmatched against bigger players. Gibson is at a height disadvantage but at least he can battle in terms of strength, athleticism and hustle, while Mirotic causes matchup problems, opening up the floor on offense.
Aside from the impressive win over Houston, 2015 has been dismal thus far for the Bulls. They've played far below their talent level and have come nowhere close to the type of committed and engaging play of years past. With the Wizards, Hawks and Spurs coming to town, the Bulls don't have another freebie at home for some time. Based off of how they play on their home court against lottery teams, maybe that's a good thing.