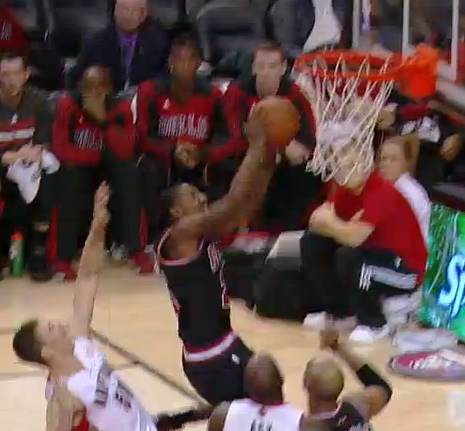 The Chicago Bulls are officially over .500 on the season! They've won three straight games by double-digits after beating the Toronto Raptors and everything is great! No, we're not overcompensating for our depression at the thought of Derrick Rose being hurt, why do you ask?
Anyway, Rose was out but it didn't seem to make a whole lot of difference last night. The Raptors aren't very good, yes, but good is where you find it. In that spirit, here's what we learned last night:
1. Free. Marquis. Teague.
No, seriously. Teague's been stuck behind Rose and Kirk Hinrich on the depth chart, but he finally saw some real minutes last night. About seven minutes worth, to be exact.
Teague came in and scored four points in the first two minutes he was on the floor. He hit a jumper to beat the shotclock — admittedly, he had his first attempt blocked, but that's not really the point — and then got to the rim in semi-transition for a layup and a foul. He later got to the rim in transition and couldn't finish, but created an easy tip-in opportunity for Nazr Mohammed. However, Tom Thibodeau apparently decided that two turnovers — one not really his fault, the other a problem with over-aggression — was too many and that was that. He didn't see the floor again until the 1:18 mark of the fourth quarter.
Apparently, it is the destiny of the brothers Teague to be unfairly stuck behind Kirk Hinrich early in their careers. Big brother Jeff Teague rode the pine while Hinrich played in 2010-11 and 2011-12 for the Atlanta Hawks, and now Marquis is doing it in Chicago. Say whatever you want about Mr. Hinrich but there is no reasonable argument to be made in favor of his receiving 40 minutes of floor time in the year 2013. None.
2. Just take the three when you're open, will you?
After managing to go all of 0/4 from downtown in the first half, the Bulls shot an almost unimaginable — for them — 7/12 from three in the second half. As pleased as I am by the second number, that first stat is just unacceptable. I'm not even worried about the zero makes, I'm just upset that they only shot four of them. Giving up open threes without any particular reason to is incredibly common with this team and it drives me insane.
I love Jimmy Butler, but I'm going to pick on him for a moment. Twice, in the first half, Jimmy passed up an open look at a three without any guarantee of something better. In the first instance, Hinrich pushed the ball in transition and found Butler trailing on the opposite side, allowing him to run into a three. Instead, he caught the ball and stood there. Don't ask me why. In the second instance, with the shot clock running down, Jimmy caught the ball for a straight on three that was at least somewhat open. He declined it for the opportunity to take a step-back long two from the left wing with Rudy Gay draped all over him. He got nothing but air.
3. God, I love Joakim Noah.
For all the attention Derrick Rose's slow start has gotten, Noah's might have been even more important. He just looked off for the first four games this year. But he was brilliant tonight, slapping up 18 points and 9 rebounds on 7/10 from the field and 4/4 from the free throw line, along with his usual stellar defense. He was active and the Bulls are going to need him to keep this up going forward.
4. Against all odds, the Booze Cruise chugs on.
Carlos Boozer has had one legitimately bad game this year. One. Aside from his six points on 3/10 shooting performance against the Indiana Pacers, he has been quite something. He's probably even worth his contract, if he keeps this up. Last night was actually a comparatively rough game for him, as he shot just 7/16 from the field, but he still finished with 14 points, 8 rebounds and 6 assists in a blowout win. I'm cool with that.
5. Welcome to the NBA, Tony Snell.
Mr. Snell scored his first ever points in the NBA last night, drawing a pair of free throws in garbage time and making them both. We can but hope they are the first of many.
That's all I got. The Bulls play tonight at home against the currently-undefeated Pacers.