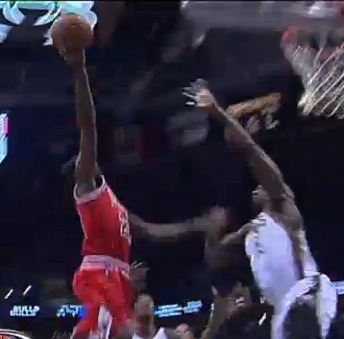 Tom Thibodeau sees your cries for tanking. He is unimpressed.
Now, to be fair, the Chicago Bulls were always going to beat the Milwaukee Bucks. The Bucks are now 7-28, good for worst in the NBA. But after the 81-72 win, Thibs clarified his position on winning.
Literally the definition of #ThibsBall RT @NickFriedell: Thibs on Bulls winning ugly: "You guys are into the aesthetics. I'm into the wins."

— Caleb Nordgren (@chisportsguy41) January 11, 2014
So, you know. Get ready for a lot more ugly basketball, and more wins than some of us would prefer. Now, on to what we learned.
1. We may never escape the tyranny of #FredClearedHim.
In the third quarter, Jimmy Butler drove to the hoop and collided with a Bucks player. He was in obvious pain afterward and had to leave the game with what was later termed a thigh bruise. He would then come back in the fourth quarter and finish the game, despite literally limping around on the floor. He played 40 minutes.
This kind of thing has become sadly commonplace by now. Hell, this is the second time it's happened this season just with Jimmy. It's really too bad Thibs didn't have anyone else to turn to on the wing…wait, yes he did. Huh.
2. Similarly, the tyranny of Kirk Hinrich continues unabated.
Kirk played 33 minutes last night and shot 2/9 from the field. He is, per Chris Herring of the Wall Street Journal, on pace to become the first player since 1960 to shoot under 35 percent from the field while playing 30 minutes per game.
Now, I could be wrong, but that sounds bad. We can but hope that he finds his way to another team in the semi-near future.
3. #FreeTonySnell
Tony Snell played 12 minutes last night. As mentioned above, Jimmy played 40. I know it's Thibs and all, but that really shouldn't happen. And that's without even mentioning that Kirk plays several minutes a game at the two, despite not being able to shoot worth a damn. Ugh.
Can't wait until Cartier Martin, who the Bulls signed to a 10-day contract yesterday, starts playing over Snell. Fun times.
That's all I got. Bulls play tonight against Charlotte.