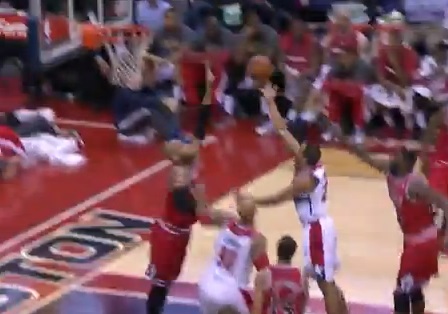 The Bulls gave a performance tonight that was anything one could want and more. With both teams on a back-to-back, Chicago put their imprint on the game early, despite being the road team, and delivered a haymaker right off the bat, and in the process extended their league-best winning streak to five.
They were absolutely swarming on defense, holding the Wizards to a season-low 26 points in the first half. Yes, 26 points. In an entire half. They also broke Washington's season worst for points in a quarter, holding them to ten points in the second quarter (the previous high was 11), and that could have been even less if John Wall hadn't caught the Bulls napping a bit and exploded for a bucket at the rim with less than a second to go. Other than that, their rim protection was fantastic all night, and they used blocks at the rim to get out in transition, often giving D.J. Augustin, who poured in 25 points thanks to six threes, room to operate and find open looks.
Their halfcourt offense wasn't too shabby either. They hit that peak level of passing a few times where the ball just whips around, barely touching one player's hands before being whipped to the next. That's how you end up with Joakim Noah going without an assist in the first half, and just three overall, as hockey assists don't go down in the box score. Often the middle man on those passing sequences, Jimmy Butler compensated for just three points on 1-9 shooting by notching nine assists to go with his usual superb defense. Also, Noah may not have had many assists, but he rebounded from his dismal shooting against Milwaukee last night with 21 points on 9-13 from the field, and nabbed 12 boards to boot.
To be fair, Washington certainly played a part in their own demise. They were sluggish and didn't convert open shots. In that first half where the Bulls doubled them up 52-26, the Wizards missed not only all eight of their threes, but all four of their free throws as well. The area where they really failed to convert was in transition. Bradley Beal (14 points on 7-16 FG, 0-3 3FG, five assists) and Trevor Ariza (two points on 1-9 FG, 0-3 3FG, seven rebounds) had three or four quality looks before the Bulls got back but they just couldn't knock any of them down. Add in that Trevor Booker isn't really an offensive weapon and that they got little from their bench, and that left just Wall and Marcin Gortat (19 and eight boards on 8-11 from the floor) to carry the load for the Wiz.
To expect the Bulls and Wizards to keep trending in such opposite directions wasn't realistic, and Washington predictably came out with much more intensity after the half, led by Wall. 12 of his 20 points came in the third, as did three of his six assists, one of which was a beautiful cross-court bounce pass in transition for a dunk that cut the lead to 11. The Bulls weren't exactly in danger, but it was worrisome and seemed to indicate the Bulls might have to fight harder than anticipated.
Then just as quickly as the lead was trimmed, it quickly ballooned again to 20, and then 25, with the Wizards essentially waiving the white flag once they pulled Wall five minutes into the fourth. Butler got an early exit, relieved by Jimmer Fredette, and Noah received his a couple minutes later. This was a game the Bulls won in the first half. In the second half, they only had to play Washington to a draw to win and that they did.
As for playoff ramifications, Chicago keeps pace with the Raptors for the 3 seed, and Washington is now closer to Charlotte for the 7 seed than they are to Brooklyn and the 5 seed.
Next up for the Bulls is the Wolves, and they have until Wednesday to rest up for that matchup. A new wrinkle to that game is Minnesota being eliminated from playoff contention. Kevin Love is having conveniently timed "back spasms" now, and they're missing a few other players as well.  Losing will not only improve their pick, but also prevent it from being conveyed to Phoenix, and the Bulls could be the beneficiary of their situation.