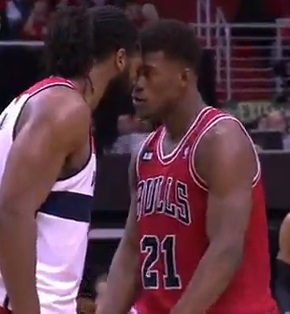 In a year full of insane games, with not one but two triple overtime games, Joakim Noah triple doubles and The D.J. Augustin Experience, tonight's season-saving 100-97 win in Washington takes its place alongside them at the very top (I'll avoid invoking a certain four-headed national monument).
The four main takeaways from the game:
1. Mike Dunleavy was essentially the Human Torch. 8-10 from three, he poured in 35 points. He fell just shy of his career high (36). Aside from Luol Deng scoring 37 in the triple OT loss to New Orleans (which seems so long ago), it was the highest output from a Bull this year. He broke the Bulls franchise record for threes in a game. It was the most points by a Bull in a playoff game since Derrick Rose's 44 point explosion against Atlanta back in 2011. 12-19 overall, Dunleavy was swishing shots all night, and using the threat of his shot to drive and dish to bigs in the interior. Dunleavy came into this game having won one playoff game in his career. He took a discount to play with Rose and a title contender, and while that's no longer in play, simply put, he saved Chicago's season tonight.
2. I'm not a believer in momentum, but the Nene-Jimmy Butler stare down (seen above) with 8:28 remaining may have opened the window for the Bulls. After Nene scored, he and Jimmy traded minor pushes. Nene then turned around headbutted Jimmy, who didn't back down. He continued to escalate the situation, grabbing Jimmy by the back of the head as other players and the referees separated them. Butler got a technical, while Nene drew two and an ejection. Frustrations were bound to boil over, considering the amount of contact allowed by the officials, and though it's hard to argue it tilted the game in Chicago's favor (they pushed their two point lead up to seven, but again let it slip away down the stretch), it seemed to get Jimmy going. He hit his first three pointer of the series directly after the incident and his second to break a 91-91 tie to put the Bulls up for good with 24 seconds to go.
3. The refs, as mentioned, let a lot of contact of go. They also contributed to letting the final minute or two turn into a comedy of errors, calling multiple fouls on plays that might not have actually been fouls. The Bulls had a turnover right out of a timeout and Dunleavy threw away an inbounds pass. Tony Snell fouled John Wall in the backcourt as he entered a shooting motion. The Bulls were up five and essentially clinched victory only to give Washington hope. Both sides missed crucial free throws, as Taj Gibson split two different pairs of attempts and Wall missed both freebies when the game was tied at 91. The Wizards added an exclamation point to the absurdity when Trevor Ariza threw away a pass with the Wizards pushing the ball upcourt for a final heave to get the game into overtime.
4. Tom Thibodeau's minutes management and rotations were significantly better tonight. Jimmy only played 40:32, getting rest in both halves, and it showed. He wasn't gassed like in Game 2. His threes in the fourth had good lift, he attacked the rim a bit and had a couple aggressive rebounds. Thibs gave Snell a couple minutes in the second half in Butler's place, even after the rookie missed both his three pointers in the first half. Dunleavy played down the stretch unlike in Game 2, as Thibs couldn't justify sitting the scorching hot shooter. Also, instead of leaving him for the whole half, he gave Dunleavy a brief break in the fourth. The one quibble might be that Kirk Hinrich, who for the most part played poorly, replaced Augustin, who also played poorly but can at least open up the offense with dribble penetration, but with neither playing well, it's at least understandable that he'd want Hinrich in to guard Wall.
Speaking of Wall, this looked like the night Washington would get The John Wall Game. He had 11 points in the first quarter and had everything going. He was attacking the rim and hit a deeeeeeeep three pointer. However, he had just 12 points the rest of the night and has yet to have a dominant game this series.
Chicago got strong games from both Taj and Carlos Boozer. The latter had his usual defensive gaffes but with 14 points on 6-12 shooting added to Dunleavy's output, the Bulls merely trailed after the opening minutes, rather than getting run out of the gym. Taj was his usual hard-working self, dominating most of the second quarter on both ends.
Just as Wall hasn't been his best self, neither has Noah, who continues to struggle mightily. Jo had just six points and nine rebounds, with as many turnovers (four) as assists. He also went 2-6 from the line. This series might come down to which team's best player finds his game first. The two All-Stars will get their next chance to get going on Sunday.