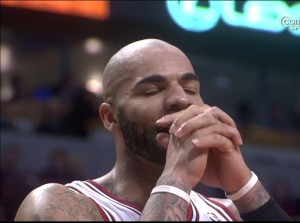 With his Chicago Bulls down 3 points to the Milwaukee Bucks with 10 seconds left, Tom Thibodeau reached into his bag for one of his favorite SLOB (SideLine Out of Bounds) plays. Unfortunately, the Bulls came away with no points. How did that happen, you ask? Simple: the Bucks made a nice defensive play to shut down the initial action, then Kirk Hinrich missed a wide open shooter.
To the film room!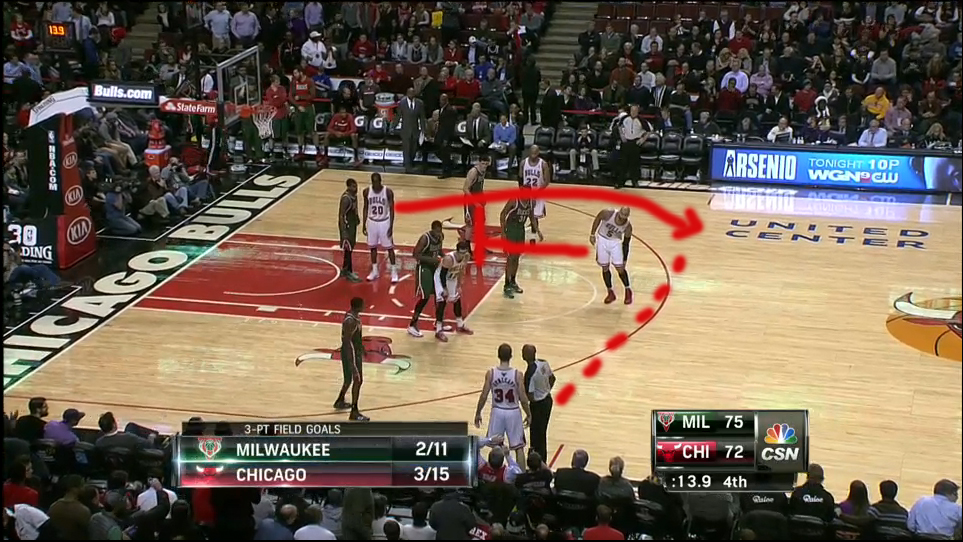 The set opens with a cross of sorts staked out around the free throw line. Taj Gibson and Hinrich start at each elbow, with Tony Snell below the foul line and Carlos Boozer at the top of the key. Boozer will come down and set a screen for Snell to pop out and receive the pass at the top of the key.
If any of this starts to look familiar, there's a reason for that. The Bulls run this set pretty frequently. They ran it in March against the Denver Nuggets to produce a Nate Robinson game-tying three; they ran it in game four of their playoff series against the Brooklyn Nets late in regulation to produce a game-tying Joakim Noah tip-in; and they ran it against the New York Knicks in their home opener this year to produce Derrick Rose's game-winning floater.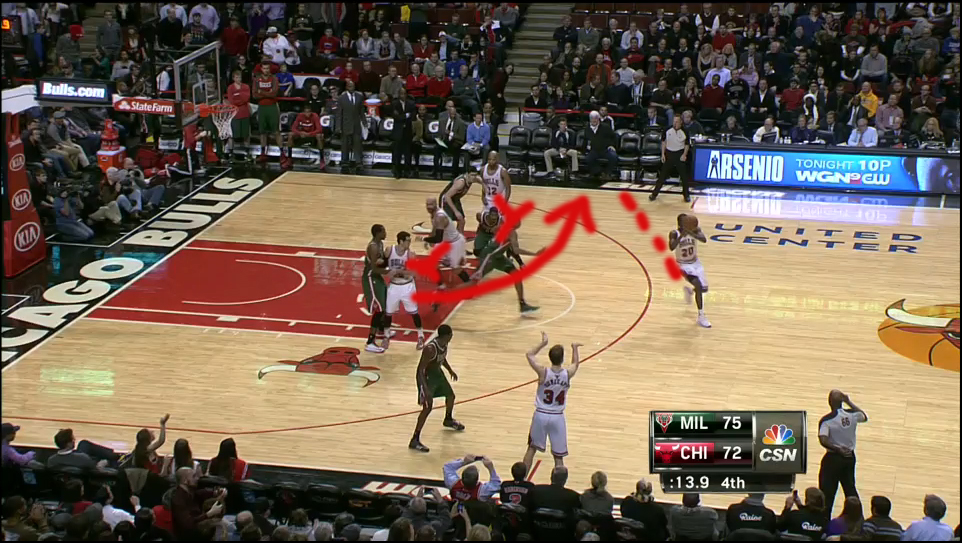 OK. With the ball now in bounds, Kirk is going to get a cross screen from Boozer and cut across to the far elbow, where he'll get the ball along with another screen from Taj. If he's open, the play will end right there as he'll take a three. If not, Taj's screen will produce a kind of modified pick and roll action.
It's a little hard to tell, but Milwaukee is switching everything here. John Henson starts out on Boozer, but pops out to defend Snell. Meanwhile, OJ Mayo gets screened and then stays with Boozer. Hold that thought.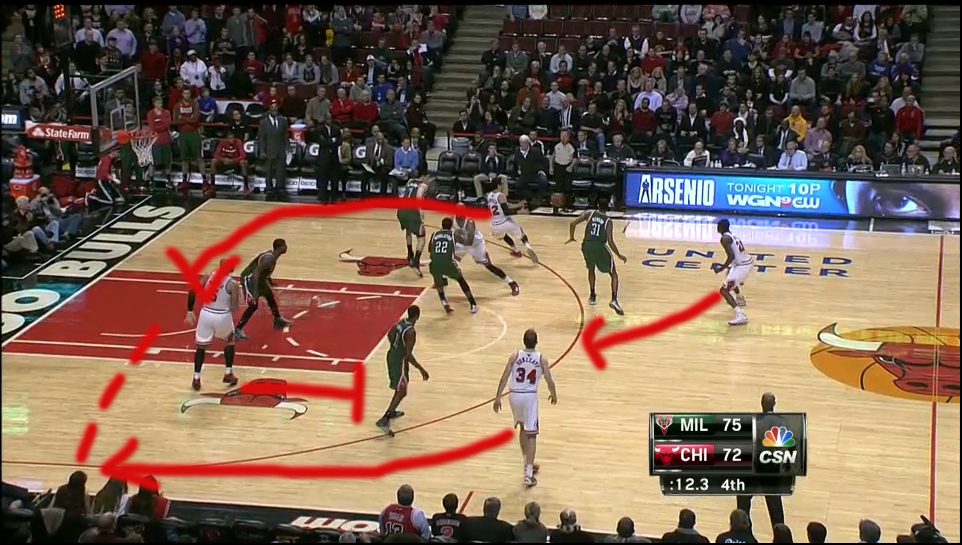 All right, now we're really into the thick of it. Snell has thrown the pass to Hinrich on the wing and Ersan Ilyasova already has switched onto him. Hinrich will now drive along the baseline, looking to hit Mike Dunleavy in the corner after he gets a back screen from Boozer. Snell's not really involved in the rest of the play, so he'll just kind of hang out around the top of the key, and Taj will do the same around the elbow.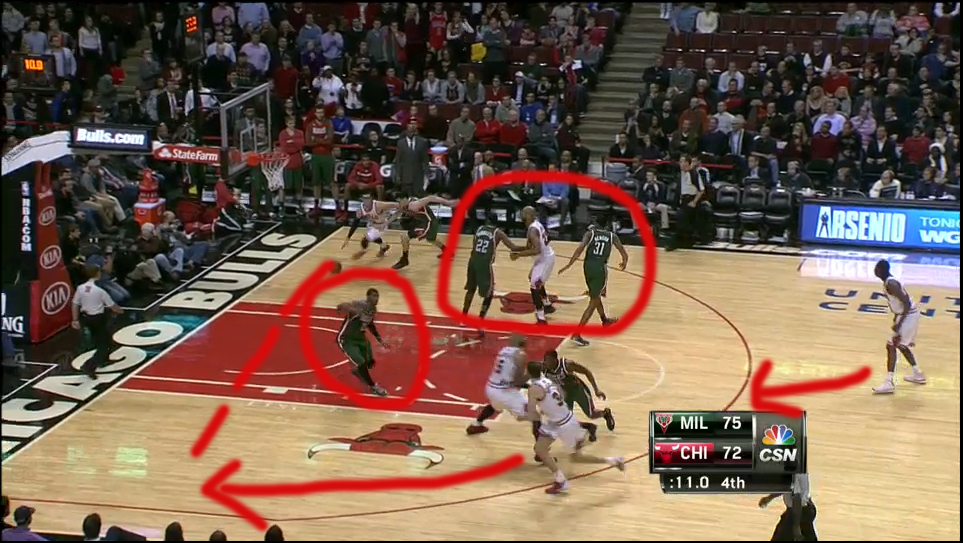 Both teams are kind of in trouble now. Hinrich has beaten Ilyasova baseline, but that's fine because Milwaukee doesn't care if they give up a layup. Boozer's screen for Dunleavy is fine, but Mayo — circled in the lane — is already switching onto Dunleavy, and he's managed to place himself directly in Hinrich's passing lane. Weather that was intentional or not is hard to say, but he's done it and the Bulls are mildly screwed as a result.
However, Milwaukee has a problem of its own. See if you can spot it. (Hint: I circled it in red for you.)
See it? Henson, who's responsible for Snell at the top of the key, has crashed down and is now nominally guarding Taj Gibson, for some reason. He seems to be a little overly concerned at the thought of giving up a layup and as a result, Milwaukee has two players — Henson and Khris Middleton, immediately to the left of Taj — guarding one player. And nobody guarding Tony Snell.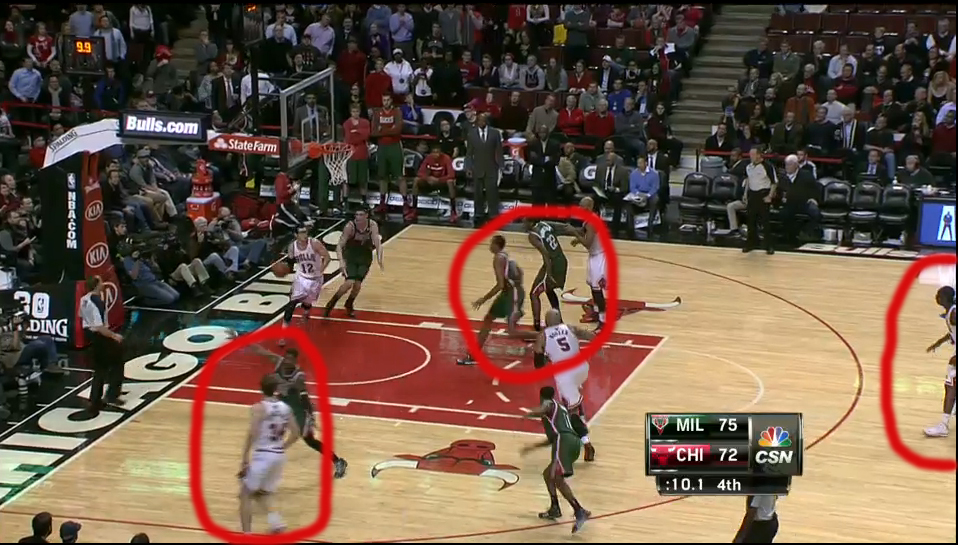 So. The Bucks have successfully shut down the primary action, which is the pass to Dunleavy. Mayo's got him locked down. But Brandon Knight, out on the left wing trailing Boozer, didn't switch promptly enough and Boozer's shook himself loose. So that should be a layup, except that Henson has crashed down even harder now and is standing in the lane for reasons that are unclear to everyone but him. As a result, there are three players guarding two players, as Knight's momentum is carrying him towards the lane and he wouldn't be able to get out to Snell very quickly.
Instead, Kirk passed it to Boozer, and, well…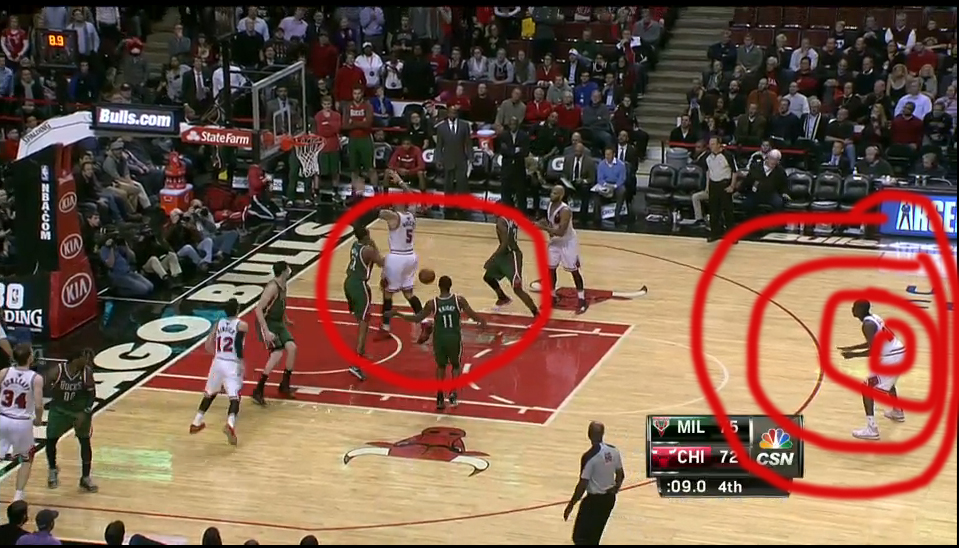 So why didn't Kirk throw it out to Snell for the tie? My guess is he just didn't see him. You could make the argument that he didn't want to risk it with Henson's length in the way, but Henson is also in perfect position to defend Boozer once he get the ball, which is exactly what happened. If Kirk takes another dribble or two along the baseline and whips it out to Snell, he's got a WIDE open three for the tie. And I mean WIDE the hell open. Look at those last two pictures again if you don't believe me.
Here's the play in full.
The Bulls probably didn't deserve to win this game, and overtime would most likely have qualified as cruel and unusual punishment, but there you are. More ammo for the anti-Kirk among us.