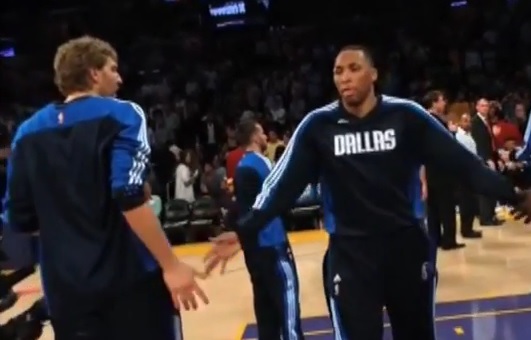 For years the Bulls have touted 2014 as the year the team would finally have spending flexibility. But with the summer approaching, management has thrown cold water on the possibility of bringing over long-awaited Real Madrid star Nikola Mirotic. With a franchise so well-versed in bracing its fans for disappointment, that got us at Bulls by the Horns thinking of exploring the other possibilities that await Chicago this summer. This week concludes our look at the Western Conference.
Unlike the other Western divisions, the Southwest isn't hurting for available rotation players. The most interesting player in the Northwest is Nate Robinson (related: Nate tore his ACL in January), and while there isn't a talent comparable to Rudy Gay, the depth of players in the Southwest blows away the options in the Pacific Division. To account for that depth, the players this week will be sorted by categories rather than by team.
The Lifers: Tim Duncan (Spurs), Dirk Nowitzki (Mavericks)
The Hall of Fame awaits the former MVPs (and Finals MVPs), but somehow both are still playing a central role on Western playoff teams deep into their 30s. They've spent their entire respective careers with just one team, and San Antonio and Dallas are also model franchises, so neither has any reason to play out the last year or two of their careers in different uniforms. (Note: Duncan will probably just exercise his $10 million player option anyway.)
The Shooters: Mike Miller (Grizzlies), Anthony Morrow (Pelicans), Matt Bonner (Spurs)
The Bulls could always use more shooting so both Miller and Morrow should be on their radar. After injuries plagued his Heat career, he's managed to stay on the court for Memphis this year and be the floor stretcher they lacked in years past. At this point in his career, he surely wants to stick with contenders, but I also can't imagine he wants to shuffle his family around the country on one year deals either. My guess is he stays in Memphis for another year or two.
Morrow, who Don Nelson, talking with the Dallas Morning News, once called the second greatest shooter he ever coached, only behind Chris Mullin, is a great shooter in his own right. The concern would be that a specialist like Morrow might end up riding the pine just like Jimmer Fredette, especially if the Bulls draft a wing or two.
As for Bonner, he's hit some big shots for the Spurs over the years, but ends up stapled to the bench come playoff time because other teams can expose his lack of strength down low, as well as his lack of athleticism on the perimeter. It's simply harder to hide an offense-first big.
The Bigs: DeJuan Blair (Mavs), Boris Diaw (Spurs), Greg Stiemsma (Pelicans)
Each has their strong suit: Offensive rebounding (Blair), passing/spacing the floor/insert obligatory weight joke here (Diaw) and tall/knows Thibs system from playing in Boston alongside Kevin Garnett and company (Stiemsma).
Diaw would be nice because his passing skills would fit with the Bulls and he's such a unique player that it can throw teams off a bit. Stiemsma could be a low-cost fill-in, playing 12ish minutes a game behind Joakim Noah while a rookie learns the system on the bench. Blair has his uses, but the Bulls can probably make better use of the roster spot he would occupy.
The Breakouts James Johnson (Grizzlies), Patty Mills (Spurs)
Originally a Bulls draft pick, Johnson never quite figured out how to utilize his athletic talent. He didn't even last two years with Chicago before getting dealt to Toronto, and failed to latch on there or in subsequent stops with the Kings and Hawks. In December, Memphis gave him a shot and he's made the most of it. A reunion with the Bulls is highly unlikely if nothing else because he still can't shoot. Like, at all: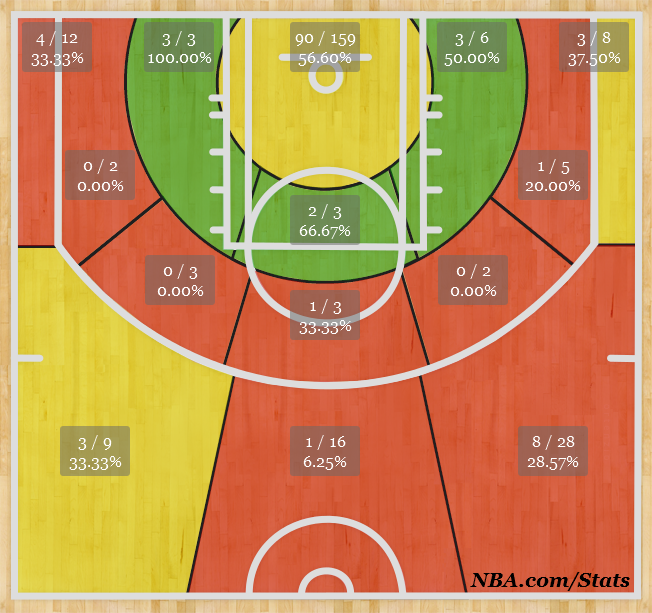 Mills fits the bill as a good candidate for Thibodeau's annual "Extreme Makeover: Backup Point Guard Edition," except the Spurs already built him back up. He didn't crack their playoff rotation in either of the last two years, but with Gary Neal and Nando De Colo gone, Mills figures to get a chance to prove himself on the biggest stage before hitting the market. He's cooled off since, but in February, he helped the injury-ravaged Spurs keep the machine going, averaging 16.3 points per game in just 23.1 minutes per game on 48.7% shooting. If he has a playoff moment or two, a mediocre team might pursue him to add a winner who can provide some offense, as Milwaukee did with Neal and Minnesota did with J.J. Barea.
Young Wings: Al-Farouq Aminu (Pelicans), Jordan Hamilton (Rockets)
Aminu is a poor man's Jimmy Butler. Jimmy can't shoot this year, but Aminu barely even attempts three pointers, and Butler is a superior defender. After struggling to distinguish himself in Denver, Hamilton's gotten a fresh start with the Rockets, who love taking lottery tickets on recent first-round talents. If he continues to carve out a niche with Houston, he's best off staying there and solidifying his career than gambling on fitting in with another team.
Dallas is old: Shawn Marion, Vince Carter and Devin Harris
Other than Dirk, Marion is the last player remaining from that 2011 team that beat Kobe, Durant and LeBron to win the title. He might get forced out of Dallas if the Mavs are able to entice a younger player to take his role. They look like a nice landing spot for Luol Deng, and at that point, Marion will need to find a home elsewhere. He's not really a fit for the Bulls though, nor is the soon-to-be 36-year-old the wisest investment for a chunk of cap space.
In his return to Dallas, Harris is posting similar counting numbers in fewer minutes, but isn't the prototype backup for Chicago's offense.
Carter is the best fit of the trio if the Bulls were to pursue one of them. He's rebuilt his reputation in three years with the Mavs. Once the me-first star who forced his way out of Toronto, he's now the willing role-player on a winning team. His 41% shooting isn't ideal, but he was never a high percentage shooter, so he's not in massive decline there, and he's still an above-average shooter from distance. If the Bulls end up with a quiet non-Melo or non-Mirotic offseason, a summer that consists of re-signing D.J. Augustin, not trading Mike Dunleavy, adding Carter and say, Channing Frye, while drafting a project big like Willie Cauley-Stein and one of the cadre of wings available would set them up very well to contend in 2015.