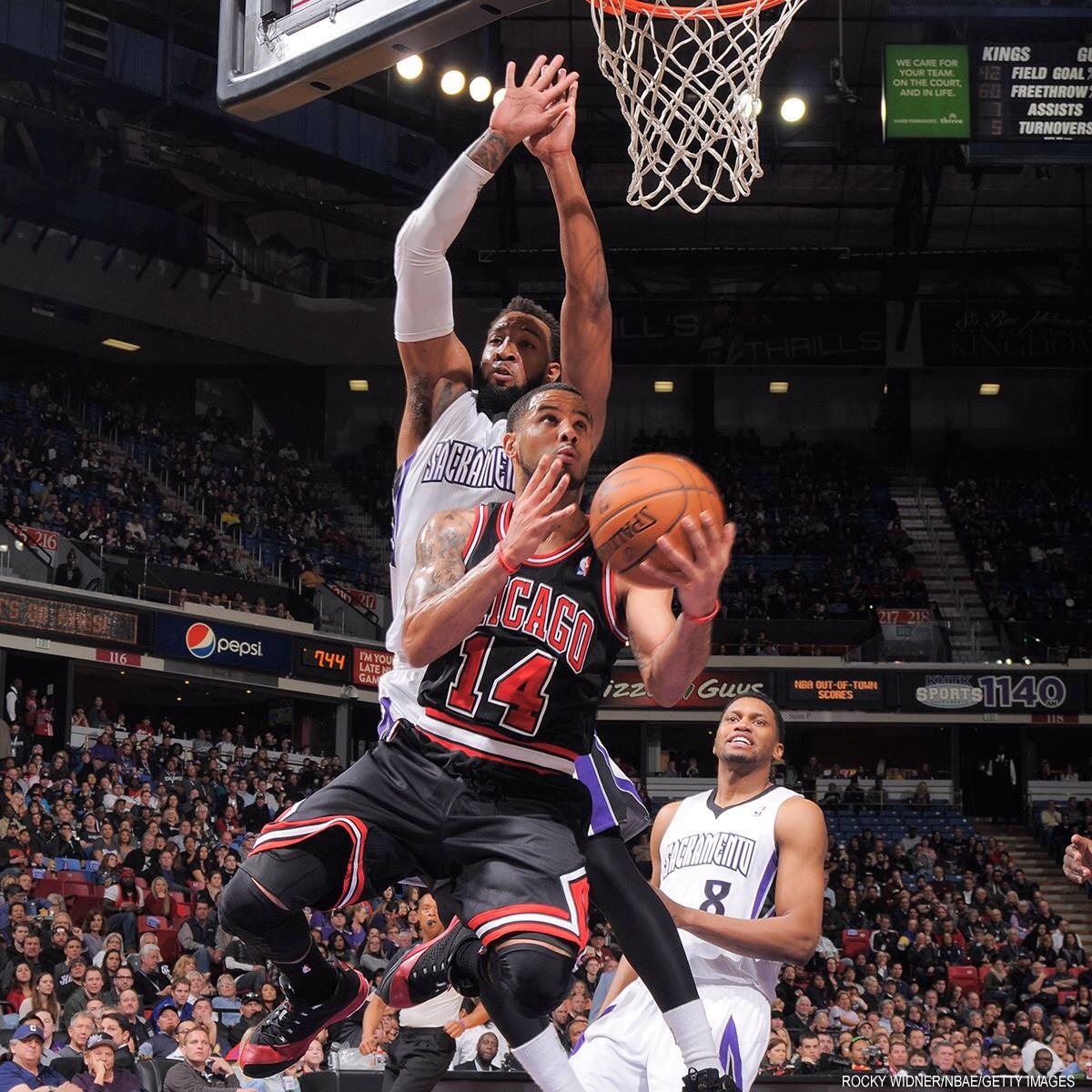 With every emphatic and emotional home win comes the potential for a let-down game in the follow-up.
It happened with the let-down against San Antonio – though that was against a good team – and it could happen again tonight against the lowly Sacramento Kings following Thursday's big win against Houston.
The Kings are destined for yet another high lottery pick, a common occurrence in the past five years. That didn't stop the Kings roundhousing the Bulls the last time these teams met in California.
That game is memorable for one reason other than the shockingly inept Bulls offense scoring just 70 points. Joakim Noah was ejected from the game after launching a tirade of abuse towards the three officials.
It also marked the last time Joakim Noah played a 'bad' game. Since the ejection, Noah has transformed his play from solid 15-point, 12-rebound big man to constant triple-double threat.
He had two in a three game span last week and was one assist away from a third triple-double of the month in the win over Houston.
The brilliant three-point shooting on Thursday was certainly a nice surprise and was led entirely by the backcourt trio of Mike Dunleavy, D.J. Augustin and Kirk Hinrich. The two point guards have been shooting much better lately, with Hinrich over 50 percent from the field since the All-Star break while D.J. Augustin, signed on December 13th, now leads the team in made three-pointers.
Understandably, the Bulls likely cannot count on hitting 14 threes again, but even playing at 75 percent of that performance should be enough to overcome the struggling Kings.
DeMarcus Cousins ran roughshod over the Noah-less Bulls to the tune of 25 points and 16 rebounds before getting into a rather bizarre altercation with Mike Dunleavy Jr.
Key match-up: Joakim Noah vs DeMarcus Cousins
We can assume Noah will not let the Kings get under his skin or into his head this time round, meaning he will likely be given the job of slowing down the Kings biggest scoring threat not named Rudy Gay.
Noah welcomes these challenges. His all-encompassing defense against Dwight Howard on Thursday forced the Rockets' center into multiple offensive fouls, one of which led to Howard receiving a technical foul.
Probable Starters
Chicago Bulls:
PG: Kirk Hinrich: 11th season. 9.0 points per game, 4.0 assists per game.
SG: Jimmy Butler: 3rd season. 13.0 points per game, 5.1 rebounds per game.
SF: Mike Dunleavy: 12th season. 11.1 points per game, 4.3 rebounds per game.
PF: Carlos Boozer: 12th season. 14.2 points per game, 8.2 rebounds per game.
C: Joakim Noah: 7th season. 12.2 points per game, 11.3 rebounds per game.
Sacramento Kings
PG: Isaiah Thomas: 3rd season. 20.3 points per game, 6.3 assists per game.
SG: Ben McLemore: 1st season. 7.8 points per game, 2.7 rebounds per game.
SF: Rudy Gay: 8th season. 20.7 points per game, 5.6 rebounds per game.
PF: Derrick Williams: 3rd season. 9.8 points per game, 4.5 rebounds per game.
C: DeMarcus Cousins: 4th season. 22.2 points per game, 11.7 rebounds per game.