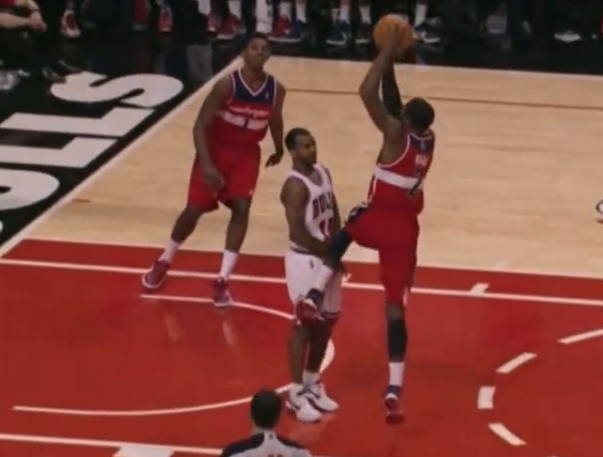 In what qualifies as a showdown in this year's Eastern Conference, the 17-18 Bulls, holders of the 5 seed and, along with Denver, the league's best winning streak having won five in a row, host the 16-19 Wizards, currently the 6 seed. The defense-centric Bulls (second in defensive rating, second to last in offensive rating) will face a team in Washington that is neither great nor terrible on either end of the floor, ranking 21st and 16th in those same categories.
Squint at this Wizards team and they don't look too different than earlier iterations of the Derrick Rose Bulls. Obviously John Wall represents Rose's doppelganger and Nene is their crafty, injury-prone, Noah-like anchor who can make up for their flaws as long as he's healthy.  Bradley Beal provides a better version of the perimeter prowess displayed by Ben Gordon before he left Chicago and fell off the face of the planet, and Chicago fans scarred by the Vinny Del Negro era can surely empathize with Wizards fans in regards to their frustrations with coach Randy Wittman.
2014 has not been kind to the Wizards. Since sweeping a home-and-home with the Pistons to close out 2013, Washington is 2-5, with their wins coming against the used-to-be and soon-to-be Hornets, Charlotte and New Orleans. While both of those wins came on the road, those two teams are in slumps among the worst in the league for teams that are designed to actually win games. Conversely, the Bulls are riding the aforementioned winning streak, and thanks to a New Year's Day loss to the Sixers by Denver, are left as the last team undefeated in 2014.
After home losses to Toronto and Orlando, and then back-to-back drubbings in Houston and Oklahoma City, the playoff aspirations of the players inside the Bulls locker room looked to be on life support, but even after the Luol Deng trade, this team has an identity and has one of the most stable locker rooms in the league. As Joakim Noah reiterated when he finally broke his silence upon Deng's departure, this team is devoted to both giving every ounce of effort and winning. With Jimmy Butler back after his thigh injury, and the interior tandem of Noah and Taj Gibson, we know they'll bring the effort tonight, and if the recent body of work of both teams is be trusted, the winning looks like a good bet to follow.