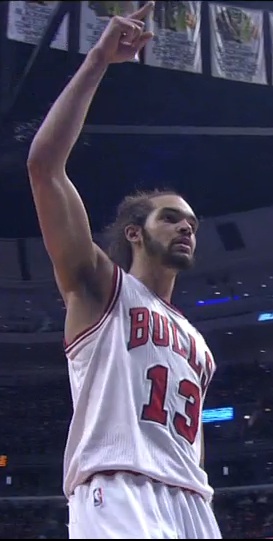 At the beginning of 2014, it was clear that January was the time for the Bulls to climb their way up the Eastern Conference. They did just that, going 11-4 against a schedule chock full of Eastern bottom feeders and home games against banged up Western squads. Now comes the hard part, as with the exception of a date in Los Angeles against the Lakers, every game remaining this February comes against a playoff caliber team, and seven of the remaining 11 this month are on the road. Keep in mind that they've started this road trip getting dominated by two of the rare lottery locks in the West, and that the last time the Bulls faced the Lakers they needed a sketchy buzzer beater from Taj Gibson to survive a home game in double overtime.
Tonight they play in Phoenix, seeking to sweep the season series against the darlings of the 2013-2014 season. Many thought the Suns would fall apart since Eric Bledsoe's meniscus injury, but first-year head coach Jeff Hornacek, All-Star-if-Phoenix-played-in-the-East Goran Dragic and the stable of young players on the roster have not only kept the team afloat, they've bolstered their playoff hopes. Their five game winning streak has them at 29-18, 6th in the West, and 8th best in the entire league, an amazing feat for a team that was a preseason lock to be selling assets as the deadline approaches. Instead the organization has declared they're open to dealing from their cadre of extra picks and adding a legitimate talent to make noise in the playoffs for the first time since their surprising run to the 2010 Conference Finals.
Chicago looks to have dodged a bullet, as Joakim Noah's profanity-laced evaluation of the officials last night in Sacramento did not earn him the first suspension of the Adam Silver Era, as he somehow only got fined $15,000. He played less than 20 minutes last night so he should be fresher than usual on the second end of a road back-to-back. In fact, only Jimmy Butler and Carlos Boozer played very significant minutes against the Kings. The massacre allowed the likes of Taj Gibson and Mike Dunleavy to sit early in favor of Tony Snell and Nazr Mohammed, while Boozer got his wish to play in the fourth quarter after publicly voicing his displeasure with routinely sitting down the stretch of games.
Beating a Western playoff team on a back-to-back in their building is a daunting task, but the team is relatively well rested and if we know anything about the Thibodeau Bulls, it's that they almost always respond in a big way to getting embarrassed.