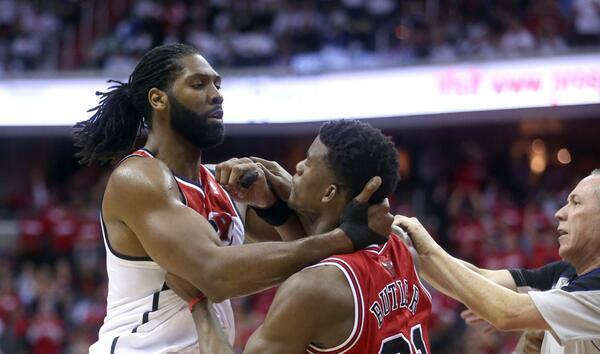 Nene Hilario has been a thorn in Chicago's side this season, especially during the playoffs. His physical play defensively has impeded Noah's passing from the high post and kept Chicago out of the paint for easy layups while his offense has been strong and bruising. With Nene on the court the Bulls are only a 1-4 on the season against the Wizards. Chicago may have gotten a break as the NBA announced Nene will be suspended for game 4 after his scuffle with Jimmy Butler.
According to an NBA press release:
Washington Wizard's forward-center Nene has been suspended one game without pay for head-butting and grabbing guard-forward Jimmy Butler of the Chicago Bulls around the neck with both hands and attempting to throw him down, it was announced today by Rod Thorn, President, Basketball Operations.
The incident, in which Nene received two technical fouls and was ejected from the game, occurred with 8:28 remaining in the fourth quarter of the Wizards' 100-97 loss to the visiting Chicago Bulls last night at Verizon Center. Nene will serve his suspension tomorrow when the Wizards host Chicago.
The suspension isn't a surprise. In addition to attempting to throw Butler down with what Mike Dunleavy described as a "MMA move," replays of the incident show Nene cocking his fist back just as teammates started pulling him away. The entire incident can be viewed below.